Hans Magnus Enzensberger Germany PWF 2010, 2006, 2004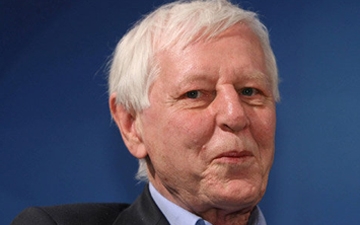 A dominant figure of contemporary literature, Hans Magnus Enzensberger was born in 1929 in Kaufbeuren in Bavaria and spent his childhood in Nürnberg during the Third Reich. For George Steiner, "Enzensberger is a poet of formidable intelligence and range. Like Brecht before him, he combines an intense political imagination with lyric gusto. The reader discovers in him both a satirist and a friend."
Enzensberger's social and moral criticism of the post-war world owes much to Marxism, tempered against the foreclosure of free choice, if not absolute freedom. His poems and essays remain elegies, an epitaph for dark times.
"In the shadow
even now there is room."
Enzensberger's collections of poetry include: Mausoleum, The Sinking of the Titanic, Music of the Future, Kiosk, Lighter Than Air, A History of Clouds and Rebus. For documentary novels read—The Short Summer of Anarchy, and The Silences of Hammerstein. For children's books open—The Number Devil: A Mathematic Adventure. His essays on culture and politics appear in Raids and Reconstructions, Dreamers of the Absolute, Mediocrity and Delusion, Civil Wars, and Zig Zag. He edited the radical periodicals Kursbuch (Railway Timetable) and TransAtlantik, as well as the classic anthology Museum of Modern Poetry.
Hans Magnus Enzensberger lives in Munich.