Ian McEwan Great Britain PWF 2000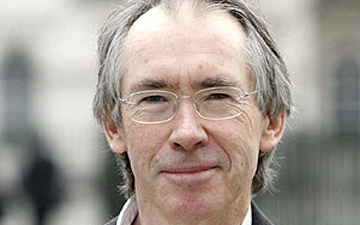 He attended the University of Sussex and the University of East Anglia. He has written at least two collections of short stories, including First Love, Last Rites and In Between the Sheets, and many novels. His first novel was The Cement Garden, published in 1978. His novel Amsterdam, published in 1998, won the Booker Prize.
In 2001, he published Atonement, which is widely regarded as one of his best works; it was shortlisted for the 2001 Booker Prize, the 2001 James Tait Black Memorial Prize, and the 2001 Whitbread Book Award. In 2002, Atonement won the Los Angeles Times Book Prize, the National Book Critics Circle Award for fiction, and the WH Smith Literary Award. It was cited as one of the 100 best books of the year by Entertainment Weekly and the best book of the year by TIME.
Several of McEwan's works have been adapted for the screen, including The Comfort of Strangers (1990), Enduring Love (2004), and Atonement (2007). He has also written a play, The Imitation Game, and three screenplays. His most recent work is For You, a libretto (2008).
McEwan is a Fellow of the Royal Society of Literature, the Royal Society of Arts, and the American Academy of Arts and Sciences.
Ian McEwan lives in London.