John Banville Ireland PWF 1998
John Banville was born in Wexford, Ireland, in 1945.
He was educated at St. Peter's College in Wexford and did not attend university, but instead opted to work for Aer Lingus, which allowed him to travel very cheaply to destinations such as Greece and Italy.  He served as chief sub-editor for the Irish Press, and his first book, Long Lankin, was published in 1970. His other books include Nightspawn, Birchwood, Doctor Copernicus (which won the James Tait Black Memorial Prize in 1976), Kepler (awarded the Guardian Fiction Prize in 1981), The Newton Letter, Mefisto, The Book of Evidence (winner of the Guinness Peat Aviation Award in 1989), Ghosts, and Athena. The Untouchable, a novel loosely based on the life of the art historian and onetime Soviet spy, Anthony Blunt, was published in 1996.  He also publishes works under the pseudonym Benjamin Black.
Banville is literary editor of The Irish Times.  He published The Sea in 2005 and received the Booker Prize and the Irish Book Awards Novel of the Year.  He is currently working on a novel entitled The Sinking City.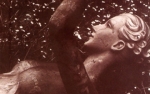 27.10.2005 Readings