José Saramago Portugal PWF 1994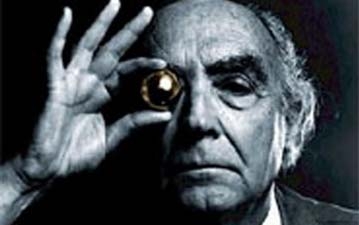 In 1947 he started writing, and his first novel, Terra do Pescado, was published. The political situation of Portugal, which was then ruled by a fascist regime, prevented the publication of his second novel. An active member of the Communist Party, Saramago supported the Carnation Revolution but was fired from his job at the newspaper Diário de Notícias one year later for political reasons.  For the next five years he worked as a translator.
In the 1980's Saramago won international acclaim with his book Memorial do Convento (in English: Baltasar and Blimunda). His most well-renowned books include The Stone Raft and the controversial (and condemned) The Gospel According to Jesus-Christ. He has written more than thirty books; novels as well as essays, plays and poetry compilations. His latest book to be translated into English is Death at Intervals (2008 for the translation).
Saramago is still a member of the Communist Party and involved in politics. He is publicly critical about the European construction. He was a candidate for the European Parliament election in 2004. In 2006 he signed a statement with other famous writers and thinkers (including Tariq Ali and Harold Pinter) against the military action of Israël, which he considered to be "a long-term military, economic and geographic practice whose political aim is nothing less than the liquidation of the Palestinian nation".
He was awarded the Camões Prize (1995) and the Nobel Prize (1998) because he is a writer "who with parables sustained by imagination, compassion and irony continually enables us once again to apprehend an elusory reality"
Saramago currently lives Lanzarote in the Canary Islands, Spain.