Authors | Joseph Kanon
Hana Newman: Joseph Kanon in New York United States of America PWF 2017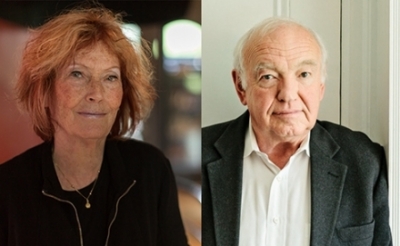 We met at the New York Public Library, an impressive edifice and a venerable institution. It is here that Joseph Kanon spends long hours researching the details of events and places that he will bring to life in his fiction. "First comes the research, then the plot."
Kanon's novels benefit from his extended visits to the cities where his plots are set. His readers are treated with a clear view to the atmosphere, and the cultural and political life of Berlin, Istanbul, Hollywood, Venice and Prague. Maps are often provided to ground the action and the characters' physical and moral navigations. "I am drawn to places and events that changed the world."
A short walk from the Public Library brought us to the Algonquin Hotel, another of New York's iconic literary spots. We settled in the main lobby and began talking about his career. Kanon was happy to speak about his life as an author and about his loves: literature, history, cinema, travels, wife and family. Joseph Kanon is not a shy man, nor is he pretentious. His jovial and easy-going manner allowed for more than an hour of lively conversation during which we failed to notice that no waiter came to our table and that we were speaking without the comfort or distraction of a cup of coffee or a glass of wine.
Born in Nanticoke, a small town in Pennsylvania where his father worked in the coal mines, Joseph Kanon's childhood included occasional excursions to the big city of New York. His love of literature and history and his curiosity inevitably led him on.
With a scholarship to study at Harvard, he studied literature and history, later earning a masters degree in English literature from Trinity College, Cambridge, England. This rapidly led to a career as editor and publisher. He held the position of Executive Vice-President Houghton Mifflin, when in 1995 he decided to become a writer. Joseph Kanon's successful writing career began almost accidentally during a vacation trip to New Mexico. This is a slice of his biography that Kanon likes to re-tell and that most everyone likes to hear.
While visiting the site of the A-bomb laboratory at Los Alamos, Kanon, the publisher, imagined a plot involving the scientists and a murder—a story that would bring into focus some of the moral dilemmas faced by the members of that diverse group. Intrigues were no doubt at play at that time—a time he identifies as a "pivotal juncture in the history of mankind." The publisher in him initially thought to enlist another writer to work his idea into a novel. When the plan failed, Joseph Kanon, aged fifty-one, switched from publishing to writing and wrote his first best-selling novel Los Alamos, which received the Edgar Award in 1998.
Kanon's novels are typically identified as political thrillers. While such a classification is not inaccurate within the western tradition of literary genres, the designation gives a rather limited notion of a work that manages to transcend such typecasting. Joseph Kanon presents ordinary people in targeted places at historically critical times. The major themes of Kanon's work revolve around two essential human dilemmas: Who are we? What do we do when there is not a clear "right" course to follow? Joseph Kanon's novels give the readers a sense of what the great American social scientist C. Wright Mills identified as the sociological imagination—a quality of mind which "enables us to grasp history and biography and the relation between the two within society" and thus "understand the historical scene in terms of its meaning for the inner life and external career of a variety of individuals."
Unlike some other well-known novelists (Phillip Kerr, for example) who also write in the spy thriller genre, Kanon does not have a recurring character-hero. More like Eric Ambler, his protagonists are, as Kanon says, ordinary people caught in extraordinary events that engage less their heroism than in their humanity while struggling to survive in a world they cannot control. The reader is not asked to identify with the characters, but rather to understand them, focusing on the entire complex stage, on the historical background, on the specific milieu and on the characters' psychology and actions within these realities. A recurring hero would undermine such a vision. Referring to this trend, especially popular in films, Kanon smiles: "I love films but I don't want sequels".
The mention of cinema brought up the topic of style and the way in which Kanon integrates time, action and character through dialogue. His scenes are like film shots, seen and heard as they unfold before us, as if on the screen. This cinematic mode of narration turns out to be a stylistic choice. Kanon admits freely that he often writes as if he were writing for the screen: "Dialogue is action. My love for cinema was a deep and abiding influence. I think of these books as movies in my head".
Kanon's reliance on dialogue does not exclude descriptive or other literary moments. When I mentioned a line from The Good German that struck me as positively poetic: "He saw her eyes in the basement again, not tired, brimming with something else, a sadness out of reach, hanging in the air between them like rubble dust," the author was delighted. The effect, he responded, is "exactly what I was hoping for in that scene."
Having discussed place, characters, and style I turned to the important element of themes and time. With no sequels, each novel stands alone as a distinct happening to be seen also as part of a constellation of many possible events arising in the same field. "I see the immediate postwar period as the hinge of the last century There is before—then after. The explosion of the atomic bomb in 1945 – changed the world forever. The Holocaust is a moral equivalent. We can never go back to a pre-nuclear world. The bomb was a demonstration that we now, for the first time in history, could face the prospect of annihilation."
The Cold War is the ground upon which spies are made and remade. Joseph Kanon's themes of the ambiguities, contradictions, and choice are embedded in that time, especially the slippery profession of spying.
Defectors is Joseph Kanon's latest work and one most explicitly engaged with spying. In this novel (note the absence of a definite article in the title - opting for vagueness over certitude from the outset) the historical scene is the Cold War once again spying on spies or ex-spies (if there is such a thing) acting either for the CIA or the KGB, for ideological reasons or sometimes simply for themselves and their personal survival.
"I think we are frequently faced with ethical questions where there is no clear black and white choice, no "right" thing to do, just a gray area of compromise. Since I believe that novels should not be just entertainment, but agents of moral inquiry, this gets to the heart of what fiction can do."
As ideologically charged as the events and themes are, Kanon manages to refrain from any partisan or personal judgments. Such objectivity goes a long way to make his novels nuanced and universally appealing. It also underscores his commitment to realism and to the independence of the novel as a reflection of reality.
At the conclusion of our interview, I asked whether he thought the Cold War was over. With a slight sly smile and pause, he replied: "No."
At the Prague Writers' Festival, I intend to ask him exactly what he meant.
August 2017

Author: Hana Newman
Joseph Kanon at the Prague Writers' Festival 2017:

Sunday, 12 November - Reading (Hana Newman, moderator)
Monday, 13 November - Conversation (The Good German)
Tickets

13.06.2017