Michel Houellebecq France PWF 2005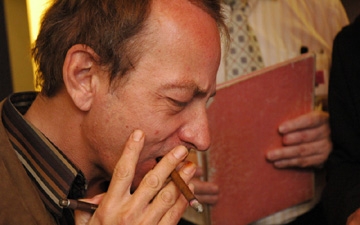 Houellebecq gained fame with the novel Extension du domaine de la lutte in 1994 (translated into English by Paul Hammond as Whatever), he won the 1998 Prix Novembre with his novel Les Particules Élémentaires (translated by Frank Wynne) and published as Atomised (Heinemann, UK) or, The Elementary Particles (Knopf, US). The novel became an instant "nihilistic classic". The New York Times, however, described it as "a deeply repugnant read." The novel won Houellebecq—along with his translator, Frank Wynne—the International IMPAC Dublin Literary Award in 2002. The author's following novel, Plateforme (2001), earned him a wider reputation. It is a romance, told mostly in the first-person by an aging male arts administrator, with many sex scenes and an approbation of prostitution and sex tourism. The novel's depiction of life and its explicit criticism of Islam and the Muslim faith, together with an interview its author gave to the magazine Lire, led to accusations against Houellebecq by several islamist organisations.
His most recent novel is The Possibility of an Island (translated by Gavin Bowd. Original title La Possibilité d'une île), is a novel that alternates between three characters' narratives, Daniel 1 (a current day comedian) and Daniel 24 and 25, neo-human clones of the Daniel 1. He has also released a music CD Présence humaine, on Bertrand Burgalat's Tricatel label in 2000, on which he sings over a rock band backing. Michel Houellebecq currently lives in Spain.