Mohammed Achaari Morocco PWF 2017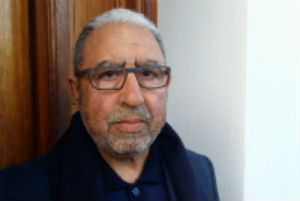 Winner of the Arab Booker Prize—poet, novelist, politician Mohammed Achaari was born in 1951 in Moulay Idriss Zerhoun, Morocco. He studied law and published his first collection of poems The Neighing of the Wounded Horses in the seventies. During the eighties, he was jailed for his political activities.
In 2011, Mohammed Achaari received the International Prize for Arab Fiction for his second novel The Arch and the Butterfly—"an impressive, if bleak, fictional exploration into the roots of radical Islam, and the difficulties challenging it."
"If you read the book, you'll find that I did not submit myself to any internal or external censorship. On the contrary I dealt with private and public issues. I dealt with love, with corruption—corruption in the social and political fields. The novel is not really about terrorism, it's about the violence which we have to face in our Arab countries."
As a journalist, editor, trade union delegate, member of parliament, minister of culture, and former president of the Moroccan Writers' Union— Mohammed Achaari has seen it all.
"It's not only the author that has to be free from internal or external censorship, but the reader too has to exert an effort."
Mohammed Achaari resides in Rabat.

26.10.2017 Readings