Orhan Pamuk Turkey PWF 2013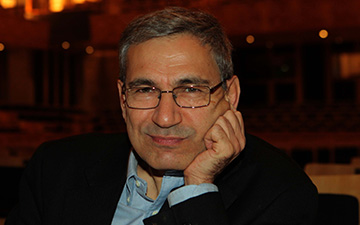 Orhan Pamuk has more currency than the Federal Reserve—receiving the Nobel Prize in Literature in 2006—for "digging a well with a needle" to find "new symbols for the clash and interlacing of cultures."
Born in 1952 in Istanbul, Pamuk grew up in the pale colors of his father's library—off center—with the fear of being left outside the authentic world.
"A writer is someone who spends years patiently trying to discover the second being inside him—and the world that makes him who he is."
Pamuk's natural inclination is to side with the dispossessed—with the Armenians of the Ottoman Empire and the Kurds in modern Turkey.
"A writer talks of things that everyone knows—but does not know that they know."
His work includes: The White Castle, The Black Book, New Life, My Name is Red, Snow, Istanbul, Other Colors, The Museum of Innocence, and Silent House.
"I write because I have never managed to be happy—I write to be happy."
Orhan Pamuk lives in Istanbul and New York.