Peter Stephan Jungk Austria PWF 2007, 2001
At the age of five, he moved to Vienna with his parents and spenthis adolescence in West Berlin and Salzburg.  Jungk became interestedin the theater world at a young age and worked as assistant to thedirector of the Basel Theatre in Switzerland.  From 1974 to 1976, hestudied at the American Film Institute in Los Angeles.  His interest inthe City of Angels and its entertainment industry has become aconsistent theme in his various novels, biographies, and stories,including Stechpalmenwald (1978), a collection of short stories set in Hollywood.
Jungk has often based his books around the journeys people must taketo find themselves – or in some cases, to find something elseentirely.  His 1985 book, Shabbat: A Rite of Passage in Jerusalem,explores the author's trip to Jerusalem to discover his Jewish rootsand study at the Torah school.  He has said of the experience,"Curiosity had led me there."  This fundamental search reemerged in his1991 book, Tigor, whichchronicles mathematics professor Giacopo Tigor's journey to Europe towork in the theater and to Mount Ararat to search for Noah's Ark. Tigor, called The Snowflake Constantin its English translation, was a finalist for the 2003 IndependentForeign Fiction Prize, a British award honoring fiction intranslation.
Jungk's The Perfect American(2004), which also includes a discussion of the entertainment industry,is a fictionalized biography of Wilhelm Dantine, an Austrian cartoonistwho worked for Walt Disney in the 40s and 50s and spent the rest of hislife obsessing over his failed attempt to gain his former boss'approval.  The book has been called "sharp as a razor" (Kirkus Reviews)and "true and troubling" (The Christian Science Monitor), and criticshave commented on Jungk's masterful juggling of a wide array of themes,ranging from maniacal egotism to the American dream.
In 2001, Jungk was awarded the Stefan Andres Prize, and in 2003 heserved as the Max Kade Writer-in-Residence in the Department of GermanLanguage and Literature at Oberlin College.  Since 2002, he has writtena monthly column about visiting the movies with celebrities, called"Going to the Cinema With…"  He currently lives in Paris with his wife,photographer Lillian Birnbaum, and their daughter and works as anauthor, film scriptwriter, translator, and essayist.

Bibliography:

Prose works:
- Stechpalmenwald (Frankfurt/M.: Fischer, 1978)
- Rundgang (Frankfurt/M.: Fischer, 1981)
- Das Franz-Werfel-Buch ed. by Peter Stephan Jungk (Frankfurt/M.: Fischer, 1987)
- Franz Werfel Eine Lebensgeschichte (Frankfurt/M.: Fischer, 1987)
- Tigor (Frankfurt/M.: Fischer, 1991)
- Vier Frauen Porträts. Photographien von Lillian Birnbaum. Mit Texten von Peter Stephan Jungk. (Heidelberg: Braus, 1994)
- Die Unruhe der Stella Federspiel (Munich: List, 1996)
- Die Erbschaft (Munich: List, 1999)
- Der König von Amerika (Stuttgart : Klett-Cotta, 2001)

Radio plays:
- Oktave (South German Radio)
- Suchkraft (West German Radio)

Television:
- Ein Weltfreund zwischen den Welten (script and direction. Television film on Franz Werfel. ORF/ZDF. 1988.)
- Meister der Nacht (film script and direction. Portrait of the writer Leo Perutz ORF/ZDF, 1989.)
- Dunkles Licht. Documentary film about the blind photographer and writer Eugen Bacvar. Direction. Orf/ZDF. 1992.

Works in English translation:
- Franz Werfel : a Life in Prague, Vienna, and Hollywood. Translated from the German by Anselm Hollo (New York : Grove Weidenfeld, 1990)
- The Snowflake Constant Translated by Michael Hofmann (London : Faber and Faber, 2002)
- English translation of the novel Tigor.
A review of The Perfect American with links to other reviews.
http://www.complete-review.com/reviews/moddeut/jungkps1.htm

A review of Tigor (The Snowflake Constant) with links to other reviews.
http://www.complete-review.com/reviews/moddeut/jungkps2.htm

Jungk's profile from Oberlin College's website.
http://www.oberlin.edu/german/InsidePages/Writer/jungk.htm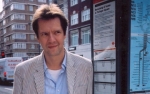 10.12.2007 Interviews
In conversation with Michael March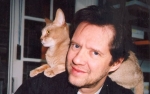 10.12.2007 Readings
Helicopter drone spins him out of deep dreams. On the bedside table the red numbers of a digital alarm clock – it is 05:33. He gets up, pushes the heavy nylon curtain aside. Looks down from the twelfth storey on to the city and the overcast, still dark November sky.
17.05.2005 Interviews