Robert Menasse Austria PWF 2017, 2006, 1997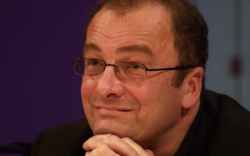 Always one step ahead—Robert Menasse is always game—turning the hermit kingdom of Vienna into a bowling alley. Never mind social climbing—his delirious fictional narratives, essays, natural hatred of nationalism and love of Brussels leave one gazing at an obelisk saluting his roots in Alexandria.
For Hegel—"the human being dies out of habit." But Robert Menasse is habit-forming—habitual—a wine testifier of ancient times. Born in 1954 in Vienna, he studied philosophy, taught briefly in Brazil, returning to Vienna to debrief loneliness and alienation.
"It is difficult to change yourself—difficult to change your surroundings—it's difficult to change the world."
Visibly the most prominent writer of his generation—Robert Menasse's work leaves an indelible mark: Wings of Stone; Happy Times, Brittle World; Sensual Certainty; Reverse Thrust; The Expulsion from Hell; Don Juan, Man of La Mancha; Enraged Citizens, European Peace and Democratic Deficits; and The Capital.
In 2017 he was awarded the Deutscher Buchpreis for the novel The Capital.
Robert Menasse resides in Vienna.