01. June 2012 12:10
Gündüz Vassaf in conversation with Michael March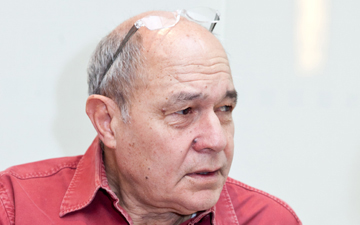 Michael March: They say that character is fate—what's your character?
Gündüz Vassaf: To be—realizing how much I've changed.
MM: But you haven't changed.
GV: (laughs) I know myself through the photographs of my past, of my childhood. Now, I see myself in the mirror while shaving—but I don't really look at myself when I shave.
MM: Lets' stop there—how do you shave without looking at yourself?
GV: Very easy— I don't even use soap—very easy—it's mechanical.
MM: Maybe you're not shaving yourself.
GV: (laughs)
MM: How have you changed over the years?
GV: Well, that's easy enough. As a male, I've become more female. It's as simple as that. My love-making has changed—the way I look at females has changed. I've become more female while making love to a female—than when it was a contest in my adolescence. And now it's not even sharing mutual pleasure—but how she might be experiencing you—looking at you—viewing you.
MM: What do you say?
GV: It's not what I say—but how I say it—how it sounds. I can hear myself through her ears.
MM: How did this come about?
GV: Living. Living—living—living. I mean we all become more sensitive, whether we're in pleasure or we're in business—at the end of the day you face yourself, you face your disappointments, you face your relations, you face death. You live more through others. You want to get rid of yourself as much as possible.
MM: Disappointment is satisfying.
GV: Incompleteness is satisfying.
MM: The pursuit of the whole is pure fiction—only incompleteness contains the germs of life.
GV: Yes, absolutely. I am my own fiction—fiction is never completed. This moment is fiction—it's a game we play.
MM: I'm glad you've noticed.
GV: We've become prisoners of our own rules because we credit too much to the tyrant, the dictator, the state, the barrel of the gun. We've become prisoners of ourselves.
MM: We should be doing our dirty laundry together. The rules change when we come into society. The games change—they turn out to be more serious. We say that we don't believe in political parties—but at the same time we need them—because they are our excuse for not making the rules.
GV: Brilliant.
MM: We don't want to make the rules—we want to be ruled. That is the fundamental problem. We need to be ruled.
GV: The initial rebellion is against the parents—the rule of the parent. And the first maturation is to become that parent yourself—to become a ruler. About us wanting to be ruled—that's difficult to say. I mean, if you don't see the prison that you put yourself in—you let others rule you—and you are obedient to others ruling you. It is easier to go along than to be ruled.
MM: Who is the other?
GV: Myself.
MM: You have no enemies?
GV: No enemies.
MM: Everyone needs enemies.
GV: (laughs) Well, I'm my best enemy.
MM: Eternal youth?
GV: It sells.
MM: It sells?
GV: You never have enough.
MM: Best to invade another country.
GV: Oh, exactly, exactly, exactly. Actually, the other country is yourself—you keep on invading yourself because whatever you have is not enough—so you invade yourself again to get rid of what you have—so that you'll have something else. You're invading yourself actually—an invading army.
MM: The religious thinker Martin Heidegger said, "The light of the public destroys everything."
GV: Brilliant. Brilliant.
MM: The Revolution has won.
GV: Returning to Heidegger, I like the night better than the day. Daylight actually disguises everything. It orders us into the order of the day. At night, we all walk down the same street.
MM: Arm-in-arm.
GV: Isn't it curious that more people say I love you at night than during lunch-hour.
MM: Elections should be held at night.
GV: Daylight is such a decoy. Have you ever seen a politician photographed at night? It is usually under bright light or in the daytime—with the sea in the background. We have our funerals during the day.
MM: Dressed to kill.
GV: (laughs) Alive—with ourselves—alive.
Istanbul | 9 February 2012
Related texts and articles Print to PDF Send article by email