Hamdy el-Gazzar | To Paint a Giraf
27. February 2012 11:07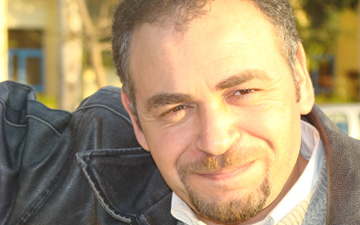 Interviewed by Sousan Hammad.
You went from a student of philosophy to writing fiction. Why the transition?
Initially, I started with childish attempts at writing stories. I was 12 when I was startled by the beauty of a young girl buying bread at a bakery. She was wearing a fine garment that barely covered her graceful body. I imagined what her story would be like and wrote what I thought was a short story. I then "designated" a notebook for my short stories, but never published any of it.
My first attempt at writing was with literature, not philosophy. The timeline runs as follows: First I enjoyed reading the novels of Yahya Haqqi, Naguib Mahfouz, Ihsan Abdel Quddous, Tawfeeq Al-Hakim, and Taha Hussein; then, I happily enrolled as a philosophy student at Cairo University, during which I became fascinated by Jean-Paul Sartre, Albert Camus, Abu Hayyan Al-Tawhidi, and Taoism. I then studiously read Dostoyevsky, Nikos Kazantzakis, Albert Camus, Herman Hesse, and Milan Kundera. It was this period, in my 20s, when I published my first short stories. I was a philosophy student and an Egyptian Universities award-winner for short stories. I was then considered a play director and a writer as I have written and directed three plays.
From there, I transitioned to my attempt at a graduate degree with a dissertation titled "Aestheticism and Technology in the Art of Walter Benjamin". I was almost done with my dissertation when I discovered that both the route I took as a researcher in philosophy, and my interest in writing, was running in two opposite directions, and I would not be able to resume without having one or the other dominate. I took the risk and abandoned the academic route which would have led me to becoming a researcher in philosophy, and I chose the route which I loved more: hoping to become a better writer.
I chose to write novels, perhaps short stories and plays, with the presumption that I can never combine creative writing with philosophical research. Jean-Paul Sartre and Albert Camus both combine philosophy and literature; however, they are considered philosophers far and foremost, more so than being considered literati. On the contrary, Abu Hayyan Al-Tawhidi and Naguib Mahfouz are considered creative writers before being considered philosophers.
Perhaps what was crucial in choosing literature and narration was that my artistic and literature instincts overcome my philosophy and thought trends. Nevertheless, I find it impossible to be a good writer when you lack a vision, a thought, and a certain "philosophy".
What I left behind was the rigid academic barrier of philosophy. My works embrace philosophy, sometimes in an obscure manner, a lot more freely. In Black Magic, I benefited a great deal from my studies of Aesthetics and Technology, and the intertwined relationship between both subjects. The story portrays the vision of a young photographer regarding photography and cinema, and his aesthetic stance on technology and modern art. Also, the protagonist in Secret Pleasures studied philosophy at Cairo University and has his own interpretations of the concepts of love, freedom, friendship, and fear (in particular.)
Karl Marx once said, "They cannot represent themselves; they must be represented." Edward Said, in his book Orientals, misquoted Marx, giving the reader the guise that "they" were Easterners, when Marx was really talking about French peasants who were incapable of holding their class interests. Because you studied philosophy in Cairo, and assuming that you read both Western and Eastern philosophies, would you agree that Western philosophers did indeed ignore the non-European?
Classically speaking, a philosopher is someone who does not ignore anything. He is concerned about finding the truth and studying the basic questions of human anthology. His investigation includes existence, knowledge, values, and so on. Generally, a philosopher does not study a single nationality, he studies "Humans and what makes them humans". However, a philosopher is a human being who is influenced by his immediate environment, which includes his culture and his nationality, as well as personal anecdotes. It is impossible to distance a philosopher from his own history with all of its economic and political struggles. A master philosopher's dream is to surpass this "here and now", into being able to represent humans at any time in history while living his present. I believe that this is a near-impossible task that has only been achieved through the philosophy of Existentialism in European thought and in Islamic Sufism, particularly Ibn Arabi's thought and the Divine Love introduced by Ibn Al-Farid in our Arab and Islamic culture.
I find the accusation inaccurate unless one seeks a philosopher that represents humans in general. Although philosophy was born with the Greeks, Muslims were the ones to introduce it to the rest of Europe at the height of the Islamic civilization. Ibn Rushd, for instance, was the chief commentator on Aristotle's works. And so did Avicenna and others.
Back to the issue of "representation" that you mentioned. I find it would be absurd of the defeated, both culturally and economically, to request of the victorious to nominate a voice to speak on their behalf, although most authoritative civilizations have preserved voices representing those suffering in the "Orient" or on the other side. The West still has those who represent the weak and the persecuted, those who still criticize the European and the American institutions, and those who defend human rights, but "no one but you will ever represent you the way you deserve".
I see that each society produces its voices and representations, yet it does not have to be embodied through a philosopher (using the technical term.) Western philosophers have expressed and represented their culture, their nationality, their present and their place. They have not spoken on behalf of the "Orient" because they lack the knowledge of the people, with the exceptions of a few Orientalists, writers and artists; the East and Islam were uncharted territory in the European thought.
Nevertheless, I do not think that those who represent the East today are thinkers and philosophers, as we lack their prominent presence in our modern culture. The ones who represent us more accurately are writers, artists and the cinema: intellectuals, in general.
In an interview in Al-Ahram, you mentioned that Cairo has become an authoritative and overused setting in Egyptian literature – how have you distanced yourself or challenged this convention?
Cairo is a metropolis that has conquered the imagination of most Egyptian writers for their settings. For instance, Naguib Mahfouz barely ever left the walls of the city. While Alexandria comes second in its literal importance, as in the works of Edward Kharrat and Ibrahim Abdel Majid, most modern Egyptian novels take place in Cairo. After which comes the provincial towns and the country-side.
I see that novels are born to major and complex cities where all social classes clash. A novel is a compound art that requires flexibility over a wide space no matter how overcrowded it becomes.
In my experience I have not escaped the metropolitan Cairo area, which is where I spent all of my life. I try to search for 'lesser known' back streets and secluded neighborhoods that are almost lost in the shadows of the major avenues, and roads that dominate the light of every-day living, including novel-writing. In Black Magic, although the Maspero and Zamalek are present in my novel, it is the Hanuti neighborhood of Al-Mounira in Gizah that became the focal point of the novel (regardless of the actual little presence it had in my novel.)
In Secret Pleasures, I sailed into waters that have never been discussed before as a setting, as it was described by a major critic. A place that no one has ever set foot in, i.e. the Gizah Square and the old Gizah city, which lies on the western side of the Nile just facing Cairo. This place is typically part of the city of Cairo that one reaches through the Abbas Bridge. I never intended to plunge in to a new setting in the Egyptian novel, a "place" simply establishes itself in my novels the way it does in my life. I simply live there, I know the place and I try to know it better. I have been living in Gizah for about 10 years, so why can't it be the setting for my novel?
What is clear to me now is that I do not try to write about a certain place; I choose a place that can help me create my imaginary world. Sometimes I start writing using pure imagination, other times I write from reality using a real character, catching a scene, or from my personal anecdotes.
I embody places that embody characters where it becomes impossible to try and imagine those characters outside of their environments. A place is another character: it has its own independent presence and its own life, and a destiny that is separate from all other characters. In other words, the dialectical relationship between place and character in actuality; and the art work at the same time. A novel is the theme that embodies this dialectical relationship.
Compared to the Egyptian literati how did English-language readers react to your novels?
The author and translator Humphrey Davies loved Black Magic before it was even translated into English. He attempted to translate it before it won the Sawiris Foundation prize. The Iraqi writer Samuel Shimon published four chapters of it in Banipal. The publishing manager and the vice-manager at the American University in Cairo were also excited about it, which enticed them to go forward with publishing it. Those were the first good gestures for my work.
After it was published, The Jordan Times and The Daily Star (of Lebanon) wrote extensively about it. I was humbled by Sarah Buck's article in YBP.com where she recommended teaching my book to literature and philosophy students.
I received a very welcoming response when I read chapters of Black Magic at universities in Iowa and Chicago. Many requested I sign their copies. In France, Meet magazine published few chapters in French, and also in French, a few chapters were translated and published in Al-Ahram Hebdo. Black Magic was the reason many requested that I write for their international publications. The chapter titled "Two Kills" from my novel Secret Pleasures were published in Northwestern University's TriQuarterly literature magazine.
An Ascetic, a chapter from your novel Secret Pleasures, is a story of a pious man who is admired for his eloquent recitation of the Quran by men, his handsome demeanor by women, and his iconic nature by children. Though the protagonist in the story is the imam, I was drawn more to the child for his resilience and devotion. Would you say this story is based on a personal experience?
I do not write about myself and my personal anecdotes in a direct manner. I understand novels as far more than just a space for writing an autobiography and other confessions and revelations. This might be a form of modern narration, but it is not the kind of novels I write. I might use my story and my experience extensively in my novels, primarily for me to be convinced that what I write is true and honest, or that the events have or will have happened. I rely on my experience in the real world without embodying it. I try to embody something new: A "creative reality" or a "fictional world" or whatever you may call it. The beginning may come from the imagination or from reality, but the final result is something completely different.
A "creative reality" or a "fictional world" has to convince me first and foremost that it exists and that it is genuine. This is why I use my reality and my surroundings so that my imagination becomes realistic and a reality of itself.
I started writing Black Magic after witnessing an old man sitting at his wooden deck in an isolated neighborhood weaving coffins. The man was real, someone I never exchanged words with, yet he's the one whose white threads weaved my entire novel till the end.
In Secret Pleasures, I started from one, small sentence! a single sentence that has long haunted me and captured my mind. "I knew I was a dead man." This phrase is the key to the entire novel. I worked on it for 2.5 years during which I wrote 300 pages. By the end I no longer needed that sentence so I erased it after it granted me a novel.
So you see, you can start with a tiny scene or character who exists in reality to create a work. Or start from language itself with a phrase that may render a work of art. I write about myself, my reality and my community in my own way.
The chapter, An Ascetic, does not feature a character that I am familiar with. I did not go much to the Kuttab, yet I witnessed few sheikhs and the recitation of the Quran. I used to recite the Holy Quran at the mosque, and I have lived alongside many members of Islamic societies in my formative years. "Hubb Al-Din" might be the Sheikh whom I admire, the same one who was admired in the novel by the young narrator.
Writing does not merely embody what we are, it also embodies what we wish we can see.
I like that your writings are directed for the people of Egypt. There are too many writers who exploit and exoticize their heritage for an audience. What's the reaction been like, for example, from the people of Gizah, your hometown, who have read Samira, the story you wrote about a teen-aged boy who stubbornly loves a woman he can never attain and, in vain, attempts to kill himself.
I never thought I looked towards any specific audience when I write. Not Egyptian, not European and not anyone else. This is not the case. All I can think of when I write is that I am merely attempting to write. I write so I can live because I cannot do anything else but write. Simply, I write for my ego. After I am done I slowly decide, as slow as I write, whether I should publish or not. Once I decided to publish I am allowing "the other" to share my work with me. This other may be an Egyptian, an Arab, an American, a human in general.
I do not target anyone specifically with what I write. I target everyone at once.
I do not specifically look towards my Egyptian audience, even though they may be the ones to understand the small details, secrets and codes of my work because of the shared language and knowledge of the things I write about. However, good art can cross all borders set through language, culture, and society where the art is originally rooted. It may even cross time and place.
Secret Pleasures won over high acclaims by critics from Egypt, Morocco, Syria and other places. I got the feedback from readers through the internet, others told me their opinion in person.
An Ascetic alone, said my publisher, was worthy of becoming a novel. As for the people of Gizah, I try to hide the fact that I wrote a novel about their town! One of my sisters dislikes the title, she finds it "indecent". The religious people from my family always call me out for prayers, they always request I never use "improper language" in my televised interviews such as "Sex", "Freedom of Speech", and "Abu Nuwas". They themselves might soon advise me to stop writing altogether!
And will this be your first time in Beirut? What are you anticipating from the Festival?
This will be my first time in Beirut. I am happy about this occasion because I love Fairouz, Unsi El-Haj and the sea. The Beirut39 Anthology is a very good work. To meet the intellectuals of Lebanon, to have discussions with writers and friends would be a wonderful thing. What is also fantastic is that many of my friends from Cairo and Syria will also be in Beirut to attend the Festival.
www.beirut39.blogspot.com, 15 March 2010
Related texts and articles Print to PDF Send article by email