Duo Duo | Snow Plain
22. May 2012 09:21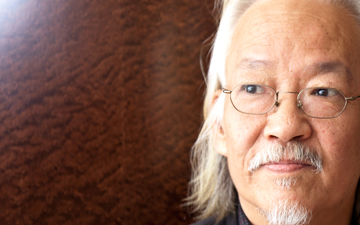 Just two people in an expanse of five hundred kilometers.
So cold.
I had just left the cabin, fixing a brass lock on the door when the frigid air shot up through my legs into my leather overcoat. After three hours on the road my limbs had become wooden posts, no longer a part of my body. No wind, not a creature in sight. Sparse vegetation dotted the snow plain like clusters of matchsticks. I followed the trail of wagon ruts over snow that God's horse cart had crushed to a bright, smooth, almost abstract translucence. I had not packed food or books in the sack slung over my shoulder. Back at the cabin I had shaved off my beard. But beyond that, nothing I carried would keep growing. I brought no money, of course. That was something that had long since fallen into disuse, and I knew, even as I hung the lock on the door, I would never return.
I wanted desperately to stop remembering. There was just that lock, floating before my eyes—even the cabin had ceased to exist.
Then, forty-five kilometers out, a house appeared, the door ajar. Smoke from a cook fire streamed up out of the chimney. This is where I planned to stay. Maybe for a night, maybe longer, perhaps I would live there, with the owner, forever. I could not be sure. But with that thought I took the key to the brass lock from my pocket, closed my eyes, and tossed it out into the snow plain. Was this the right time? The decision had to be made at some time or other, so why not now, the exact moment it crossed my mind.
The sun was traveling, too, traversing the sky, flapping bright red sleeves, it seemed. I suddenly remembered my horse from some distant past, the horse I had ridden, had driven ahead of me, and had led by the halter just as I used to tug my father along by his sleeve. It flashed before my eyes: a pond bright with youth, the neck and mane of a horse moving through water . . .
What else had been mine?
There was a blank space left behind after all of my worries had been lifted. It did not occur to me whether I had eaten that morning or not. I wrapped the leather coat tightly around me. The fur completely worn away, the coat has become stiff and glossy from the cold. It refused to conform to my body hardening willfully to its original form—horsehide.
At last the house came into sight: another cabin, encircled by a brilliant white wall of snow. I could not find a way in through the wall. I plunged my fist into the snow again and again—a mass of silent blows. I cried out: "Is anyone there?"
The very idea of having to shout these words aloud infuriated me.
It only proved what I already knew: there was no one inside.
To get into the cabin I would have to climb the wall of snow. Up I went.
Straddling the crest of the wall, I could see a large lock on the cabin door. I sat on the wall—one leg in, one leg out— thinking about how I had just thrown the other key into the snow. Most likely it would not have fit. But it was, after all, made to open locks. I jumped down, leaned close to a window, and wiped the glass. I punched it in. The interior was filled with snow. For a better look I smashed in all four windows: it was completely filled with snow. I kicked in the door. This was indeed a cabin of snow.
It would seem that whoever had abandoned it was even more thorough than I.
To return forty-five kilometers home through the darkness would be impossible. I had to set to work immediately to survive my first night here. By now my body was so cold I felt it could levitate from the leather overcoat. First the snow had to be cleared away. Then I would take down the doors, break them into planks, burn them for heat.
As I was clearing it out, I discovered that this cabin was much more than an empty storehouse of snow. One by one, traces of the owner s life—things I would need to survive— began to emerge. First a set of chimes.
And there was more, much more. Someone I had never seen, who had never mattered to me, and whom I had never remembered nor forgotten—the owner—a woman. A corpse.
She lay in bed. The cabin was the tomb he had left for her, with snow to cover her, and the surrounding wall of snow her gravestone. She was harder than the frozen earth. I brushed the snow off her face just as I would from a tabletop. I could not decide if she was attractive. I needed to haul her outside, to make her bed my own.
When the hands of the wall clock pointed to 11:58, I had a new home, along with a woman who had been dead for I knew not how long.
There was no need to break up the doors for fuel. The room was equipped with everything I required: firewood in a neat stack, matches, candles, liquor, tobacco, and some rabbit and deer meat, fresh-frozen, just like the woman. I sat in a wooden chair spread over with an animal pelt, facing the blazing fireplace and heating a kettle of tea. I had stopped up the four windows with dogskin bedding, and the woman was out in the yard, stiff and upright, facing the intense cold of the night sky.
I belched beef, pickled vegetables and strong liquor (I could almost recall the brand). The tobacco was quite good, and left a slight burning sensation in my nose. Hung on the wall were a hunting rifle, a long belt knife, and a fishing pole. The cellar held enough food for a lifetime. I gazed with satisfaction at everything I had chanced upon: it was a gift. Then I started to dream of a future. I would bury the woman's corpse in the ground and plant a tree over her; I would knock down the snow wall and replace it with a wooden fence; I would patch the roof, whitewash the walls, launder the bedding, and adjust the strap on the hunting rifle to fit my own shoulder. I had it all planned out. This was a gift I accepted with pleasure.
But it all hardly seemed to matter when compared to the dream that soon followed:
Life returned to the dead woman. We settled into contented domesticity. I put my hand to the plow and she worked the loom. I even saw us driving a sledge into a prosperous town to adopt a black puppy with a patch of white on its forehead ... a scene touching, and distant . . .
And so when a rapping at the door startled me awake late that night, I simply replied, "I'm coming." Then, suddenly, it occurred to me: that was my future, out there, beyond the door.
"Who is it? Who are you?"
There was no reply.
"Who are you?!"
I asked again, and again, to no one but myself, I suppose.
By the dying light of the stove I grabbed the rifle. I would not back down. Even if the owner himself had returned, this house was now mine, and I would not relinquish my rights. I would not be forced to continue my trek across the cold and barren snow plain.
And if it truly was the owner?
"Tell me who you are or I won't open the door. Keep knocking and I'll shoot!"
The knocking continued. I did not shoot.
Standing in only my underwear, I realized my own denial. If it was a second housebreaker out there, well, then I had been the first. There was no way around it: the deed was done, yes? I fired.
The bullet pierced the ceiling.
The knocking went on, calmly and firmly.
I kicked the door hard.
It fell open with a hollow thud . . .
Clean moonlight and crisp air. Gunsmoke stole out the doorway. With the rifle at my hip I stared intently into an absolute calm. On the silvery snow the woman's corpse stood poised and alone. Once dead, dead forever. I stood in the doorway on the balls of my feet, the gun held level. Then behind me, from deep within the cabin, a voice resonated:
"That is my gun. Put it down."
. . . faint and far away, the sound of bells on a horse-drawn sledge. Daylight flooded the room. I leapt to my feet and scrambled to put on my shirt and trousers at the same time, my left arm down a shirt-sleeve as my right leg plunged into my pants. Brass bells swaying briskly on a horse's neck; I saw this clearly in my mind's eye and understood: they would soon arrive.
The bride looked exactly like the dead woman.
The driver could only be the unseen man.
I remembered: on this day I was to be married.
And that is why, as I dashed from the cabin, one hand holding up my trousers and the other shading my eyes to look into the distance, a lingering apprehension made me glance back to look for the latch ring on the door. Then I looked up. There was my bride, dressed in white with a wreath of flowers in her hair, sitting in the sledge and beckoning. She waved so urgently . . . like that big brass lock of yours.
Translated by John A. Crespi
Related texts and articles Print to PDF Send article by email