Gündüz Vassaf | Mostari Bridge | Reading
29. June 2012 11:07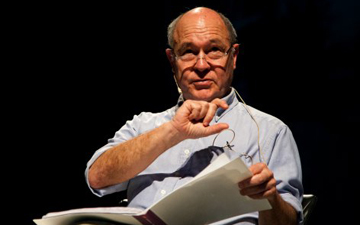 24.10.2011
The Sarajevo-Mostar road.
Life amongst cemeteries.
Gardens, mountains, valleys. cemeteries all.
Buildings, veterans of war.
***
8.00 A.M.
Before the Bridge
A greeting (M)- "Good morning,"
And a thought- "I'm in no hurry to live or die."
***
Elderly German couple.
(Or is it me who's older?)
The man,
"Where's the famous bridge?"
"The famous bridge?"
His wife,
"Yes, the very famous bridge."
The bridge, clearly visible, is twenty meters in front.
It's simplicity, blinded by oriental expectation.
***
How were weapons collected after the war?
Was it like kicking a habit?
To be unarmed, yet feel safe?
***
"I'm from Canada," he said.
And asked, "What blood are you?"
"Blood of a giraffe, God's blood, your blood," is what I should have said.
Or, perhaps, "No blood and all muck."
Why did I ask, "Why?"
***
I've yet to cross the Bridge.
It has to be a special occasion.
You invent a game.
Make the rules.
Start playing.
And then, it's no longer a game.
You've become a pawn of your rules.
I cannot cross the Bridge.
***
A four year old boy.
Next to him, his mother.
One step at a time, each step a joy, he's crossing the Bridge.
Each step, the world.
For us, everything but.
***
I can't keep up!
Every day,
faces, bodies, by the hundreds,
teeth on open display,
belly buttons, bare midriffs,
tongues licking cones,
lovers in false harmony,
shoes on parade…
Nothing is too important for the Mostari,
The Bridge is our serenade.
***
Three watches a day.
I've no time for anything else.
Here I am on the Tara side.
Lavender seller in his usual place.
Next to him, hitching up his trousers, the aging carpet merchant.
As the night falls,
We three are together again.
Why?
I am my own prisoner.
***
Days
start getting shorter this Sunday.
And I hardly know the Bridge by daylight.
***
T shirt on sale, "Don't panic. I'm Muslim.
The river's colour,
Neretva green eyes everywhere.
Do humans take on the colour of their sorroundings?
Scandinavians,
Bland as their fish.
Arabs, Indians.
Street and sea,
A celebration of colour.
***
The Bridge behind me,
I entered the cemetery.
Amongst the dead,
My breath alone.
At the entrance gate,
Fallen soldiers,
Their stones in precise order,
Stand rapt at attention,
As befits a Mostari inspection.
I climb the hill,
Far from warriors,
Uprooted gravestones,
Lean on each other.
The Bridge below,
Unaware of my absence.
***
I know they all look at me.
Is this what they think?
Young man waiting to dive
"He's writing again. Will he make us famous? Or, like others who came for the war, make a name for himself?"
Tourist
"Standing there as if he owns the place!
Move! Move! I want a good shot of the dive."
Baby in pram
"Not my father."
Black cat
"No cat smell. " (M)
Girl who brings me coffee
"Two Euros."
Everybody
"Anybody."
Girl walking with her mother
"He looked at my tits."
Shopkeeper
"Here all day long. (M)
Does he never go to the toilet?"
***
Serbs are Orthodox. Croats Catholic. Bosnians Muslim.
Once they were all called Bosniacs.
Before that, Slavs.
Long time ago, Illyrian.
In the beginning,
Sarmatians from Persia, Avars from the Caucasus,
And Goths.
***
I went down to the river.
Found the rock.
The same one I saw last night in a documentary called Mostar Tragedy.
In the film, next to the rock- a laundry basket and a pair of woman's shoes .
Her body disappeared in the river after she was shot by snipers.
***
Why the same pose in the same spot?
A woman, a man, a camera.
Two take turns filling the same void.
***
A tourist,
"I hear the Bridge was destroyed during the war.
Who did it?"
Addicted to choosing sides,
Establishing guilt,
We, are the innocent.
Children crossing the Bridge hand in hand,
What do their teachers tell them?
First known peace was between Egyptians and Hittites. (M)
The agreement, for all the world to see, is outside the UN General Assembly.
Do we know who "won" the war?
Do we care?
You!
Damning and praising.
Do you know the sides in the Great War?
What right have we to pass on war's legacy to children?
Your children,
Our children!
So children from Mostar can fight a just war in the future?
If the war dead could only speak,
"Tell us!
Was it worth it?"
***
Across the world, all pigeons have orange eyes.
We've been staring at each other.
It's standing on one leg.
I did the same.
Stayed that way,
Until the pigeon brought his leg down.
Did it notice?
***
Hundred years from now, a Time Bank on the Bridge.
At each foot, a Time ATM.
Inside it,
Our words and images,
Songs and poems..
Password: Mostar.
***
Why can't I cross the Bridge?
In Istanbul, I used to cross the Bosphorus by boat.
They built the Bridge.
In a matter of minutes I was on the other side,
My soul couldn't catch up with my body.
In Mostar,
"I'm in no hurry to live or die."
***
The Bridge.
What would you tell me,
Were I blind,
How would I touch you,
If I could not hear?
Imprisoned by words
Shut in by what I see,
My senses,
Distant as the darkest Africa.
***
In Mostar, there are two references to time.
"Before the war,"
"After the war."
A name?
It has none.
When are wars given names?
Do they change?
New wars need new names.
World War I.
World War II.
***
Man and woman.
In their writing, poetry, painting,
Can we tell them apart?
Have I started to write like a woman?
When a man comes face to face with his enemy,
Can one see whether he has beautiful eyes?
***
Here, there and nowhere
The dead,
on my mind.
Those about to die,
I see every day.
My death,
Far away.
***
News from friends.
Ragıp, Büşra. Imprsioned.
For the Prime Minister,
Prisoners of conscience
Are terrorists.
***
Tara-At the bookstore.
He's studying international relations in Sarajevo.
Courses this semester- Terrorism and national defense.
"Your teachers will not like what I"m about to tell you," I said,.
"Best national defense is to get rid of nations."
Like empire, their future, the dustbin of history.
National Defense?
Double speak.
When I was a child they called it Ministery of War.
***
A Dream
I'm by the sea. Diving platforms everywhere.
Where's mine? Can't find it.
I walk about the city streets in my red swimming trunks.
***
Over a million massacred during Pol Pot's regime in Cambodia.
Emel and Mehmet just got back from there.
In Mostar, they see the same faces.
Eyes,
Looking,
at you,
through you,
and beyond,
Into themselves.
***
Going to the Bridge at night,
"Hey!"
A woman's voice.
Covered from the cold,
She lifted her cloak.
Amela.
We kissed.
"Mostar sets its clocks by you,"
And off she went.
***
So many Bridges,
In so many places.
Not a word from them.
(Not a mention.) (M)
For days, I'd been wondering.
At last,
News from the Brooklyn Bridge.
***
Halebija, Midnight
In the hollow on the Bridge wall,
Yet again,
A cigarette butt,
Red lips. (M)
Brand-Drina.
When I cleaned out the hollow yesterday there were two.
Who is this woman?
Chestnut peelings are new.
Sign of the coming of winter.
And a Walter Wolf butt.
Bullets with brand names.
***
Anything I look at,
Turns into words crossing the Bridge.
And how quickly they cross!
***
Should anyone be thinking,
My farewell note once finished,
I would be jumping,
Hell not.
If anything,
Rid of my notes,
Another life is waiting.
***
The Bridge darkness,
Hides all faces.
Who's coming?
Who's going?
Across from me at Tara,
In his dark winter coat,
Who is it, that's waiting?
***
I sought out the imam to say
When he calls us to pray.
What a lovely voice he has,
His name, Elvedin.
Inside the mosque,
Women in the back,
Men up front,
Bending, bowing, prostrating, praying.
If it were the other way round?
Women up front,
Men in the back?
Ablutions down the hatch? (M)
Would god give them a whack?
Islam and Freud don't agree,
Why, (M)
With Oedipus and Electra defying
And libido inciting,
The devil to heaven,
Before Freud would pass.
Can a Muslim become a psychoanalyst?
***
Attached to the Halebija tower,
Like a room hanging over the Bridge,
An Ottoman chardak is the divers club.
Ermin looked out the window,
Pointed at my house,
Put himself in a firing position,
And said, "Sniper."
We laughed.
"How do you say, Sniper in Bosnian," I asked.
"Sniper."
In Serbian, Croatian, Turkish,
The same.
In the Balkans,
They kill in English.
***
The name of the book, Mostar Urbicide.
Genocide of living space.
Youngest of the divers grabbed the book.
Before his eyes,
His city from another time.
Mostar,
Before he was born.
Before it was killed.
He pointed to a rubble, and said,
"My school."
***
Until you get to a bridge,
Endless are seas,
Mountains, forests, valleys.
I Mostari,
Bridgekeeper,
Day and night,
Holding captive whom I write,
Those who,
walk,
talk,
smile.
One more M)
When brought before the judge,
Will I say,
Like all others,
"I'm innocent.
Just doing my duty."
Now listen to me all you Mostari
My predilection, a warning.
xxx
I never saw the sun rise over the Bridge.
Never crossed it in love.
Or drunk.
Or any other time.
But I am drunk with the Bridge.
Just when I'm coming.
And,
Just after I leave,
To come again.
Related texts and articles Print to PDF Send article by email