Hamdy el-Gazzar | Black Magic | Reading
26. June 2012 13:22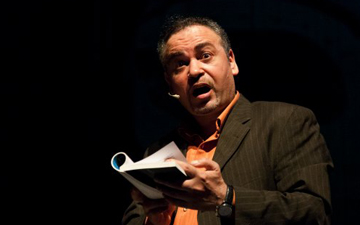 Chapter 4

That night I saw her for the second time, saw her with the eyes in my head, not through a camera. I wasn't working. I'd been invited to watch, drink, have a good time, dance, and join Nu'man and Claudia in the celebration of their new relationship. She had an ordinary face, like any I might see in the street without giving it any further thought, passing it by as though it had never existed, but I stared at her, at her face, at the half of her body that was visible to me, at her arms and at her hands. I was searching for whatever it was that had made my camera dwell on her so long that day when we were filming the Third Millennium conference. Nu'man had jabbed me in the belly with his elbow and at the time I'd felt no pain: I was too absorbed in my own astonishment, in my concentration on the details of her face.
Tonight I could watch her at length, observing her from my position between Nu'man and Claudia, who were deep in a conversation about the ancient Egyptians. The most notable feature of her face was the straight, thin nose, which sloped down, simply and elegantly, from just below the point between her eyes to the top of her upper lip, a pink, slightly full upper lip, with a lower lip that was plump and bright red. Her mouth was conspicuous and somewhat large but always attractive, whether she was speaking or silent or showing annoyance by sticking out her lower lip. She took her glasses off and started fiddling with them, putting one arm in the corner of her mouth, which made her look ill at ease and unhappy with the company of her friends. She raised her face, then looked toward the dance floor, and I discovered something I hadn't taken in properly the first time: all the powers of attraction and repulsion, of connection and rejection, of betrayal, irony, and passion that this woman possessed lay in her eyes, which were wide and black and shone with a quiet brilliance—an equivocal flux of weakness, voracity, and seduction. I averted my gaze well away from them, though this time too they had failed to see me.
Her movements shrieked with boredom as she sat between two men of around forty and two women who were familiar to me (I would sometimes see them at the Swiss Restaurant, around Downtown, or at the Greek Club). She fidgeted, her mind apparently far away, pretended to listen to their talk, tossed down her drink, nodded her head. She shot quick looks of appraisal at the dancers as though sketching a general view of everyone for her own private purposes.
The venerable Greek Club was crowded and noisy, an exploding bombshell of music, movement, and speech. It was the final night of the music festival put on by the remnants of the various foreign communities—Greek, French, Italian—that remained in Egypt and the staff of European embassies. The Brazilian group which was performing that night blasted out its music in total self-absorption, indifferent to the strange mix of people, that international audience united in its love of song, dance, and drink. It consisted of five youths, their bronze faces shining beneath the spot lights, their long hair, curly and agitated, hanging down their backs, their chests and shoulders naked, their strong, well-knit muscles as clearly defined as those of body builders. Four of them hugged guitars to their chests while the fifth was seated among the drums and percussion instruments, moving gracefully and rapidly from one to another. They played for themselves, for their own private delight in the music, and in homage to their singer—a huge, light-footed, vivacious woman who flirted and joked with her players, teasing them with unexpected transitions from one song to another, then stopping suddenly, letting out a terrible wild laugh as though she had remembered something that would upset them and starting on a new song; then, once they were absorbed in following the new tune, they'd find she'd suddenly gone off on a crazy new tangent and launched her powerful voice into some other song they weren't expecting, making them yell and cry out and stop playing, at which she'd laugh even more bawdily, to the cries of the reanimated audience, and gesture with her hand as though to convince them that she would stick with the new tune, though as soon as she began again she'd go back to playing around. In this fashion, she fed them and us jazz, rock and roll, samba, and pop, playing with her musicians and the audience till everyone who was dancing—male and female, young, middle-aged, and old, white, yellow, black, and brown—went wild.
Bodies light, heavy, and middleweight were going crazy, moving and inventing chaotic dances, swayings, and shakings in an attempt to keep up with the swoops, dives, and transitions of the belligerent singer's amazing Brazilian musical ladder and saluting her and the players alternately with whistles of enthusiasm, applause, and laughter. They danced and caterwauled like wild animals just released from their cages and were at their happiest when the group showed their gratitude for their extraor­dinary response with an encore of the noisiest numbers. But the only one whose large body moved with grace and harmony, as though she were a solid block of music, was she, the plump brown singer with the large breasts and the sensual lips.
Seated, I moved to the music in an attempt to feel like part of the crush of joyful, clamorous bodies. Little white whisky clouds started appearing in my mind's eye. I drank three glasses from Claudia's bottle and the old symptoms of daring emerged. When I want a woman, I feel as though my body is stretched tight, tense, alert. It had been a while since all these symptoms had seized me together that way.
Nu'man came staggering over, his hand round Claudia's waist. They were sweaty and laughing, drunk on the liquor, the dancing, and the music. Claudia picked her bag up off the table with a slightly shaky hand and kissed me on the cheek. Nu'man said that they were going to go now, and, as I said to Nu'man, they were right to go do it then, or what would have been the point of their having given themselves such a workout? He slapped my head, his body swaying like a pendulum. Swiss Claudia, who was studying Arabic and Egyptology, didn't understand.
Their departure was a relief and I remained alone, turned into a great eye trained on her. Then the opportunity, which I knew would not easily recur, presented itself. She had leant to one side and rested her back against the large open wooden door that divided the spacious dance hall from the dining-room and was watching everyone with a distracted and indifferent air. I formed my lips into the smile of an intelligent, gentlemanly sort of person and in a few large steps was in front of her, confronting her, my head above her black hair with its slightly reddish shine. She looked up, surprised by my presence, and I let her stare into my face for a few seconds before saying, without preliminaries, "How about a dance?"
She was a bit taken aback. I had thought she'd be used to invitations of this type. She shrugged her shoulders, took off her glasses and stared at me with a mysterious, puzzled expression. I looked straight into her eyes and didn't drop my gaze. She did the same and didn't flinch as I wanted her to, while a light pink blush suffused her face. There was only a hand's breadth between us and I could see myself reflected in the pupils of her large eyes. I saw myself inside them as an unfamiliar, agonized face.
A movement passed through my lips and a subtle electricity tickled my limbs. What had happened to me? I had made up my mind years ago that the best way to get to the bottom of someone was look directly into them, to knock directly at the doorway of their eyes and not flinch, not fear them until you had seen them and known them and stripped them bare. This, I'd always thought, was my little secret, but it seemed I wasn't the only idiot in the world to believe the myth, since she appeared to hold precisely the same delusion. What was it that hurt so much and turned my joke to ashes—the discovery of my secret and its exposure, or the unexpected pleasure of sharing it? This woman understood my silly illusion, as though she had known me for years.
I found that I was scared of myself and of her entranced, terrified of this wonderful pleasure that had seized my whole body as I stood rooted to the spot in front of her, speechless, tamed, familiar. I didn't know what to do, how to get myself out of my stupid game, which I'd wanted to play on her but of which I was now the standing, silent, waiting victim.
Chapter 17
I'm not like one of today's intellectuals. I don't talk about politics, poverty, the economic crisis, and corruption, about dictatorship, globalization, the unipolar world order, terrorism, and people's feelings of defeat, failure, and frustration, about the new box-office stars and the obsession with consumption, or about happiness and individualism. Nor do I talk about the little things, the intimate details of my life, sex, the death of great causes and the fall of ideologies, or "the neutrality of the text" and "affectless" writing. It is pointless for me to talk about anything except war, killing, violence, and death, because my only topic of conversation is passion—passion and nothing else.
What do people call a person who insists on clinging to error before everyone, before the whole world, as though he had the whole of eternity ahead of him to make mistakes in? They call him a simpleton, naive, a driveller. I call him by my own name because from one woman to the next, from one face to the next, from one set of people to the next, I never stop loving, and I never stop failing—that terrifying fall from the thirtieth story to the bare asphalt. I fall with no one to share the experience, without anyone seeing me, without anyone knowing.
When in such a state, I'm like some great mystic saint, el-Hallaj for example—a person impossible to accept, rejected by his people, his family, and his society. I object to nothing and I don't engage in dialog with the apparatus of authority or the high priests of thought or the men of letters, of the sciences, of the administration. I'm not necessarily some kind of obstreperous animal, or a bird that has separated itself from the flock; my deviancy consists in neither allowing myself to be provoked nor provoking others. In return, what is called society subjects me to amazing repression, over and above the normal censorship and taboos. I am suspended—that's all there is to it—far from things and human relations by a tacit decision to be insignificant, to not belong to any category or fit any niche.
Let me tell you about Fatin.
From Black Magic | Translated by Humphrey Davies
Photo by Petr Machan, Prague Writers' Festival 2012
Related texts and articles Print to PDF Send article by email