Martin Vopěnka | The End of the Law
06. April 2012 13:04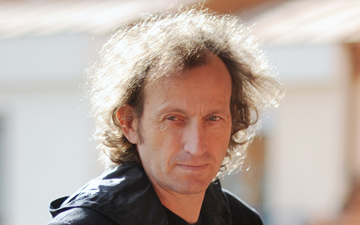 Blood, faces, brains and two dead bodies had turned the entrance hall into an uninhabitable cowshed. Everyone except Rat had been taking turns with the mother. Part of their rage for destruction had flowed out of them with the sticky sperm. Now they regarded each other with unfriendly eyes, breathed in the foul air, avoided the pools of blood and hid their variously stained genitals in their trousers. What began to bug them most of all was the brutalised women. Her stupidly uncomplaining body lay there as if asking for another round. She was still alive (if one could call it alive), but she had long ceased to have any business here. She sobbed slightly, bit her own lips, and her movements were like the writhing of a half trampled worm.
It was Devil who recovered himself first. He stood over her, and with his trousers already done up, "How come she hasn't kicked the bucket like the rest?"
He turned in a pally way to Simon, "I'd like to skewer her through with something, right from the cunt to the throat," he confided in a lowered voice, "Something you wouldn't see from the outside."
"Wait," Germ had an idea. He went off to the living room and came back with a metal poker from the fireplace. "Something like this?"
"Just the thing," Devil was delighted, "I just hope it's long enough." He grasped the wooden handle of the poker in his right hand and ran the other hand reverently along the rough, coal-black surface. He knelt down by the woman's side, inquisitively, like a doctor preparing to try out a new instrument, "Get her legs apart for me."
The woman offered no resistance. She evidently noticed nothing, or if anything assumed she would just be raped again.
The dry and scraped labia drew apart. There were hairline rivulets of blood on the walls of the vagina. Devil measured the length of the poker. From the handle to the tip it reached only up to the breasts. "I'll have to shove the handle in as well," he remarked.
Carefully, as if he didn't want to cause injury, he slid the poker inside. The woman still suspected nothing, and Devil slowly slid it further. Suddenly the women tensed, raised her head and looked down with wide open eyes. She opened her mouth, and a rasping shriek came from the depths of her throat. Simon had a tough time keeping hold of her leg. And Devil kept pushing. The muscles on his arms stood out as he was forced to bring more strength to bear. The woman was having trouble breathing, and so there was no second shriek. Several times she twitched ecstatically. She stopped moving, in mid-spasm, only as the handle reached the labia. Devil redoubled his efforts, shoving the poker in further and further, Only now did something like serious blood appear in the vagina. It didn't spurt, but just flowed out of the lips – much darker and dirtier than the blood that had sprung from the boy's throat.
"Job well done," Devil jumped up when even the handle had disappeared inside. "I'd better go and wash these slops off my hands."
Soon the water was running in the bathroom. Its splashing mingled with the sound of star wars from the video next door. Rat could be heard jumping up and down on the armchair and shouting encouragement, "Take him out! Get his head off! Just do something!"
Simon let go of the woman's leg. He looked around for something he could lie down on.
Germ appreciatively inserted a finger to touch the end of the handle, "Devil you old fuck, you're a real artist. I never saw a cunt like this before."
Later Simon was lying in the sitting room on the couch, while the others watched the video in the boy's room. Originally he had suggested they move up to the next floor, where they would probably find a flat just as comfortable. Only his suggestion hadn't met with agreement. It annoyed him that they had to walk round corpses, jump over a puddle of blood and breath the stench of smeared shit, when all they had wanted was the best, after all. Worse, the corpses would be starting to decay by tomorrow, and so they would have to leave anyway.
For some time Simon had wanted to go to the lavatory, but he stayed where he was, even though the urgent need kept him from sleeping. He was putting off the moment when he would have to walk past the mutilated bodies. Not that he had started to have any doubts about his actions. It was just a certain kind of aesthetics. He didn't have anything against butchery, but he didn't regard it as the highest way of expressing his uniqueness. He thought of himself more as a thinker than a killer, the future theoretician of the Guru's teaching.
His eyelids began to droop. Suddenly it struck hum that if he slept they might tie him up and then maybe dispose of him in some painful way. Would they dare do anything like that? Would they be capable of that kind of treachery? Germ and Rat, they were just types who joined the stronger side. But what about Devil?
He decided that sometime in the future Devil might consider his removal, and so it would be essential to take action first. But for now they had to co-operate. They had to achieve great things – greater than today's.
His guts tightened painfully. He got up. In the hallway he stepped over the boy's corpse and slipped into the lavatory. Quickly and unceremoniously he evacuated his bowels. When he flushed, the water turned blue and fragrant. Fragrant shit, he grimaced. On the way back his eyes caught on the boy's face. The angelic expression had cooled away, the features stiffened; the softness was gone from the eyelids and with it life.
It was the mother whose appearance was most appalling. Anyone who had known her alive would have been horrified. She was spread out and yet clenched in her nakedness, her body screaming with suffering. In fact it was as if she was still trying to tear from herself that second shriek she had not managed to let out.
Simon turned his head away and hurried back to the living room, He had scarcely closed the door behind him when he was assailed by a suffocating sense of inactivity. He felt the desire to kill someone. He felt a desire to kill everyone – women, children, men, old men.... If only he had at least one more living victim here. If not a human being, then at least a cat or a dog. He beat with his fists on the mattress. Not hard, but hopelessly, emphatically. He didn't want to join the others, but he couldn't bear the silence that surrounded him. Carefully, so as not to make a noise, he opened the window. Although he knew it wasn't wise, he leaned out.
The night was still clear and had noticeably cooled. A few thick spruces formed the border between the cultivated green under the window and the wild bushes.
Down on the road the beam of a headlight cut through the dark. Now Simon leaned half out of the window to see into the windows of the neighbouring houses. They were two or at most three-storey houses and the lights were on in roughly every second window. Simon squinted hard, trying to catch some movement, some trace of satisfied life. When he thought he had managed, his heart beat wildly. That one could be old dad, he said to himself mentally. And that's the daughter. It excited him. There had been a time when he had been excited in the same way by any hint of nakedness. This time it wasn't about nakedness. It was about anyone who suspected nothing.
Shivering from the cold he went back to the couch. He took off his mask and covered himself with a blanket. Again a shadow of doubt flitted across his mind. What if they stabbed him in his sleep?
There was a computer on the little table close by. He could easily go and sit down at it. Perhaps he could even access the web and find out what was happening. Maybe he would even find some information about the Guru and send him a message. Guru ought to know what a strong ally he had in Simon. They ought to get together to formulate the new philosophy, the most revolutionary mankind had ever known. They could not just formulate it, but try it out. Simon began internally to plan the text of the message he would send to the Guru. "I am Simon Sveceny, but now they call me the Murderer. I have removed..." Or better, "I shot my own wide. I did it in cold blood and with forethought when I realised that she stood in my way." Or, "...that she stood in the way of my development and my goals. Your teaching encouraged me, and opened my eyes. Now I can achieve everything I want. I would like to have a meeting with you..." No. "My place is by your side. I know that I need say no more."
Translated by Anna Bryson
Related texts and articles Print to PDF Send article by email