Martin Vopěnka | The Fifth Dimension | Reading
04. May 2012 10:16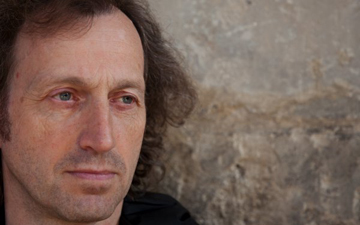 Part 1
1
The doors slammed shut and the helicopter prepared for takeoff. The sun was high overhead, and so the black silhouette under the belly of the helicopter was the only shadow anywhere. The hot stream of air from the engine shimmered above the yellow, brown and red scree of the rolling wilderness.
The din. The deafening roar of the motor. The noise bounced off the windy rocks until I thought they would shatter. After all, the only sound they had known how to face in millions of years, when even the local volcanoes had settled down into peace and quiet, was the occasional rustle of the wind, and once or twice a year – so I was told – the rumble of thunder.
The noise narrowed and rose in pitch as the helicopter blades rotated faster. The tufts of yellow grass bent back as if they were pillow feathers not spiky resistant brush. In the fraction of a second before the helicopter peeled away from the ground, I realized there was no we, but only they, and I. They, who were going back to their strange secret tasks. I, who remained.
They and I had never been the same, but in the last weeks, when they had brought me from Buenos Aires to inhospitable La Rioja, and taught me to measure my blood pressure, use the EKG, check my blood count..., when they had instructed me about calorie intake, and made several acclimatizing trips with me to prepare me for life at four to five thousand meters above sea level, I had succumbed for a while to the illusion that I was included with them and so something like "us" existed. Only now they were heading back east, while I was standing with both feet in yellow scree and would walk in my own shadow, uninitiated, uncomprehending – a hired and well paid guinea pig.
The helicopter lifted off, but remained hanging in the air at a height of around twenty meters – as if it didn't want to leave, or was too heavy.
It strikes me I actually want them to fly away. Because waiting is the worst thing. My whole mind is solitude bound. As soon as the helicopter disappears, as soon as the whirling dust settles and the buzz of the engine passes out of earshot, there will be no one to compare myself to in this desert place exposed to the mercies of the desert sun, and I will be completely alone here.
Part 3
1
Monday, June 18, four in the afternoon, and I'm sitting among the boulders on the hill above the bunker. I have a view on three points of the compass, and something is happening. Like music resonating from a distance. Or unknown vibrations? For a moment I'm at a loss, but then it dawns on me-it is movement. Tiny, and very distant, scarcely perceptible movement.
Here in the desert, nature offers so little in the way of stimuli that the whole face of the mountains is changed by the mere insignificant fact of four tiny dots moving in the northeast, almost on the horizon. At first I wonder if they might be llamas, but reallyt I am sure from the start that they are not.
In the following minutes the position of the dots scarcely changes. All the same it is clear they are moving, and what is more, coming closer. I am disturbed by the consistency of their movement, its purposiveness – so alien to the surrounding landscape, immersed as it is day-in, day-out in almost unchanging being.
After half an hour I'm no longer just guessing, but can actually see that they are people. And their progress is not as uniform as it seemed. One little figure is perceptibly out in front of the others.
Just a moment ago I could still see their outlines against the sky, but now they are heading down into an orange brown depression, and although they have been getting larger as they come closer, for awhile they dip out of view.
12.
Ever since I laid eyes on that mountain, I have felt a kind of connection between Veronika and me. In fleeting moments, almost too fleeting to register, it is as if I find myself on the mountain's slopes. As if I recognize the place, the large flat stone. I'm disturbed by these moments. Yesterday evening I even reached for the physics book to help me uncover some basis for what I am feeling. I keep trying to recall exactly what it was that I really saw when I saw them tying her up in my head. I was standing outside in front of the bunker, after all. I pick up the book again and spend more than an hour paging through it. Physical truths, truths about the nature of the universe, have a calming effect on me. My day-to-day worries come to seem minor beside them. After an hour of study I go out for a walk to the spring. I watch the water bubbling under the translucent ice, slashed through by the avid rays of the sun. Suddenly one of the relativistic principles comes into my head: "nothing can move faster than light." But what about that picture in my mind? What about my connection with the scene of the crime? Did I see the crime in the instant that it happened, or only after the amount of time needed by light (or another kind of information) to cover the distance between me and Incahuasi? There have been countless documented cases of telepathy, after all. I'm familiar with it in my own life, I mean thinking the same thing at the same time as someone I love, or finding that we have sent practically the same text message to each other at the same moment on our mobile phones. What if thoughts move faster than light? What if thinking differs in nature from everything else?
I'm gripped by creative excitement. I start reasoning systematically. Surely by thinking I can transmit myself to the other side of the Earth; that is to say I can imagine a place thousands of miles away. I can even imagine a place thousands of millions of light years away, or try to – thanks to physics. And just one moment is enough for me to do that.
Admittedly, in reality I do not actually move to that place or obtain an objective knowledge of what it is like there right now. And I definitely can't scientifically claim to know what is going on there. But the important thing is that thought simply has this property of seeking to overcome distance and time, and seeking to do so without limitation of speed. Of its very nature, thinking is directed to the stars.
I feel as if I'm on the threshhold of a great discovery. As if I was touching on something fundamental. Absently I pick up warm pebbles, press their dry surfaces and put them back. My mind is coming up with counterarguments to the notion that has struck me. After all, our thoughts about distant parts of the universe are based on the knowledge we have of them, and we have obtained our knowledge from information that has come to us from the cosmos at the speed of light at most and never faster. It has taken thousands of millions of years to reach us, and it is only on this basis that we can analyze what the universe is like. We cannot get out of our material bodies, let alone out of the timespace of which we are a tiny part.
All the same, I argue back. The fact that we formulate physical laws, that our thinking creates laws and uses them to identify processes and principles that we believe apply in the universe as a whole, that are valid throughout the universe, is in itself an expression of our need to escape the limitations of spacetime. Yes, we are material creatures, we do not have the ability to free ourselves from the laws of the material world, but we possess life-and life transcends the rules of the world around us. And we possess thoughts in our heads, and the thought processes taking place in the brain, in the material body, cannot be regarded as completely subordinate to the material world in the sense of being derivable from it. Our human thinking, after all, seeks to free itself from the laws of matter in every way. It moves back in time when we remember, and it tries to move forward when we think of the future. It constantly impels us to defiance. We often dream of things that could not physically happen. And we have invented God–a being who can achieve what we strive for – to stand outside space and time.
What then if life and the thought connected with it is a window, which can be more or less open, into the fifth dimension? An imperfect window, because we cannot see the fifth dimension in its pure form. Only some people, perhaps in meditation like Tibetan monks, some thinkers in their discoveries, some artists in their work apprehend this fifth dimension purged of the other four. We cannot actually move backward and forward in time, and we cannot overcome the speed of light even though we try to do so in our thoughts. These are abilities that we leave to God, but the very fact that we think about a God in this way and invest him with these abilities shows that we have some experience of these powers, at least in thoughts. After all, we could behave in our thinking just as humbly as the stones behave, as the inanimate world behaves; even in our thoughts we could be entirely subordinated to what is possible -the laws of gravity, of relativity. Instead, we set ourselves above laws and look for ways to break through them. And this is entirely natural to us.
Translated by Anna Bryson
Related texts and articles Print to PDF Send article by email