Sonallah Ibrahim | You have to decide what is valuable and fight for it
24. January 2013 16:51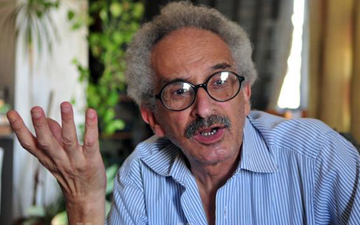 Born in Cairo in 1937, Sonallah Ibrahim was imprisoned for his affiliation with Egypt's Communist Party when he was 22). He produced his first book there, hand-written using mercurochrome for ink, food boxes for a cover and bread paste to bind the spine. He has since published eight novels and a short story collection; several of his works have been translated into English. Ibrahim's spare prose offers a wry, often darkly humorous illustration of society's self-deceptions alongside its self-knowledge.
Maria Golla: You speak of your childhood in the novel Stealth. Why this title?
Sonallah Ibrahim: That was a matter of translation. I would have preferred to call it 'peeper' because it is about a child who is always looking from around corners and though cracks in doors.
MG: Did you make any discoveries in revisiting this past?
SI: Stealth is not a memoir, it is fiction based on some facts. I made many discoveries which constitute the fictionalized aspect. I will give you two examples. First, I recalled an episode, a situation with a woman. I was about eight years old and she about 25, the wife of a relative. I was spending the night and she arranged that I would sleep beside her. I now know something I didn't realize before, that there was a sexual atmosphere between us, and I explain this in the way I wrote the episode.
Another example. We had a servant at home, a girl. My father was treating her nicely and I was jealous. Reaching the same age as my father at the time, I understood his situation. My mother was not there, he was about 65 or 70 and I could imagine how he felt and this explained to me certain incidents that confused me as a child. So I invented the details of my father's relationship with the servant according to my new understanding. When you remember things at my age the past takes on a new aspect.
MG: You spent five years in jail. 1959-1964. You must have resented the state for taking away these precious years of youth.
SI: No, I didn't resent that period because it taught me a lot. It was my school. We [myself and fellow members of the Party] were imprisoned in several Cairo and Alexandria jails before being moved to a prison in one of Egypt's desert oases. The first couple of years were hard, with torture and being moved around. The last few years in the desert were better. We planted our own food crops, put on theater pieces. There were several hundred people in the prison, divided into two groups, one for the communists the other for the Muslim Brothers. [Sonallah laughs; the Muslim Brothers now run the country.]
MG: You started writing in jail. Tell me about that first book, the one you made yourself.
SI: That happened in stages. Before going to the oasis jail we were not allowed to have anything to write with. In the oasis we were able to arrange these things. It started with a piece of coal and the bags used for cement that we cut into pieces to serve as our paper. Then we graduated to [cigarette] rolling papers. We arranged for books to arrive secretly, and had notebooks. Among us were people who were expert in handwriting and we paid them in cigarettes to transcribe the books. Afterwards, there was another industry which was covering the books with discarded boxes form food stuff. Everybody was writing! That's how it was. We managed to make it a lively period.
I still have friends from that time, but they are dying one after the other. One died two weeks ago; he was 90 years old.
MG: You spent time in Berlin and Moscow.
SI: Yes, after jail I worked a book shop then I found a job in the Middle East News agency. I met the correspondent for ADN, the East German news agency. They issued a daily bulletin translated from English to Arabic and one day their translator got sick so I was asked to replace him. I am a good translator by the way, a good journalist also. I was prompt, arriving at work at 8am exactly, not a minute less or more, and the Germans liked this very much because they thought Egyptians were incapable of punctuality. They were starting an Arabic section in Berlin, and asked if I'd like to go. I stayed in Berlin for three years.
MG: Did you visit Prague then?
SI: Yes, in 1969 and I found people very depressed and sad. The atmosphere was grey everything grey. I had a friend there and she was depressed too.
Then I went to Moscow to study filmmaking. I had a scholarship for three years. I didn't like Moscow. I liked the way of life in Berlin, the cleanliness and discipline but there is always a 'but'. I didn't like the weather in Europe; the cold was too much for me.
MG: You came back to Egypt in 1974.
SI: I needed the sun. I wasn't happy to be back in this traditional way of coming back to whatever. I don't believe in this. It was something physical. I longed for the sun, but also for a beer in a downtown Cairo bar where they serve plates of ful nabbit [sprouted broad beans] with your drink, little things you cannot find in Europe.
MG: What has changed most in the world since then?
SI: Everything. The values. The priorities. The way of life.
MG: Is there anything new under the sun?
SI: Yes, instead of one kind of car you now have 40 kinds of car. The invasion of the streets [by crowds of people, i.e. Egypt's burgeoning population] is new and the invasion of economic life by entrepreneurs who are loyal to one thing only: how to get money as soon as possible, without a long strategic view for building an industry or some kind of activity that can serve society.
MG: In The Committee you describe an authoritarian state, its opaque bureaucracy and rigid hierarchy and a man who can't get in or out and is menaced and persecuted until he ends up eating himself. It's an absurd drama, yet real. The frustration it describes - has this diminished since the uprising of 2011 or is it increasing?
SI: We are in a transition period and I am still frustrated when I hear or read what the Islamists say about things and the way they think and what they want. I heard a barbaric thing, the minister of education saying that he was not against beating school children so long as they don't get beaten too hard. Also the talk about lowering the marriage age, because Mr. Mohammed [the Prophet] had a young wife…
But I am optimistic. I think what's happening is a normal reaction to what happened before, but that something new will eventually emerge. I choose optimist – or I should go and commit suicide.
MG: Also in The Committee you describe an incident on a bus [I read it aloud]:
"I was standing next to a plump, middle-aged woman. Almost plastered against her back was a giant in a shirt partially unbuttoned so as to show off his chest. He was looking out the window, feigning absentmindedness. The woman moved ceaselessly in an effort to keep away from him, which made her bump against me. I made as much room as I could for her in the crowd. I watched – as did most of those around us- the minute space between his leg and her behind. He had bent his knee forward a little to aggravate her. I could only raise my eyebrows in complete disapproval. I am the first to admit I have a thing for that protruding part of the female body and am an aficionado of stolen moments in a crowd." [Sonallah laughs]
"From my point of view, this behavior, which some may condemn and which arises from our reality and independent character, is nothing other than an Arab substitute for western dancing in which people pursue such business face-to-face. But our national substitute fulfills a more complex role than the mere release of repressed desires."[Sonallah laughs louder]
"It is a successful way of fighting boredom arising from overcrowding and frequent long delays in streets jammed with private cars. Likewise for me it is an important means of releasing tension and one method of acquiring knowledge." [Sonallah is literally rocked by mirth].
MG: It seems like a lot more young men are acquiring knowledge this way, given the rise in sexual harassment and the related controversy. What is the state of the art of Egyptian sexuality today?
SI: We have different levels. One level is marriage, which is now connected with material situations and is usually a failed project; you see this from the high rate of divorce. I know a lot of young men 40-45 years old, who don't want to marry, don't want responsibilities… They say they can solve their sexual problem, are able to have uncommitted sexual relationships and this is a big number of people but mostly belonging to the middle class. If we come down the social ladder, I think the majority of [underprivileged] Egyptians are masturbating all the time, what else is there? I mean they are living in a kind of parallel space, fantasizing about women, about money about huge successes. Fantasy is a way of life for most people.
MG: In Zaat [a woman's name meaning 'self', 'essence' ] written in 1992, you talk about how taking the veil issues from the male-female rapport and becomes an act of repentance or fidelity. You identified this trend towards religiosity early on. Tell us more.
SI: I worked on Zaat for eight years before it was published. The veil was a reaction to the new role of women in Egypt, the social opportunities given to them by Nasser in the 1960s, education, jobs, higher positions, the way women were successfully managing a lot of things, raising children while men were away in [oil rich] Gulf looking for jobs and money in the 1970s. So the veil was a reaction. Men would say 'take the veil' to ' control the women. Imagine the situation. A man is living for years in Saudi Arabia and is of course full of new ideas about the [old, scriptural] roles of men and women in society. Meanwhile his wife is at home in Egypt, taking kids to school, going to the bank, indulging in several kinds of economic and social dealings while also maybe having some chance to express her sexuality. Then he comes back and finds a woman who is like a man. She discusses everything, wants to share his decisions, has another idea about her options and possibilities. He cannot accept this so the only way to solve the problem is to say Allah doesn't like this, Allah wants this, Allah wants that.
MG: Einstein called nationalism 'the measles of mankind.' What do you think?
SI: I don't agree completely with this. What about colonialism? Should you fight against imperialism on a nationalist basis or not? I will fight for my right to decide about my thinking, my religion. Suppose someone takes my books and says this is wrong, you have to change this, take out these parts. I must fight…And what about the country, where for instance all the factories and industrial institutions that we gave our blood for 60 years to build and own, what if this is all being taken out of our hands and given to some western capitalists?
MG: What is Egypt?
SI: I believe in the idea of a nation to a certain extent but I also believe the whole world is a village and don't feel personally any national pride as an Egyptian …twenty years ago if an Egyptian wanted to immigrate in order to find job and use his talents, I would have advised him not to go, would have said this is treason, you should stay here and fight until you can get the right position. But now I am starting to think that I can serve humanity anywhere. I give you another example. Here they talk about marriage between Egyptians and foreigners [referring to recent constitutional amendment that presidential candidates must be married to Egyptians], and I would say it's ok [to marry anyone] because by and by the world is becoming one nation. But this will be a gradual thing.
You should also keep some national traditions and develop them – not just keep them frozen in time like some [religious fundamentalists want] but examine them. Some traditions are good; you can't just dismiss them. You have to decide what is valuable and fight for it. I see this happening in the new political parties, in youth, people discussing what we have and don't want to lose, not just what we want.
MG: What about democracy?
SI: Democracy is something abstract and we find different forms in the way people are trying to put it into practice. I don't think there is any real democracy anywhere. Usually there is a group or a class or party who is controlling the whole operation and carrying a banner with the slogan' democracy'.
The process is open for all options. The whole capitalist system has a problem. It always did, and was able to evolve adjustments but now it seems that we have reached the point where real change is expected and demanded all over the world.
MG: Is 'real change' possible?
SI: Yes, there are reactionary waves than can manage for a while, here and in other countries, but then they give way to something else.
MG: What are you reading?
SI: A David Grant thriller.
MG: Are you writing?
SI: Yes, but about what I will not say.
Cairo, October 2012
Photo: Mohamed Maarouf
Related texts and articles Print to PDF Send article by email