22. November 2012 15:10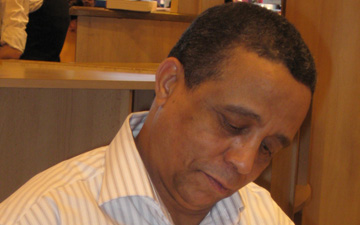 At the beginning of January 2007, I was introduced to a writer whose work I had not only never read but had never heard of before. I just naturally assumed that Yasmina Khadra was a woman until I received the first books from his publisher in North America for me to review. Yasmina Kahdra is the pen name of Mohammed Moulessehoul, an Algerian man now living in France.
I have to confess that Yasmina was the first writer I had ever read from the Arab world, and even though the 1988 Nobel Prize for literature went to an Arab, I have made little or no effort to educate myself on the subject. However, since reading five of Khadra's books and conducting this interview, my interest has been piqued.
Richard Marcus: Tell us a little about yourself, where you were born and other biographical details.
Yasmina Khadra: I was born, 52 years ago, in the Algerian Sahara. My father was a male nurse and my mother a settled nomad. My tribe has occupied Kenadsa (the village where I was born) for eight centuries. She is known for her poetry and her wisdom. She has always welcomed, without regard to race or religion, all the travellers who knocked on her door: the writer and explorer Isabelle Eberhardt, the Minister Charles de Foucauld, as well as the missionaries who crossed the desert in the direction of Tombouctou and Africa.
I was born in a tribe of poets and warriors. This is why I never felt out of place in the army as a novelist. It is my tribe which taught me how to divide myself between the two.
RM: Your father had been a soldier, and you became a soldier. Where did the desire to write come from? Most people don't think of soldiers becoming writers.
YK: My father had been a male nurse. Then, there was the war for the Independence of Algeria, which had been colonized by France, and my father joined the National Liberation Army. After six years of war (1962 was the birth of the Algerian republic), he came home as an officer and chose to embrace a military career in the young Algerian army. In 1964, when I was nine years old, my father placed me in Cadets School, the military institution concerned with officer training.
I thus spent 11 years at this military boarding school before moving on to the Academy to begin my career as an officer that lasted 25 years. But I was always writing. From the time I was 11 years old, I tried my hand at fables and tales. My first published work, Houria, I wrote when I was 17 years old. When I became an officer, I continued to write. I published six novels under my real name, Mohammed Moulessehoul before seeing any reaction from the hierarchy in 1988.
Seeing that I had begun being recognized in the media in Algeria, the high command imposed a committee of censorship to supervise me. I refused to subject myself to them.
This is how my first pseudonym came about, from that decision in 1989. It was Police Chief Llob's name that appeared on two small novels The Nutcase with the Lancet (1990) and The Fair (1993). In 1997, my Parisian editor wanted a name that sounded less like a profession for the publication of Morituri. I chose my wife's first two names, Yasmina Khadra. Since then I have kept this pen name, which has now had work translated in 27 countries.
RM: What did your family, your mother and father, think of your writing?
YK: My family has always respected my choices. They know that I am healthy in body and spirit and do not look to debate my career choices. My father is proud of the direction I've taken while my mother, who is illiterate, knows that it is a good thing, but is not quite sure why. She had always wanted me to quit the army so that makes her happy. My brothers and sisters encouraged me to go from the word on.
RM: Were there any writers who inspired you when you first started to write?
Your Superintendent Llob books reminded me a little of the books by George
Simenon and Nicolas Freeling.
YK: I did not read Simenon, at the time. Our bookshops were disaster victims and our old books managed to do little more then make us dream. We lived in a country that was horrified of writers and artists. However, I really liked African-American literature: Chester Himes, Richard Wright, and James Baldwin.
By creating the Superintendent Llob character, I wanted to have a typically Algerian character. Moreover, in my noir novels, Algiers is also a central character. I did not seek to imitate my preferred authors. I wrote in French, but with my sensitivity Bedouin, my Algerian glance, my anger and my Algerian hopes.
Anyway, we also have our own artists, as beautiful and rich as Western literature. I far prefer Taha Hossein (Egypt), François Mauriac, Abou El Kassam Ech-Chabbi (Tunisia), or Pablo Neruda, Naguib Mahfouz, Malek Haddad (Algeria) etc, to European flashes in the pan.
It's a pity that you do not have access to our culture. The Arab world is not just a postcard with dunes and caravans, nor is it only terrorist attacks. The Arab world is more generous and more inspired than yours. Do you know that El Moutannabi is humanity's greatest poet since the dawn of time? … It's a pity that you do not know anything of it. I have had the chance to reap the benefits from two cultures--Western and Eastern--without ever losing sight of where I come from.
RM: Where did the idea of Superintendent Llob come from? What made you decide to write about that subject?
YK: I created Superintendent Llob as a diversion for the Algerian reader. I have already told you, in Algeria, we did not have a large selection in our bookshops there, and the publications revolved around the political demagogy, nationalist chauvinism, and the romantic mediocrity praising the Algerian Revolution in Stalinist speeches. I dreamed of writing station books, books funny and without claim that you could read while waiting for the train or the bus, or while gilding yourself with the sun at the seaside. I dreamed to reconcile the Algerian reader with his literature. I had never thought that Superintendent Llob was going to exceed the borders of the country and appeal to readers in Europe and America.
RM: In your books "Wolf Dreams" and "In The Name Of God" you switched from writing from the point of view of the police to that of the terrorists. Why did you make that choice?
YK: What police, and which choice? These two novels give a truthful account of real social and identity mutations that drove the emergence of fundamentalism, then terrorism, in my country. They are used as references in universities today.
RM: Why do you write about terrorism?
YK: For two reasons. Initially because it is a planetary danger, that I know of from the inside and that I can describe with clearness and intelligence. Also, because Westerners understand nothing, and never say anything important on the subject. My books consist of explanations to clarify the consciences and alleviate the spirits traumatized by the political handling of media misinformation.
That being said, I make a point of recalling that my novels are not testimony. They concern fiction and assert their literary values. I am sorry to see people throw themselves on the topic and neglect the manner of treating this topic. I basically make literary work. I have a language, a style.
RM: In your early books you talk about the corruption in Algeria and have characters say that the terrorists were being used to allow certain interests to seize power. Is the situation in Algeria still as bad as it was, or have there been improvements since the time of writing those books?
YK: Nothing has changed in my country when it comes to this topic. The corruption prevails more and more; predation and opportunism has become the favourite sport of the nation. Most of our elite were forced into exile, and the people are without guidance, delivered to the robbers and to the charlatans, and have come to believe things will always be the same.
RM: In your more recent books, Attack and Swallows of Kabul, you've started writing about life outside Algeria. Why?
YK: Why not? The real question is to know if I succeeded or not. I think that I am well positioned to speak about what occurs on our planet. My double culture makes me believe that I am capable of doing this. It is about time, for you, to hear the bell ring somewhere else.
RM: Reading your books I could tell that you really loved Algeria. It must be hard to be in exile. Do you want to go back to Algeria? What would have to change there for you to want to return?
YK: I like my country very much. I try to support it with my modest means, to give courage and confidence again to the young Algerian who reads me. But I am not exiled—I am an emigrant. I am living in France to work, and not to take refuge. I return in my country when I want, and nobody, neither the President nor the emirs, can prohibit me from going back there. Algeria is my country, and I do not have any other. I do not want to have any other.
RM: What has been the reaction to your books in Algeria and other Muslim countries? Or does the fact that you live in France answer that question?
YK: Algerian readers like me a lot. They read me in French because I am not translated into Arabic. I am translated into Indonesian, Japanese, Malayalam, in the majority of the languages, except in Arabic. But that has nothing to do with the Arab people. It is the leaders who seek, as always, to dissociate the people from the elites so they can continue to reign and cultivate clanism and mediocrity.
RM: The Sirens of Baghdad is your new novel. Does it explore the same themes as your earlier books?
(This question got slightly skewed in the translation - instead of themes as we would interpret it, it translated as subject matter – hence the answer)
YK: I never explore the same topic in my books. Each novel deals with a different phenomenon. It is you who do not manage to separate the different subjects I treat. You are constantly in a state of confusion. The Swallows of Kabul speaks about the dictatorship of the Talibans and the condition of the Afghan woman. The Attack speaks about the Israeli-Palestinian conflict. The Sirens of Baghdad speaks about the 2nd war of Iraq. Radically different topics, but everywhere you retain only terrorism, terrorism, terrorism. My novels do not speak about terrorism; they talk of human brittleness, anger, humiliation, the fears, sometimes the hopes; and of this burning and fatuous actuality which spoils our life.
RM: What are your plans for the future?
YK: I live from day to day. It is more prudent. I do not make plans; I prefer to take the things as they come.
Richard Marcus for bogscritics.org
http://blogcritics.org/books/article/an-interview-with-author-yasmina-khadra/
Related texts and articles Print to PDF Send article by email