Yasmina Khadra | Struggle against stereotypes
10. January 2013 10:09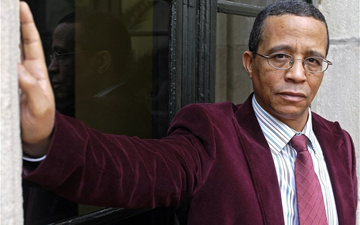 Emilie Valentin: You moved from the Algerian army to literature which is not common. Could you explain it a bit ?
Yasmina Khadra: I was born poet. I belong to a tribe of poets which exist for more than 8 century in Sahara. I didn't fell from a tree. I belong to a tree which has deep roots in a literary and intellectual tradition. But my fatherm instead of being a poet, choose to be a soldier. He engaged every of his children in the army. He putted my when I was 9 in a military institution. I was the first-born. Later I was joined by my two brothers, one was 7 the other 5. Can you imagine that ? A 5 years old soldier ? There's lifes like this. The real struggle is to survive to them. So I was a soldier when I was 9 and I persued in a military career because of duty but also because my mother insisted to. I sacrified 25 years of my life for my mother. But during this tiůe I always wrote. I started quite early, when I was still in military classes. When I was 17 I've finished my first short-stories book. But in Algeria, there's a gap between writing and publishing… I had to wait fro 8 year until my book was available at the booskshops. But I persued writing. It was easy to do so while I was a soldier but I didn't mind. For me writing is a dream. The hierarchy didn't agree with me and tried to stop me when I started to get some recognition.
They opposed me a censorship comitee so to avoid it I choose clandestinity. It took 11 years. First, I choose the nom de plume of commissair Llob, then Yasmina Khadra — which are my wife first names. That's my story. Later I had to choose between being a general or a writer. The choice came up by itself : I picked up writing and gave up army. But while I was still in the army I started to be known in Europe — I was already translted in 10 languages. Nobody knows who was Yasmina Khadra. So when I got the chance to say « Here it's me » I didn't hesitate. It wasn't a game for me. Some people might I have thought I tricked them but I would like to imagine them in the same situation as mine.
EV: A now, with your new novel, you are speaking about the war in Iraq. What do you plan to express with this tense subject ?
YK: What I did matter was to show this fantastic, generous and peacefull side of the Arabs — that Wstern world usuaslly doesn't see. I wanted to shake the habits to show a world larger than it thinks. And I had to find a story in a hot actuality because you've to to a lot to interest western reader when you're algerian. People need to be strongly interpellated. This novel is a struggle against stereotypes, the shortcuts, the intelectual lazyness. I wrote this book to say : « The world's fine, it just that people fucked up sometimes ».
EV: That's what happened to the main character ?
YK: He's a young man just as every young man in the world. The African, American, Asian or European youth is dancing to the same music, I do understand why they shouldn't have the same ambitions ! It's fact they don't have every where the same opportunities neither the same life conditions. There's countries which are doing a lot for the youth, and other which didn't care of. My character is someone who has been caught in a war he didn't want to be a part of. He went to universites in order to because a teacher in literature. It was already amazing. And then, suddenly, the war is coming and the university — with all his dreams — is torned apart. So he's returning home in the desert. Iraq is in war but in this small village you can hear nothing but echoes of it. He stays home, rememoring his dreams, trying to not disturb others, and one day misfortune just knocked at his door. First, he witnessed the misunderstanding which leaded to the murder of a retarded. Then it's the missile which kill people who were laughing an dansing at a wedding. Despite those 2 dramas he didn't succumb to rage. Until the day when one comes to his own house, humiliating his father. And then ! Honour is the most important thing for Bedouins ! and a bedouins who losed his honour just died for himself and the others. The only way to be reborn is revenge. And revenge can be only done with blood. It's the only way for them to clean honour. That's how they think. The bedouins consider that no justice can give them back dignity unless it's done by their own hands.
EV: The whole interest of the novel is mainly here : how a young educated man can fall by looking to regain self-esteem…
YK: He's doing it against his own will. He's desperate about the story, but he's forced to to what he would never wanted to do. It's unavoidable for him.
EV: Yes. And what's important is that he still lucid on the situation.
YK: Yes he is indeed. People tries to manipulate him but he's aware of. I wanted to show that those people are not insane. Media are saying that radicals are insane but they are not : they are lucid person who are revendicating well determined rights. They want to be respected and rid off American imperialism. I dont't support them, but I can't blame them neither. Those people have ideals. They are lucids, they know what they want and how to reclam it. I disagree with their brtuals and unfair methods, but we have to listen to them.
EV: Actually it's pretty easy to identificate ourself with the main character. He went to university, he doesn't take part to the war. With the story with his sister (she's telling him she's living with a man without being married and he strongly disagree) you show the limits of identification and remind us that this young man has a very different perception of the world than us…
YK: This is not limits. Personally I would not agree neither to see my sister living with a man. And I am a writer, I am modern. Europe discovered it can live better without moral. One can do whatever he wants. You can get married between men or women, you can even claim for the right of having children, there's posters of naked personns everywhere. You can live with that. But we haven't reach this level of emancipation. And — to be honest — we don't want to. We prefer to remain people with borders. We need limits to resist to temptations. Because for us, when a man reach the absolute freedom, there's no liberty anymore, just animality. And we are sticked to our conception of the world. Modesty is a part of it, such as respect. In arabic countries, in Algeria for example, it happens that we can not watch an interesting debate on French TV because someone is saying dirty words. The family just goes away. There's no point to be vulgar in a debate. We do mind it.
A to come back to the sister's story, I would like to say that I didn't expose her as immoral but as a free woman who has no time to wait. The main character asks her if she still believe in God and she replies : « I do believe in what I'm doing ». It's more important for her than to believe in anything else. And I do believe that the true faith starts by faith in yourself. If you have no self-confidence, if you have no respect, no consideration, no self-esteem, you can not be a man, not even a common one.
Evene.fr 09/10/2006 | Foto: Profimedia
Translated from the French by Guillaume Basset
Related texts and articles Print to PDF Send article by email