Miguel Sousa Tavares | Equator
12. February 2013 15:24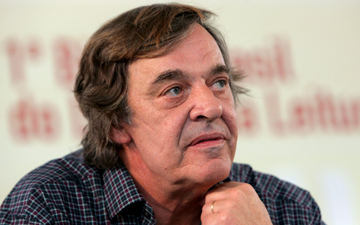 Looking back on your life, you inevitably wonder how it might have turned out if you'd done things differently. Had Luis Bernardo Valenca known what destiny held in store for him, he might not have caught the train to Vila Vicosa that rainy December morning in 1905 from Barreiro Station in Lisbon.
But Luis Bernardo now sat back in his first-class red velvet seat and nonchalantly watched the scenery rush by the window, observing how quickly the plains of holm oaks and sweet chestnuts, so redolent of the Alentejo, came to predominate and how the rainy sky he'd left behind in Lisbon was timidly clearing to allow the rays of a comforting winter sun to break through. He tried to devote the precious hours on the journey to reading O Mundo, his favourite daily newspaper, one that was vaguely monarchist, vigorously liberal and, as its name suggests, concerned with the state of the world and 'the elites that govern us'. That issue of O Mundo described the crisis facing the French government because of the escalating building costs of the Suez Canal at Engineer Lesseps was frantically excavating, creating a debt that would apparently last into the indefinite future. There was news of the English Royal Family celebrating yet another day for King Edward VII, who was regaled with messages of 'gratulations from every king, raja, sheik, ruler and tribal in from that vast empire on which, as O Mundo reminded as, the sun never set. As far as Portugal was concerned, there are yet more reports of a punitive expedition against the western hinterland of Angola, another episode in which the colony apparently liked to wallow. Also is a fresh skirmish in Parliament between the deputies tibeiro's Regenerationist Party and Jose Luciano degressives, as a result of the Palace 'civil list' - the part of purse set aside for the running of the Royal Household, and which seemingly could never keep up with expenditure. Luis Bernardo put his newspaper on the empty seat next to him and decided to consider what had led him to board that train.
He was thirty-seven, single and as rakish as his circumstances and origins allowed. His romantic conquests included a few chorus girls of extremely ill repute, the odd sales assistant from Lisbon's Baixa, two or three virtuously married society women and a highly desirable German soprano engaged for a three-month season at the Sao Carlos, whose favours he was certainly not the only one to fancy. He was, however, a man who was also prone to bouts of melancholy. He graduated in law from Coimbra by the age of twenty-two but, to his now deceased father's great dismay, Luis Bernardo's projected career at the Bar amounted to a short interlude in a famous Coimbra law practice, which he soon fled, turning his back for ever on this vocation. He returned to his beloved Lisbon and pursued various occupations, until he inherited his father's position as senior partner in the Island Shipping Company: three vessels, some twelve thousand tons apiece, that transported freight and passengers between Madeira and the Canary Islands, the Azores Archipelago and Cabo Verde Islands. The company offices were lodged in a building at the end of the Rua do Alecrim and its thirty-five employees were scattered over (the four floors of a vintage Marquis of Pombal building. Luis Bernardo was located in a large room with two windows overlooking the Tagus, which he watched like a lighthouse keeper, day after day, month after month, year after year. To begin with, he enjoyed the illusion that he controlled an Atlantic fleet, if not the fate of the world. As he received telegrams or radio bulletins from the three vessels, he updated their positions with the small flags he pinned on a huge map of the west coast of Europe and Africa that hung on the far wall of his office. The novelty of this daily plotting of the Catalina, Catarina and Catavento soon wore thin and, though he stopped pinning flags on the map, he did continue to appear diligently on the Rocha Conde de Obidos jetty to see the company's ships arrive and depart. Out of a spirit of exploration or sense of duty he embarked only once in one of his vessels: he went to Mindelo and Sao Vicente, on a stormy, uncomfortable voyage, only to reach a land he found desolate and entirely bereft of anything to interest a European of his time. They said it wasn't really Africa, but a slice of moon that had fallen into the sea. Nonetheless he wasn't moved to sail any further in search of the Africa about which he'd heard such exciting tales. Thereafter he remained rooted in his office on the Rua do Alecrim and in his house in Santos, where he lived alone with an old housekeeper he had inherited with his parents' house and who proclaimed to all and sundry that "the young gentleman should find himself a wife", plus a kitchen maid from Beira Baixa. He invariably lunched at his favourite club in Chiado, dined at the Braganza or the Gremio or quietly at home. He played cards with friends, met up with family at the Sao Carlos, or parried at the Turf or Jockey Club and was considered to be witty, intelligent company. He closely followed the state of the world in French and English magazines, being equally fluent in both languages, which was quite unusual in Lisbon at the time. The Colonial Question fascinated him. He read everything related to the Conference of Berlin and took part when overseas issues became the focus of passionate public debate, after the English Ultimatum when Portugal ceded territory linking Mozambique and Angola. Luis Bernardo published two articles in O Mundo that were widely quoted and discussed: his analysis was balanced and cool-headed. Bucking the patriotic, anti-monarchist frenzy that was fashionable and in stark contrast to King Dom Carlos's apparent aloofness, he defended a mercantile model of modern colonialism. His thesis centered on the effective exploration of things that Portugal might possibly achieve, through companies that were ready to engage with Africa, companies that were professionally managed and guided by a "civilising spirit", and no longer "determined by the designs of those who, being nonentities here, behave like potentates there".
His articles were hotly debated both by "Europeanists" and "Africanists", and the reputation he gained as a result encouraged him to publish a short report, which brought together statistics related to imports over the last ten yean from the African colonies. The purpose of this was to support his conclusion that this was trade in its early days for Europe, insufficient for the needs of Portugal and a considerable waste of the potential that could be realised by the rational, intelligent exploitation of wealth overseas. 'It is not enough to tell the world that we have an empire,' he concluded, 'we must also explain why we deserve to possess and hold on to such a thing.' The ensuing debate was intense and violent. From the other side of the trenches, 'Africanist' Quintela Ribeiro, the owner of enormous landed estates in Mocamedes, riposted in O Claritn, asking, 'What real knowledge of Africa does Mr Valenca have?' and inverting the turn of phrase against its creator, he concluded, 'It is not enough to tell the world, as does this Valenca, that we own a head. We must also explain why we deserve to possess and hold on to such a thing.'
Quintela Ribeiro's boutade and the genuine public discussion generated by Luis Bernardo's statements opened many new doors for him. Lisbon's luminaries commented that it was a waste that a man of his age, intellect and knowledge should spend the best years of his life contemplating the Tagus from on high and wandering the city after amorous conquests.
All this had petered out some months ago. Much to his relief, Luis Bernardo was able to return to his tranquil life. He felt that the discomfort of being at the centre of a public polemic outstripped the eventual fame and admiration he had attracted. This, in any case, had only translated into an increased number of invitations to dinners where he was invariably forced to listen to stupid opinions on the Overseas Question, which always climaxed in the rhetorical question: 'And what is your view on this, Dr Valenca?'
Momentarily drawn back to the present on his journey from Lisbon to Vila Vicosa, Luis Bernardo began to consider the strange summons he'd received from the King through the Count of Arnoso, the monarch's Private Secretary, to come to lunch on Thursday at the royal palace in Vila Vicosa. Bernardo de Pindela, the Count of Arnoso, a member of the famous 'Defeated by Life' group, which had so upset the country's intellectual life a few years earlier, unexpectedly honoured him with a visit to his company office to deliver the summons, and merely added, 'Forgive me, dear sir, but, as you will appreciate, I cannot reveal what His Majesty intends to say to you. I know it is an important matter and that His Majesty requested the meeting be kept a secret. However, you will appreciate that a trip to Vila Vicosa will help blow away the Lisbon smog and, moreover, I can guarantee you will eat extremely well.'
So here he was on his way to the Palace of the Dukes of Braganza, in the middle of that empty expanse known as the Alentejo, where every year His Majesty Dom Carlos dedicated the best part of autumn and winter to his favourite sport of hunting which, according to Republican wags in the capital, occasioned a diversion from the few moments he deigned to devote to matters of state. Luis Bernardo was almost the same age as the King, but, unlike the latter, he was slim, elegant and dressed with an apparently casual austerity that was the mark of a real gentleman. Dom Carlos de Braganza looked like a nonentity dolled up as a king; Luis Bernardo seemed a prince a la mode. Everything about him, his physique, the way he dressed, the way he walked, revealed his attitude to life: he cultivated his appearance, but didn't sacrifice comfort; he kept up with fashion, with what was happening in the wider world, but didn't abandon his own judgement; he was pained by the idea of going unnoticed, yet found that being a focus of attention cramped his style. His outstanding quality was his total lack of ambition: ironically, this was also his major weakness. Yet, when he analysed himself, with a modicum of impartiality, Luis Bernardo concluded, without being overbearingly vain, that he was several necks ahead of the social circles he moved in: better educated than those immediately below, more intelligent and cultured, and less vacuous than those above. Yet the years were slipping by and his youth with them. In love as in life, the women he found irresistible were always beyond reach; those he found available were always a disappointment. He was once betrothed to a very pretty young woman whose buxom charms had enchanted him. His eyes feasted on her, and his lusting hands and lips were soon roaming over her welcoming flesh. He was thus lured to the point of offering the girl an engagement ring, agreeing a date with his Aunt Guiomar, who stood in for his mother, and with his putative father-in-law, only to cavil finally at the girl's ignorance. She mistook Berlin for Vienna and reckoned France was still a monarchy. The terrifying prospect of endless years of inane conversation at the side of that preening creature and the boring Sunday lunches at his father-in-law's home proved too great a challenge, and he inelegantly and unapologetically beat a quick retreat. The girl's father shouted insults at him at the Gremio but he slipped out unnoticed, annoyed though relieved, thinking that it would all be forgotten in a fortnight and he'd still have a lifetime before him. That was the closest he ever came to being 'a respectably married man'.
He stretched out his cramped legs on the seat opposite, took a silver cigarette case from his coat pocket, extracted a long, slim Azores cigarette and a box of matches from his jacket, lit the cigarette and inhaled slowly and sensually. He was a free man: without partner, political party, debts or debtors, no millionaire but no bankrupt either, driven neither by a sense of futility nor a desire for excess. Whatever the King had to say, propose or order, he would always have the last word. How many men did he know who could boast as much?
(Chapter 1)
Translated from the Portuguese by Peter Bush
Related texts and articles Print to PDF Send article by email