Ana Luísa Amaral Portugal PWF 2018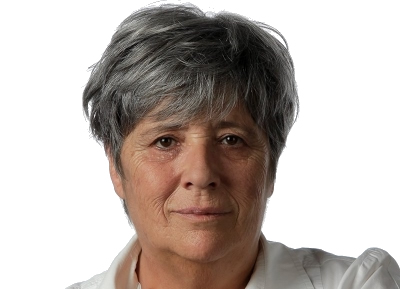 .
"I want to speak about what used to be streets, avenues flanked by houses and palm trees, about magic carpets that once, in our imaginations, flew through the air—and now vanish in other, more ordinary ways."
Ana Luísa Amaral—one of Portugal's most acclaimed authors—projects a force that comes from within—"with a touch of madness of the abyss—that frightens and seduces".
Born in 1956 in Lisbon, Luísa Amaral's poems embody the fascination of confession, the elegance of Emily Dickinson, and the timeless sojourns of sleepless nights—"alongside of those oceans of people—the sediment that lives in other people—the slow years of accumulated hatred—verging on abomination".
We see in Ana Luísa Amaral an enlightened vulnerability—trying to rebalance the scales of gender. "I say—space—or some recipe to take its place."
Amaral's collections of poetry include: Mistress of What, Sometimes Paradise, The Art of Being a Tiger, The Genesis of Love, Voices, Dark, and What's in a Name.
"The divine mills slowly grinding—fine flour, futile seas of dust."
.Ana Luísa Amaral lives in Leça da Palmeira, Portugal.

14.05.2018 Readings