Bahaa Taher Egypt PWF 2010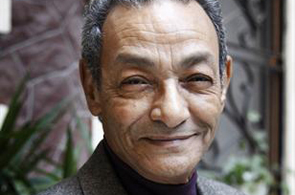 One of the most celebrated authors in the Arab world, Bahaa Taher was born in 1935 in Cairo, Egypt. A nationalist—rather a pan-Arabist—he actively pursued the ideas of Gamal Abdel Nasser, working in Egyptian radio and gaining prominence in the left-wing avant-garde literary circles of the sixties. In 1975, his work was banned.
Bahaa Taher took flight—travelling widely in Africa and Asia—settling in Geneva as a translator for the United Nations, until his almost inevitable return to Egypt—still distraught by "the loss of a common project".
Taher is the author of four collections of short stories, several plays and works of non-fiction, and six novels: East of the Palms, As Doha Said, Aunt Safiyya and the Monastery, Love in Exile, The Point of Light and Sunset Oasis, which won the inaugural International Prize for Arabic Fiction in 2008.
Bahaa Taher lives in Cairo.