Derek Walcott Saint Lucia PWF 2011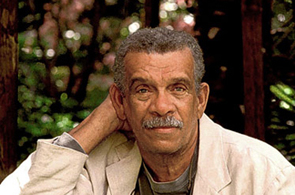 Nobel laureate Derek Walcott—Caribbean poet, playwright, visual artist—was born in 1930 in Castries, Saint Lucia in the West Indies. His virtues as a poet are amazing. For Seamus Heaney, "the Walcott line is sponsored by Shakespeare and the Bible—it can compel us with the almost hydraulic drag of its words."
Influenced by the history of European colonialism on West Indian culture—and his family's history as descendants of slaves—Derek Walcott's poems are characterized by references to traditional English poetic tradition and a symbolic imagination that is simultaneously personal and Caribbean. He received the Nobel Prize for Literature in 1992 " for a poetic oeuvre of great luminosity, sustained by a historical vision, the outcome of a multicultural commitment".
Walcott's work includes: In a Green Night, Sea Grapes, The Fortune Teller, Omeros, The Bounty, Tiepolo's Hound, The Prodigal, and White Egrets.
"Derek Walcott has made his culture, history and sociology into a myth for our age and into an epic song that has already taken its place in the history of Western literature."
Derek Walcott resides in St. Lucia and New York.
Poetry collections
25 Poems (1948)
Epitaph for the Young: Xll Cantos (1949)
Poems(1951)
In a Green Night: Poems 1948—60 (1962)
Selected Poems (1964)
The Castaway and Other Poems (1965)
The Gulf and Other Poems (1969)
Another Life (1973)
Sea Grapes (1976)
The Star-Apple Kingdom (1979)
Selected Poetry (1981)
The Fortunate Travelle (1981)
The Caribbean Poetry of Derek Walcott and the Art of Romare Bearden (1983)
Midsummer (1984)
Collected Poems (1986)
The Arkansas Testament (1987)
Omeros (1990)
The Bounty (1997)
Tiepolo's Hound (2000)
The Prodigal (2004)
Selected Poems (2007)
White Egrets (2010)
Plays
Henri Christophe: A Chronicle in Seven Scenes (1950)
Harry Dernier: A Play for Radio Production (1951)
Wine of the Country (1953)
The Sea at Dauphin: A Play in One Act (1954)
Ione (1957)
Drums and Colours: An Epic Drama (1958)
Ti-Jean and His Brothers (1958)
Malcochon: or, Six in the Rain (1966)
Dream on Monkey Mountain (1967)
In a Fine Castle (1970)
The Joker of Seville (1974)
The Charlatan (1974)
O Babylon! (1976)
Remembrance (1977)
Pantomime (1978)
The Joker of Seville and O Babylon!: Two Plays (1980)
The Isle Is Full of Noises (1982)
Three Plays The Last Carnival, Beef, No Chicken, and A Branch of the Blue Nile (1986)
Steel (1991)
Odyssey: A Stage Version (1993)
The Capeman (1997)
Walker and The Ghost Dance (2002)
Other books
Henri Christophe: A Chronicle in Seven Scenes (1950)
The Poet in the Theatre (1990)
The Antilles: Fragments of Epic Memory (1993)
Conversations with Derek Walcott (1996)
Homage to Robert Frost Farrar (1996)
What the Twilight Says (1998)
Walker and Ghost Dance (2002)
Another Life: Fully Annotated (2004)