Fatéma Chahid Morocco PWF 2014
To delve into poetry of Fatéma Chahid means to understand the past and present of Berber culture.

Fatima Chahid was born in Taroudant in southern Morocco. Although she proudly acknowledges her Berber roots, the natural part of her identity jointly belongs to Arabic and French culture. She sees poetry as a force that breaks the usual stereotypes.

Oscar Wilde said that with poetry one could fly very high, up to the moon. "But even if you fail to reach the moon, you will land somewhere among the stars," she adds, quoting Antoine de Saint-Exupéry.

Fatéma Chahid started to write poetry when she was nine, but truly became a poet upon seeing Rabat for the first time. "I was shocked—the city I saw that morning appeared to be born from sea foam."

Her poetry collections—Songes de hautes terres (Dreams of the Highlands, 1990), Imago (1997), Aïta de Menna (2000), and De cendres et de braises (Ashes and Cinders, 2013)—accompanied by the visual presentation of her poems by such artists as Mohamed Nabili, Abdullah Saddouk and Abdélkabir Rabi—amaze readers.

Fatéma Chahid lives in Casablanca.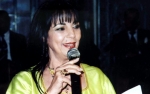 20.08.2014 Texts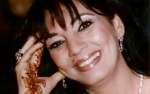 09.07.2014 Texts