Giuseppe Conte Italy PWF 1997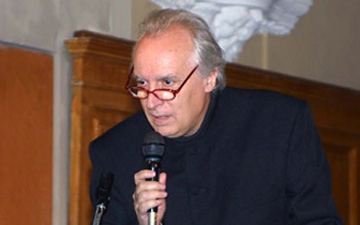 Giuseppe Conte, Italian poet, novelist, and translator, was born in Imperia in 1945.

He received a degree in Literature from Milan's Statale University in 1968. His first publication was a book of literary criticism entitled La metafora barocca. His debut as a poet came six years later with the publication of La Parola Innamorata in 1978. His follow-up poetry anthology, La Stagione, was published in 1988 and was awarded the Montale Prize. Conte has translated many English works into Italian, including that of Shelley, D.H. Lawrence, Walt Whitman, and William Blake, and has worked as both an editor and essayist for several literary publications.
In 1997, his first full-length book of poetry, L'Oceano e il ragazzo, was translated into English as The Ocean and the Boy. His most recent works of poetry include New Songs (2001), Letters to the Desperate Spring (2002), and Wounds and Revival (2006). His recent works of fiction include The Third Officer (2002), The House of Waves (2005), and The Adulteress (2008).

Conte currently lives on the Italian Riviera.