Jorge Semprún Spain PWF 2006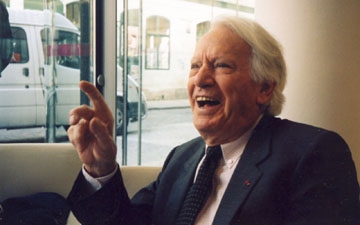 "For me, there is nothing about the camps that cannot be put into words. Language makes everything possible for us. But the writing is interminable; it is never done, because an isolated work by itself cannot do more than allude to fragments of reality…"
Expelled from the Communist party in 1964 because of his anti-Stalinist views, he became a full-time writer. His first novel, The Long Voyage, won the prestigious Formentor prize; his other highly acclaimed works include The Second Death of Ramón Mercader, What a Beautiful Sunday, Literature and Life, and, mostly recently, Twenty One Years and One Day, a fictional exploration of the lingering consequences of the Spanish Civil War. His work has been translated into more than twenty languages.
Both a novelist and a screenwriter, his film-scripts include Z and The Confession, both directed by Constantin Costas-Gavras, Le Guerre est Finie for Alain Renais, and Les Routes de Sud for Joseph Losey. Both Z and Le Guerre est Finie were nominated for an Oscar.
Jorge Semprún lives in Paris.