Junot Díaz United States of America PWF 2019, 2011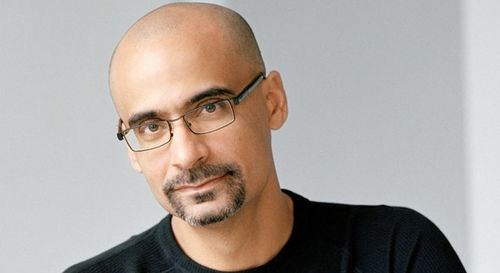 ...
"No one can hide forever. Eventually what used to hold back the truth doesn't work anymore. You run out of escapes, you run out of exits, you run out of gambits, you run out of luck. Eventually the past finds you."
One of the most distinctive and magnetic voices in contemporary fiction, Pulitzer Prize-winner Junot Díaz was born in Villa Juana, a neighborhood in Santo Domingo, Dominican Republic in 1968. He immigrated to the United-States in 1974, to be re-united with his father in Parlin, New Jersey. The duality of the immigrant experience remains central to his work.
"Limber, streetwise, caffeinated and wonderfully eclectic", Junot Díaz is best known for his short story collections Drown and This Is How You Lose Her, and the novel The Brief Wondrous Life of Oscar Wao, which received the Pulitzer Prize in 2008. Islandborn, a children's book, appeared in 2018.
"I'm not a bad guy. I know how that sounds defensive, unscrupulous, but it's true. I'm like everybody else: weak, full of mistakes, but basically good."
Junot Díaz lives in Cambridge, Massachusetts.