Marcio Souza Brasil PWF 1998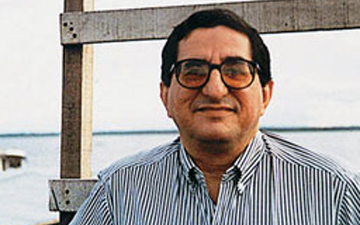 His first novel The Emperor of the Amazon (1976), set at the time of the rubber boom, was immensely successful. His other works include the novels Mad Maria (1980), Operation Silence (1980), The Resistible Rise of Boto Tucuxi (1982), The Order of the Day (1983), Condolences (1986), The End of the Third World (1990), and the collection of short stories Divine Caligraphy (1994).
Souza has also written and directed stage shows, including the Brazilian opera Alma (Soul) in 1998. He directs the group Teatro Experimental do SESC in Manaus, which has staged several of his plays. President Fernando Henrique Cardoso nominated Souza to be President of the Brazilian Foundation for the Arts, part of the Brazilian Ministry of Culture, and he served as its head from 1995 to 2002.
Souza now lives in Brazil, and is latest novels, Lealdade (1997), Desordem (2001), and Revolta (2005), are part of a planned tetralogy based on the history of Brasil.