Mourid Barghouti Palestine PWF 2009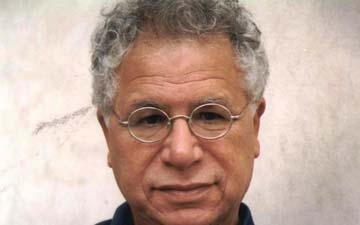 "Blessed are the birds in their cages—for they know the limits of their prison."
The eminent Palestinian poet Mourid Barghouti was born in 1944 in Deir Ghassanah, a village near Ramallah on the West Bank of the river Jordan in Palestine. "Four years older than the state of Israel"—he remains stateless since 1967—stranded in Budapest for many years—touching down—fleetingly—in Cairo, Beirut and Amman.
"Writing is a displacement—a displacement from the normal social contract—a displacement from the common roads of love and enmity. The poet strives to escape from the dominant, used language—to a language that speaks for the first time. If he succeeds in escaping and becomes free—he becomes a stranger at the same time. The poet is a stranger—in the same degree as he is free."
Through the Oslo Accords—Mourid Barghouti—was allowed to return to the West Bank in 1996. The event inspired his autobiographical novel I Saw Ramallah—"unforgettable memories, razor insights, stories with eyes closed, no conclusions—only the passionate pain of exile."
In Midnight, his most recent collection of poems, Barghouti continues his testament through a concrete, physical language—a language of the pavements.
"People like poetry only in times of injustice—times of communal silence—times when they are unable to speak or act. Poetry that whispers and suggests—can only be felt by free men."
Mourid Barghouti currently lives in Cairo.