Philip Guston Canada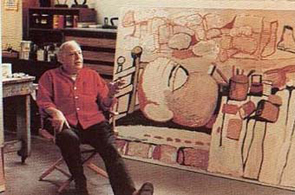 The American artist Philip Guston (1913—1980) was driven, sustained, and consumed by art. His style ranged from the social realism of his WPA murals through his abstract expressionist canvasses of the 1950s and 1960s—when he counted Pollock, Rothko, de Kooning, and Kline among his friends—to his cartoon-like paintings of Klansmen, disembodied heads, and tangled piles of everyday objects.
"A pile of junk between two telephone poles—the urge is to kick it, disperse it. I love only strangeness."
Critics and public alike savaged Philip Guston for his return to figurative art—but today his late work is recognized for the singular power of his personal, darkly hilarious vision.
"Please excuse my immodest comparison—but like Isaac Babel—I want to paint of things long forgotten."