Róbert Gál Slovakia PWF 2010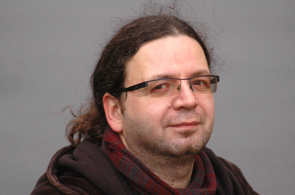 Heir to heresy in all forms—Róbert Gál was born in 1968 in Bratislava, Slovakia. With appearances in journals too dangerous to mention—his writing style is a mélange of philosophy and prose poetry that explores the tensions between identity and existence—jump-cutting over death, even truth.
"You cannot convict a rose with a thorn."
Called the "Czech Cioran" by Andrei Codrescu, Gál remains unnamable—a visionary—"pondering any actual difference between a Platonic Academy and a nuthouse".
"Potential is in fact vision. What endures will pass."
Gál's aphorisms—philosophical fragments—novels include: Epigraffiti, Signs & Symptoms, Manipulsations, On Wing, and Agnomia.
Róbert Gál resides in Prague.