Salah El Ouadie Morocco PWF 2014
For Salah El Ouadie—poet, translator, fighter for human rights—poetry has always been the reason for his existence—a defense and prayer for his own future.

In his best-known autobiographical book, entitled Al Ariss (The Groom, 1998), a young prisoner imprisoned on his wedding day writes letters to his mother, even though he knows that she will never read them, as no letters are ever sent out from prison

Salah El Ouadie suffered a similar fate but, unlike the hero of his book, he was fortunate enough to finally leave prison.

Born in Rabat in 1952, El Ouadie joined in his youth the 23rd of March (M23) opposition movement. In 1974, he was imprisoned, and three years later was sentenced to twenty-two years in prison, where he remained until 1984.

A year later, together with his former cellmate, he founded Forum of Liberty and Justice (Forum pour la liberté et la justice), which sought an explanation for the events of the past. Personal experiences of social catastrophe led him to the creation of the Moroccan Organization for Human Rights (Organisation Marocaine des droits de l'homme).

His first volume of poetry Injuries of a Bared Chest (Blessures de la poitrine nue) was published in 1985. Here, the individual confronts an ever-present state ideology.

This topic pervades his next book, In the Depths of the Heart (1988), as well as his pamphlet An Open Letter to My Executioner (Lettre ouverte à mon tortionnaire, 1999), which provoked a strong reaction in Moroccan society: the key issue being the impunity of people responsible for torture and killing.

Salah El Ouadie is currently lectures in political science at the College of Economics and Management in Casablanca and lives in Rabat.


16.07.2014 Texts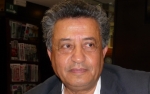 03.07.2014 Texts