Salman Rushdie India PWF 2001
Salman Rushdie "I wanted to write globe-swallowing, capacious books, ones with that senseof size, novels that expressed history, the public side of things as well asthe private, the intimate," said Salmon Rushdie in a 1989 interview with theNew York Times. Throughout his career as a writer, Sir Salmon Rushdie hasdone just that, establishing himself as one of the most importantinternational writers of his generation.
Sir Salmon Rushdie was born in Bombay , India in 1947. At the age of 14, hetraveled to England to attend school and remained there until he graduatedfrom King's College in Cambridge. After graduation, he followed his familyto Pakistan but soon returned to England where he worked in advertising. Hisfirst novel was published in 1975.
Sir Salmon Rushdi has been praised for his imaginative, ground breakingnovels which re-paint India, England and any other country in which hisnovels are set in a whole new light. His work has garnered controversy,especially after the publication of his fourth novel in 1988, The SatanicVerses. The tale focused on the adventures of two Indian actors who fell toearth in Britain after their airplane exploded. The novel was denounced byMuslims worldwide and prompted the orthodox Iranian leadership to issue afatwa, or death sentence, against him which sent him into hiding in Englandfor nearly ten years. In 2007, he was knighted, an act which was again metby protests from the Muslim community.
Sir Salmon Rushdie is the author of ten novels: Grimus, Midnight's Children(for which he won the Booker Prize and the "Booker of Bookers"), Shame, TheSatanic Verses, Haroun and the Sea of Stories, The Moor's Last Sigh, TheGround Beneath Her Feet, Fury and Shalimar the Clown, The Enchantress ofFlorence and one collection of short stories, East, West. He has writtenfive non-fiction works: The Jaguar Smile, Imaginary Homelands, The Wizard ofOz, Mirrorwork and Step Across This Line.
Salmon Rushdie lives in London.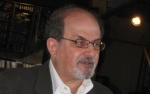 16.07.2014 Love and Hate