Gao Xingjian: Nobel Prize 2000 France, China PWF 2010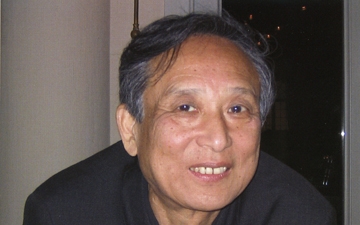 Gao Xingjian was awarded the Nobel Prize in Literature in 2000—"for an oeuvre of universal validity, bitter insights and linguistic ingenuity, which has opened new paths for the Chinese novel and drama". For Gao, life is a process of fleeing—from political oppression, from others, even from oneself. "Once the self has been awakened, one cannot flee—this is the tragedy of modern man."
Playwright, novelist, essayist and painter Gao Xingjian was born in 1940 in Ganzhou, in eastern China. His father worked for a bank, his mother was an actress—who guided her son towards painting and traditional Chinese theater. In 1962, Gao received a degree in French literature from the Beijing Foreign Languages Institute and subsequently was assigned work as an editor and translator at the Foreign Languages Press.
Refusing to conform to the Communist Party's guidelines for literature, Gao wrote in secret—burning a suitcase full of manuscripts at the outbreak of the Cultural Revolution. Under investigation, he fled to a remote mountain village. Writing became his only salvation.
In 1975, Gao returned to Beijing and resumed his position at the Foreign Languages Press. In 1980, he began to see his writings published and was reassigned to work as a writer at the People's Art Theater, where his avant-garde plays drew crowds, as well as the suspicion of the authorities. Once again, he fled—traveling to the source of Yangtze River, composing his great novel Soul Mountain, and eventually finding exile in Paris 1987.
"A writer does not speak as the spokesperson of the people or as the embodiment of righteousness. His voice is inevitably weak—but it is this weak voice that is most authentic."
Gao Xingjian's work includes: Soul Mountain, One Man's Bible, Buying a Fishing Rod for My Grandfather, The Other Shore, Ink Paintings, Return to Painting, After the Flood, The Case For Literature, and The Aesthetics of Creation, which is forthcoming.
Gao Xingjian lives in Paris.
Dramas and performances
Signal Alarm (1982)
Bus Stop (1983)
Wild Men, "Savages" (1985)
The Other Shore (1986)
Shelter the Rain (1981)
Dark City (1988)
Transition of Sheng-Sheng-Man (1989)
Escape (1990)
Death Sector / Between Life and Death (1991)
A Tale of Shan Hai Jing (1992)
Dialogue & Rhetorical / Dialogue and Rebuttal (1992)
Weekends Quartet / Weekend Quartet (1999)
Nighthawk / Nocturnal Wanderer(1999)
Snow in August (2000)
Collection (1995)
Fiction
Constellation in a Cold Night (1979)
Such a Pigeon called Red Lips (1984)
Buying a Fishing Rod for My Grandfather (1986–1990)
Soul Mountain (1989)
One Man's Bible (1998)
Poem
Sky Burial (1986)