Zülfü Livaneli Turkey PWF 2011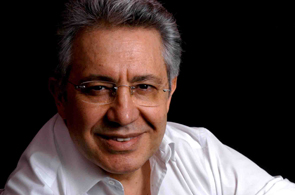 One of Turkey's most gifted artists—singer, composer, film director and novelist—Zülfü Livaneli was born in 1946 in Ilgun. Throw in his political career as a member of the Turkish parliament and his daily activities as a columnist for the newspaper Vatan, we still have not exhausted his energies as a performer-with Mikis Theodorakis-and his travels as a goodwill ambassador for the United Nations.
In 1971, Zülfü Livaneli was held at a military prision during the coup and subsequently lived in exile—in Stockholdm, Paris and Athens—before returning to Turkey in 1984.
"In this country, everyone detested each other. Where else were newspaper columns filled with profanities and invective? The intellectuals were themselves a breed apart. They fostered animosioty, and there conversations were full of mockery, spite, and malice."
Livaneli's prose includes: A Child in Purgatory, The Dictator and the Clown, The Eunuch of Constantinople, Memory of Snow, Bliss, Conversations with Gorbachov on Revolution, and Leyla's House.
Zülfü Livaneli lives in Istanbul.