On Udo Breger: Giving Everybody The Blurred Hand
16. March 2021 13:36
By Joshua Jones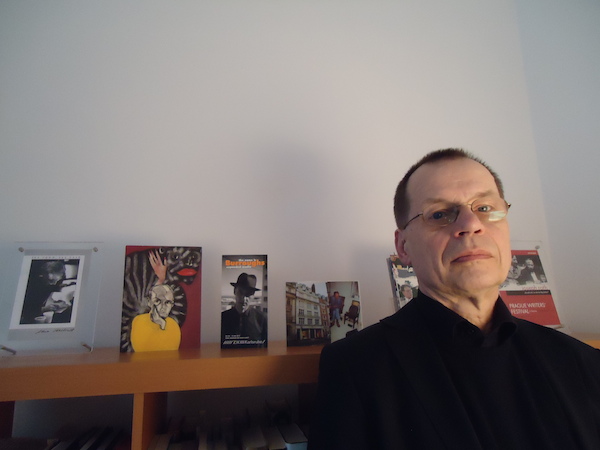 In a motion of irony, Göttingen-born writer, translator and publisher, Udo Breger, remains on the outer limits of the English-reading world, in the interzone, though he's responsible for bringing countercultural landmarks of the English-reading world to German-reading popularity. Walt Whitman, Alan Watts, Brion Gysin, and William S. Burroughs, all saw translation by Breger, being one of the first to translate the works of Burroughs to German, and the first to publish The Electronic Revolution, in a dual English-German edition in 1971. This collection of essays would see Burroughs, further to his innovations in cut-up, theorize that the word is the product of a virus, and that language as a phenomenon itself displays viral qualities. A hypothesis proved in part, by the contagious influence of Burroughs and the Beats on a generation of writers, Breger included.
Udo Breger's 1979 work, Identity Express, is part-novel, part-document, and very Burroughs. Breger, by then heavily involved with Burroughs' free-associations and psychic conjunctions, having already published The Electronic Revolution, as well as Ali's Smile, also by Burroughs, and Allen Ginsberg's Iron Horse in the same year, would go on to publish Die vier apokalyptischen Reiter, his first translation of Burroughs' work into German in 1984. Not shying away from the influence this clearly had on Identity Express, the work in its turn becomes a narrative of Breger's own activities in the literary underground, a chronicle of European counterparts to the American Beats, including the creation of the seminal journal, SOFT NEED in 1973, featuring Gysin and Burroughs. In one chapter of Identity Express, with the Burroughs-esque title, Nova Convention, Breger seems to engage in a dialogue with an anonymous interviewer.
»As far as I know, you been the first small press in Germany to
publish some of the work of William Burroughs, when was this?«
»In the early seventies, when 'new wave politics' started to get
confused, at a time when Sex n Drugs n Rock n Roll became the
word. The first book was 'Electronic Revolution'. In a real neat
edition. Bi-lingual. Mr. Burroughs liked it very much, and after he
had found how well it would fit into his pocket, he would say:
'That's fine.'«
The use of the guillemets (»«) is reflective of a cultural and linguistic interplay that Breger engages in throughout the book. Things are still—real neat—and there are single-quote-marks, too, but between the guillemets is talk of bilingual publication. Abstract as it sometimes is, Identity Express is in this sense a document of Breger's work with the Beats. In form it mirrors the Beat style. In content it moves through his meetings, translations, interviews and publications through Europe and in Germany.
Though the work is written in English, it frequently adopts other European languages (French, German, Polish, Swedish) interspersing each as part of the text. It is this interplay that makes the work distinct from Burroughs'. The linguistic culture of Burroughs' work will always be American, whether in Tangiers, Vienna, or Paris. When Burroughs borrows another language, it's just that: borrowing. But Breger, in a kind of Eurobeat cultural movement that mimics the American one, moves through a field of European cultures that are, for better or worse, connected. But the primacy of English in a work by a German author reveals the strong arm of the Beat movement, an arm decidedly American.
It's conducive to think that Eurobeat was no more than a second-hand imitation of what Kerouac, Burroughs, Ginsberg and the other American Beats already did with more originality and style. Gysin, an Englishman, is the first evidence against this. It was Brion Gysin who would introduce Burroughs to the cut-up technique, an invention of his with Ian Sommerville (via Tristan Tzara). Gysin, along with Sommerville, both close allies of Burroughs during his time living in London, often accompanied him at his apartment: Flat 18, 8 Duke Street. Sommerville was for some time Burroughs lover and 'systems advisor', and by 1960 they both lived at the Beat Hotel at 9 Rue Gît-le-Cœur, in the Quartier Latin in Paris. It was in fact Sommerville, along with Gysin, who pioneered the phonographic stroboscope, an art-object to be experienced through the brain's alpha waves: the Dreamachine. Sommerville, a Cambridge-educated mathematician, would die in a car accident on the fifth of February, 1976. Burroughs' birthday. Early in the day, he sends his well-wishes via telegram.
Happy birthday. Lots of love. No realisation. Ian.
The divisions then, between the original American Beats, and the Eurobeat scene, were not so immovable. Breger too, was on this scene, and very much a Eurobeat. But he was a latecomer, as he writes in the final 2020 issue of SOFT NEED (#23) in an article titled IAN S., dedicated to the memory of Ian Sommerville.
Starting out late in the afternoon on December 22nd, when I arrived in
Dalmeny Court, 8 Duke Street (St. James') on the 23rd, exhausted but
in high spirits. It was already getting dark. I was thirty-one years old.
The issue is a tribute to these two crucial figures, one of which inevitably loomed larger than the other: William S. Burroughs and Ian Sommerville. The huge two-hundred-and-fifty page string-bound journal opens with its motto printed large: SAUVE QUI PEUT, an old French saying, meaning—let him save himself who can. Published at the height of the pandemic, SN23 is the—special virus issue—punctuated with sweeping manuscript copies of Burroughs' work, resplendently vibrant paintings by Gysin and company, and investigations into what had always fascinated Burroughs: the virus. Bill loved viruses—a closing note reads.
And of the paintings included in SN23, this isn't the first involvement Breger has with the visual arts surrounding the Beats and the Eurobeats. "The Name is BURROUGHS — Expanded Media", an exhibition at the ZKM Museum of Contemporary Art in 2012 in Karlsruhe, was curated by Udo Breger, along with Axel Heil, and supported by James Grauerholz, the executor of Burroughs' literary estate, and included a considerable number of photographs taken by Burroughs and Gysin, as well as the abstract, visually alarming paintings of Burroughs, and the original Stanley blade Gysin used in creating the cut-up method, as well the Remington typewriter that Burroughs used in Paris to compose Minutes to Go. These objects, artworks and artefacts, form a significant part of the decisive visual relics of Beat, as SOFT NEED deals in its written memories.
Back home the same old records. Loud. Light from all Sources, also
candles. Dark mood. Restless persistence, unsettling back-and-forth.
Usually around five in the morning, when the thundering bass, the
throbbing rhythm of the Big Apple Disco next door finally went silent.
When you stopped even noticing the endless heavy traffic on
Göttingen's thoroughfare, Reinhäuser Landstraße, and the vibrating,
ringing windows.
Breger writes of the nights and days he spent with Sommerville when he came to visit, in February of 1973, despite Breger's protests. Sommerville, who was more than a little in love with him, would remain an intimate friend to Breger, though their relationship was never to be consummated. It is through SOFT NEED that this story is told. And here the most continually influential journal of Eurobeat connections reaches its close, looking straight and glowingly towards the future, in its presentation of the literary underground of the past. Breger's essayistic skill, it seems, is in seeing backwards. Where Breger departs from the typical world of American Beat, is where this retrospect comes into play, and by necessity, the grief of looking back. But why, then, for so much time, translate from and write into English?
In the early 1970s a small circle of like-minded friends started writing
personal messages, letters, all kinds of notes, and even shopping lists
exclusively in English. And we did it as a matter of course. We were
just one step away from even speaking to each other in English.
Breaking Away, a letter from Breger to the father he never met, who died during the Fourth Battle of Kharkov, fighting as a soldier of the Wehrmacht, is not Breaking Away at all. It's Freimacher, written not in English, but in German, published in the dual-language journal, Trompete, in 2014. Here, a man in his seventies, Breger contends with the period of European history that his father was involved in, as a way of finally breaking away from the absence his father's death had always suggested. The English he and his friends embraced is also contended with, Breger coming to understand that, that too, was a way of breaking away. From Germany. From history. From the past.
Only much later did I become aware of one of the reasons: To the
extent that in 1968 at the latest our generation learned about the Nazi
past of our own relatives and contemporaries and discovered some
really horrible things, it intensified the urge: Get away from everything
German!
These later periods of Breger's writing see him moving away from the stylistic influence of the Beats, and towards a more contemplative and historical form that should suggest a heaviness that these post-Identity Express works aren't actually weighed down by. The Rocket Mountain, translated to English by Anselm Hollo, is an investigation of concentration camp Dora, closely connected to the production of German V2 rockets. It was published in 1992. It's sharp and concise, like a quick incision into rock. It opens with a quote from Thomas Pynchon's 1973 novel Gravity's Rainbow, a work synonymous with the V2.
He takes some time lighting a cigarette. He won't hear the thing
coming in. It travels faster than the speed of sound. The first news
you get of it is the blast. Then, if you're still around, you hear the
sound of it coming in.
The Rocket Mountain, a short twenty-page essay, sees Breger tunnel unflinchingly into the grief that he already knows he will find in his country's past. The network of corridors through which the starving and filthy prisoners were forced to work burrows deeper into the inevitably of what-has-been-done, at the same time proving that the deeper these tunnels run, the less they can escape from their historical fact. In the past, there is nowhere to hide. Nowhere to run.
But the tunneling that Breger undertakes to examine German history doesn't mark a total deviation from his previous efforts. SOFT NEED, the journal he had established in 1973, would persevere beyond the crippling proximity of the past, that final 2020 issue published through the same publishing house which Breger had so long ago established, and which had published those works of Burroughs and the Beats as early as 1971: Expanded Media Editions.
In the beginning was the word. Two words, actually: SOFT NEED.
They came to me in 1973 as an aftermath of a three weeks' stay
across Xmas and New Year's with Gysin and Burroughs. SOFT
NEED — two words that somehow formed themselves late one
Göttingen night in the wake of Duke Street experience. Was it
before or shortly after Ian Sommerville's visiting me in February
'73, I don't recall. We had met on Xmas Eve, and Ian had had
an immediate crush on me. So, SOFT NEED somehow also had
to do with love.
There is something in the love of the Beats and the Eurobeats that moves too fast. As in Breger's tribute to Sommerville, the opportunities for love, for eroticism, are glaring, sometimes near-fulfilled with explosive force, but more often lost. There is a row of tickertape that underlines the bottom of every page in Identity Express. It tells a fragmentary noir story simultaneous to the work as a whole, running through it like the subtitles of an estranged narrative. These fragments blur together, a concurrent movement, a duality.
BUTTERFLIES SCRAMBLE OUT INTO THE DESERT.
A SMILE TELLS ME I AM AWAKE.
And in a single motion, the whole energy of the Eurobeats slips through the fingers like ribbon. We watch Breger, Ian, Gysin, Burroughs and everybody else moving blindingly over the great distance towards us, from the infinite distance of the past. It's not clear if this is hello, or goodbye.
GIVING EVERYBODY THE BLURRED HAND.