The Blue, The Red: On André Kaufman
21. May 2021 19:06
By Joshua Jones
The first is red. Blood-like strokes of it, a sea of burgundy until, in the upper right corner of the canvas, a bluer sea intrudes, an almost cleanly defined polygon, lashed with thick marks of pale yellow and paler green, subsiding like foam. The red cuts it off again, sectioning it to the upper right. But below, the sea returns, a burst of cyan slashed off into fading and imperfect white, this one unbound by definite lines. Then the red again. And in the lower left corner, is a darker figuration. At first, it seems another abstraction, but on a closer look, the figurationisa figure. A man, a shadow, is crouched amid the red, his arms raised in silhouette, as if praying, or begging, or caught mid-soliloquy. The title of this painting: Actor.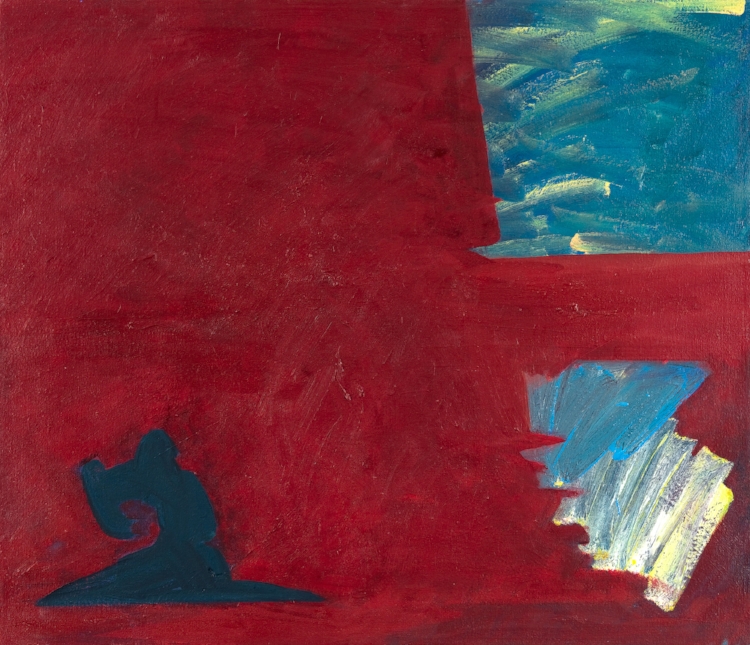 There were more images like this, in the archives. What surprised me was the way I had come across them, quite unknowingly, in the offices of the Prague Writers' Festival. For three years: 1996—1998, paintings of this type appeared on the cover of the Festival's programs, hidden in plain sight. I began to see them everywhere. A frame hung on the wall over a computer, not an unusual thing in a space where many framed images hang on the walls, photographs of visiting authors, signed mementos. It was a watercolor, showing a purplish cloud in bloom, out of which darker figures protruded, seeming to navigate the colorful mass. But the figures were theatrical, like puppets in a shadow-play. I would later find many more of these figures in the workof André Kaufman.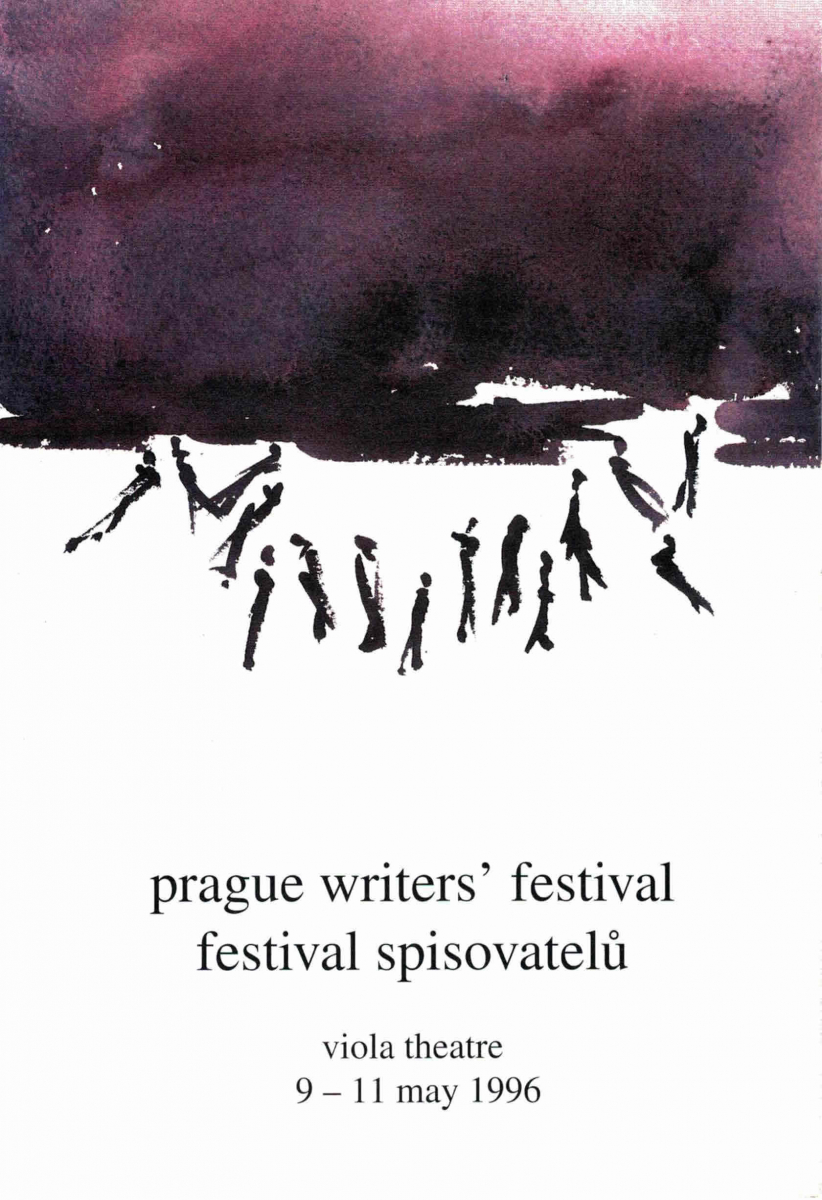 It's hard to write anything about André Kaufman, the painter, without mentioning his father Boris Kaufman, the cinematographer, responsible for Jean Vigo's L'Atalante, in 1934, Sidney Lumet's12 Angry Men, in 1957, and perhaps most significantly, Elia Kazan's On The Waterfront, for which he earned an Oscar in 1954. The now-lauded 1929 silent Soviet-montage work, Человек с кино-аппаратом, (known in English as Man With a Movie Camera) had been shot by his older brothers, André's uncles, Mikhail Kaufman and David Kaufman, better known as Dziga Vertov. But André's work, far from existing in their shadows, exists in precious little light altogether. Kaufman has exhibited selectively, extremely selectively, though his oil and watercolor paintings — on the borderline of the figurative and the abstract — exist in numerous private collections, including the Carnegie Foundation.
His work is spiritual, not in a religious sense, but in the way that it remains in contact with the natural moods of the world — expressionist and contemplative, but not necessarily abstracted. It's deeply human — pensive, personal and individual in an authentic and subjective way. When the red surrounds the actor, he isn't engulfed, but brought to his knees by the wholeness of it all. His act is a brief expression on a backdrop, preserved, as in a single cinematic frame, indefinitely. But the blue sea eats in, bursts of it like sunbursts on decaying film stock.
As late as 1964, thirty years on from Vigo's L'Atalante, André's father had been personally selected by Barney Rosset of Grove Press to shoot Samuel Beckett's absurdist and semi-symbolist work, Film, the only moving-picture the Irish author ever wrote and directed. In the film, the eye as motif features perhaps as prominently as in Vertov's Man with a Movie Camera, and it's sparsity recalls Vigo's efforts towards cinéma vérité. André, by then a man in his thirties, may have been well aware of this lingering search for cinematic truth. And Boris Kaufman and Beckett's collaboration with Buster Keaton, would have been a brush with stardom not unusual in a family that had facilitated André's meeting such Hollywood icons as Marlon Brando.
Truth and cinema, then, simmer in the themes of André's paintings. Others of his works seem more illustrative, less representational. Above and Below, a modest canvas in oil at twenty-six-by-twenty-six inches, shows a bottle-shaped object in volcanic red, soft expressive strokes outlining its form. It dominates the picture, on a background of indigo that gradually and visibly tapers off to lighter shades towards the lower part of the frame. But the bottle, in what seems like one elongated stroke fading from sea-green to yellow, is intersected. This division is expressionistic. It's abstract. Much as it seems faintly representational, this one stroke severs the image from reality, suggesting some other introspection. Something of motion. Something of separation.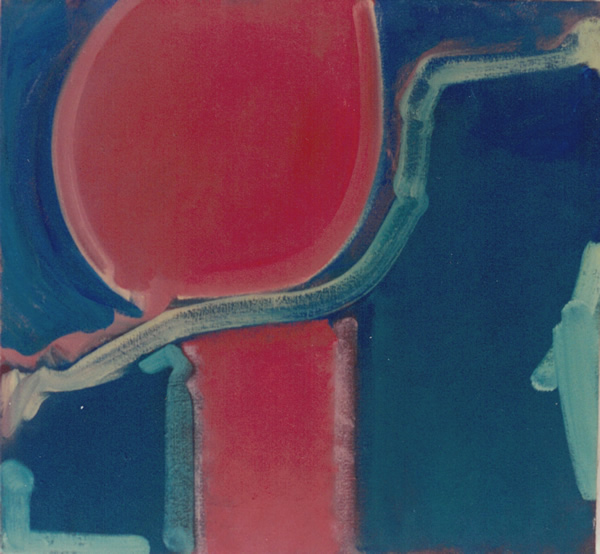 Perusing the archives for further traces of this well-connected but enigmatic painter, I came across a folder. It was plain enough, a black ring-binder, no stamp. Inside, were numerous acetate files. Each one held two photographs, pictures of those same paintings. Some of them showed a dim white room, the paintings hanging on the wall. There were dozens of Kodachrome slides, all miniatures of the work, with tiny cursive inscriptions. In one of the photographs, in that same dim white room, stood a man, his long hair graying, his form physically well-built. He held out his hand towards the camera.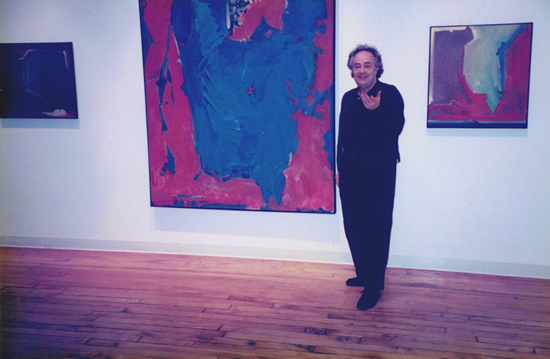 In another, he was seated in the corner. I later learned that André had had a hand in constructing what would become his home-studio (of which there were a few pictures) not in any artistic metropolis, but in the suburbs of Ridgefield, Connecticut, where he relocated with his wife, Angela. An imposing man by most standards, he was known to physically stretch taut the canvas, stapling it to the frame, before commencing work, making it no surprise that he had been directly involved in the construction of his studio to his own specifications, with triangular and rectangular windows carefully channeling the sun's rays. The brushwork in his paintings, gentle but spontaneous, tender and quick, seemed to be expressed at its perfect opposite in this linear and patient control of light.
It was then that I heard his work described as subconscious expressionism for the first time. André's parents had emigrated from Europe to America when he was only a child, and were, in another word, refugees. The legacy left behind them was one he would revisit on a trip to Paris, a city he'd known at a young age. While there, he made an excursion to the northeastern suburb of Drancy, where the remains of a sizable block still stood. From 1942 to 1944, sixty-four rail transports ran from the facility, transporting over sixty-four-thousand mainly Jewish prisoners across Europe, primarily to Auschwitz. On its construction, the Drancy block had been known, for its first intention as a peaceful urban complex, as La Cité de la Muette. The Mute City. Allegedly, while there, André came across many small drawings made on the walls by those who had known it as a prison. They depicted little figures, each one in silhouette.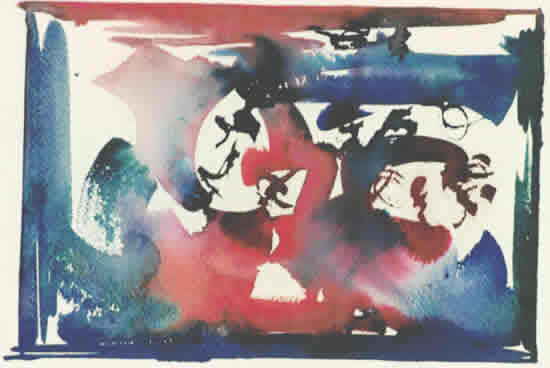 Kaufman's family had gradually migrated westward. From the northeastern Polish city of Białystok, then part of the Russian Empire, Boris Kaufman had moved to Paris (where André was born in 1931) and then, taking the final exit from Europe on an arduous journey across the Atlantic, they had settled in New York. It was here that André enrolled as a graduate student at Columbia. There, he would be tutored under the art-historian, Meyer Shapiro, and study alongside the painter, Philip Guston. It was also here, under the columned architraves of the university, that Kaufman, would meet a young New Yorker and aspiring poet, Michael March. The two men, André the older by some ten or so years, would form a friendship of that vision that's sure to bring volatility, and travel across the United States together. The journey wasn't repeated. Shortly later, March would leave America. He was bound for Europe, but André, perhaps a ghost in his own life as much as others', remained his friend. It was in Prague that March, who envisioned André as the great, missing link between American artists and the European avant-garde, would establish an international cultural festival: The Prague Writers' Festival. The strings were beginning to form a thread.
Surely the influence of cinematic framing on some of Kaufman's paintings is in no small way paternal, and the abstraction, blended as it sometimes is with figuration, is not so much a rebellion against this influence (as all sons who pursue their own art must rebel), as it reaches Kaufman from a lineage of Russian Supremacists, notably Kazimir Malevich, who also moved between the figurative and the abstract. It's more a taking of its source to its logical conclusion: where Dziga Vertov had famously seen cinema, in its Кино-Правда, or film-truth, as the artistic medium that painting could never match, with his brother Mikhail as the framer of this truth, the eponymous man with a movie-camera, André follows the thread to its end, where painting amalgamates the cinematic, questioning its capacity, not for representation of the real, but for inner truth.
Painting, André comprehends, has an ancient capacity to express the known-in-the-unknown. In one oil painting (titled: Magic) a collision of angles and strokes renders a mass that is simultaneously abstract and figurative, as in some conjuration, or optical illusion. From one perspective, the drastic forest-greens and claret reds seem the figures of men and women. From another, the alchemy tends towards a face.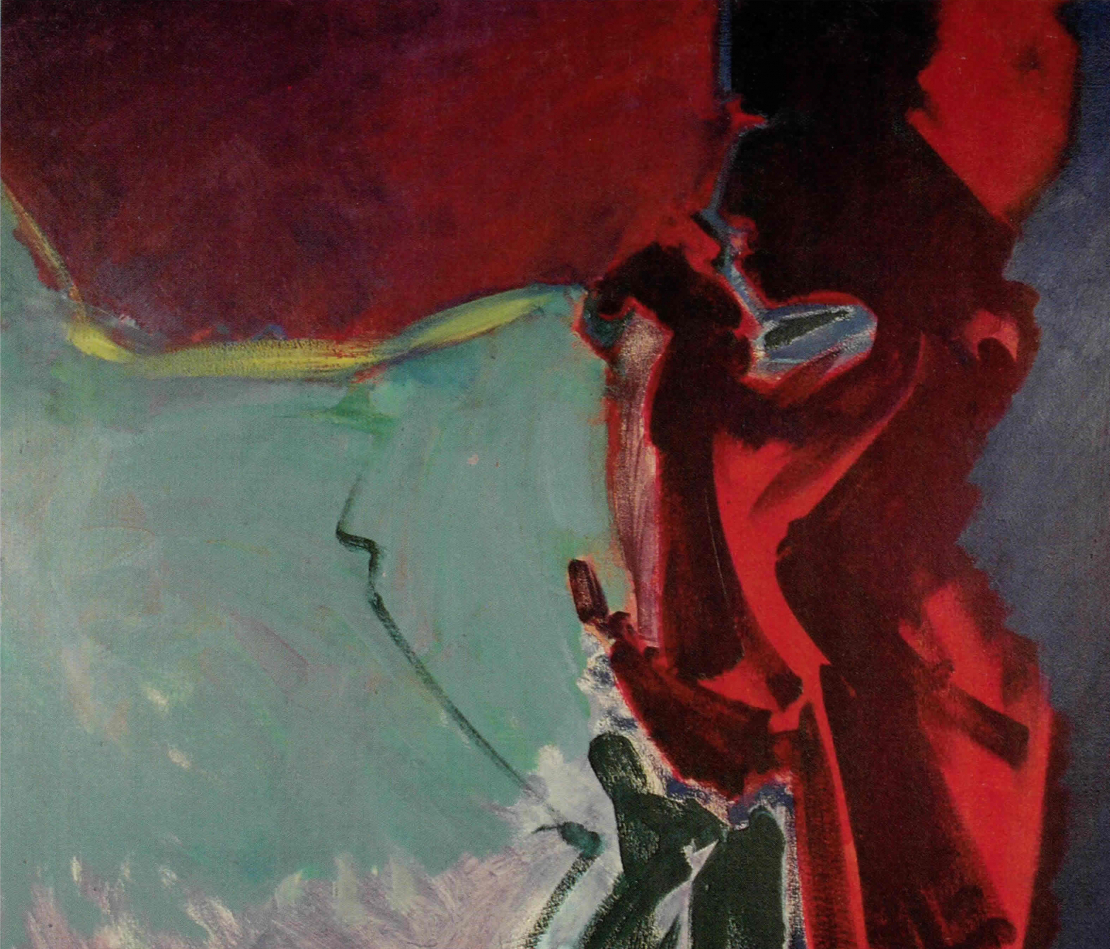 I closed the folder. Outside, the rain started, its drops beating on the window-panes of the literary office, on the roof of the buildings of Národní třída, then just as suddenly, it stopped. The Soviet Modernists, favoring the absolute, had seen angles, compositions and impositions, in illustrative art as in cinema, as an expression of reduction to visionary artistic truth: of renewal, of purity. But André, as close in aesthetic character to Mark Rothko, as to Kazimir Malevich, sees in painting the absolute expression of scene and mood. The red and the blue. The point at which the figurative and the abstract, long separated, finally meet.