The French Connection: PWF in Paris
30. September 2021 14:38
By Joshua Jones
For the window of October—the seventh through the twenty-first—the Prague Writers' Festival will move to Paris. While in residence, an exhibition of photography will be held at the Czech Cultural Centre at 18 rue Bonaparte, gathering together thirty years of imagery, and a history of the event's ideals. Novelists and poets, playwrights and prose-writers, icons and iconoclasts, transplanted from their natural habitat, to the venues of the writers' festival in Prague, will appear framed in photographs where the moments of their coming-together are preserved. In addition, the Czech Embassy will host a party and readings honouring the Festival on the twelfth of October.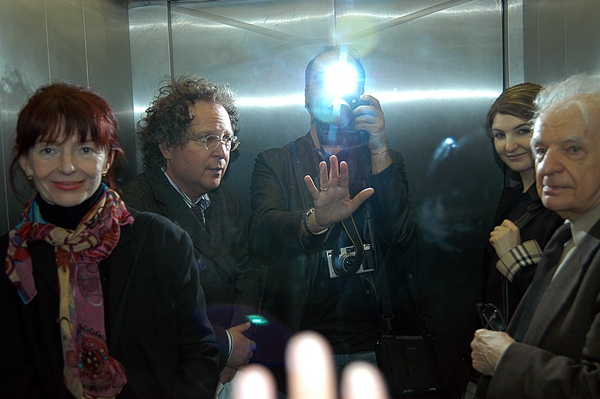 In the photo exhibition we see French novelist, Michel Houellebecq, in a green v-neck and saggy leather jacket, gold-wristwatch protruding from the sleeve, appears dazed and slightly misfocused, flouting no-smoking rules and drawing on a cigarette in front of an empty bar. Here, he embodies his asocial reputation. It's hard to tell if he is disgruntled, stoic, or slightly tipsy. And again disregarding the regulations, this time a cigarillo in his mouth, he signs a copy of a book, before several gleaming and grinning onlookers.
American illustrator, Robert Crumb, wearing the flat cap, bowtie, and circle-lens glasses almost as metonymic of his person as of his drawings, clasps his hands, leaning forward patiently and intently as he listens to the Syrian poet best-known as Adonis. The poet, known to have left an indelible mark on Arabic literature, a flame-red scarf around his neck, has his hands parted, seeming to measure the distance between two spaces, lips open in explanation. These two men, of different disciplines and different continents, are seated in a room almost completely white.
Spanish playwright and co-founder of the Panic Movement, Fernando Arrabal, his leather shoes brandished aloft in the air above his head, smiles, and refuses to get off the stage. His gesture is utterly triumphant and equally perplexing, frozen as it is without any greater context than the festival's founder, Michael March, who is also smiling, half-relenting, and half-seeming to ask him to finish his act. It's a moment of obscure but universally shared glee. It's a moment as chaotic and defiant as the writer's history and oeuvre.
Algerian novelist and film-maker, Assia Djebar, tilts against a black backdrop, hand curled and beckoning, wearing a red hat. Open in her lap is the book from which she is giving a reading, though her eyes do not rest on the page, but out into the dark. The image is dramatic, seeming a still from a work of theatre. Her will to overcome is etched into the image, as it is into the book she is reading from. And still, in yet another image, she shines with pleasure and gratitude as she receives a bouquet of pink roses from a woman in a short grey dress.
What becomes clear in this selection of images is the disparate position of each figure in relation to the other, and that this same distance has been erased, ameliorated, and dissolved in their coming-together, not as writers (and therefore characters in the abstract), but as individuals who have arrived to share ideas, opinions, experience, and broadly speaking, to enjoy themselves. The photographs as they are can never impart the degree of success or failure that these intentions had, but only capture the instant of their closeness: a few moments that reflect an optimistic ideal.
There is also an image in an elevator. The photographer's face is obscured by a flash of white, as he holds up the camera to the mirrored wall in the tiny space. A second camera hangs from his neck, and with a hand adorned with one plain ring, he reaches out and pauses the frame. To his left stand a young woman and the man who is her father: French poet of the unsaid, Yves Bonnefoy. Both look into the mirror. On the right of the photographer stands a man and a woman. His look bisects the room, connecting with Bonnefoy. Her hair, a deep red, frames her face, and her eyes seem to look just beyond the glass. This is Michael March and his wife, Vlasta Brtníkova-March, founders of the Prague Writers' Festival, appearing in the images of its own history.