The Ink and the Furore: On John Calder
02. March 2022 14:32
by Joshua Jones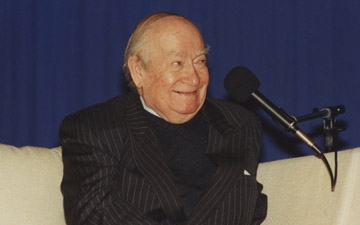 Like almost all publishers, whether of prestige or infamy, popularity or obscurity, what John Calder brought to the published world is far more renowned than his own identity remains. Most readers familiar with the works of Samuel Beckett, William S. Burroughs, Henry Miller, or Hubert Selby Jr. for that matter, probably wouldn't be able to place the name of the publishers that, at one time or another, put their printing-presses behind these authors, and had their work put to ink, spine and page. There appears a disconnect between them that's almost shadowy. That Calder's self-proclaimed uncensored memoirs, published by his own press in 2001, should be titled Pursuit, only adds to this predatorial undertone.
Even so, Calder would gain more than minor renown for his publication of Selby Jr.'s Last Exit to Brooklyn in 1966, for which he was prosecuted for obscenity. Selby Jr. is a shocking writer by most standards today, in his depictions of sex (including homosexuality and transexuality), drugs (including Benzedrine), violence (including rape and domestic abuse) and their faithful companion, poverty, in the milieu of post-war America. But in the America of which he was writing, he must have seemed outright unpublishable. It's not entirely correct to label Calder's press as a bygone art-smut publisher though. For one thing, this would dismiss the literary merit of the 'obscene' writers he published, and for another, it would mean disregarding his representation of writers of European literature, many of whom are now eponymous with their own literary moment.
To take Beckett, for example. In publishing Samuel Beckett, Calder was one of the few publishers to bridge the gap between the exile in Europe, and the islands of origin. Beckett, writing in French, was only part of the repertoire Calder would rifle through and set to the press in-translation, and Beckett's formal and literary ventures into the banal and the absurd (Calder was the first to publish much of Beckett's prose in English, with its intense linguistic personalism) cohere with Calder's publications in the domain of the Nouvelle Roman. Both Marguerite Duras and Alain Robbe-Grillet, to take two further examples, were published by Calder (in partnership with fellow publisher Marion Boyars), Calder himself appearing with the latter at the Prague Writers' Festival in 2002 to present Robbe-Grillet as an author. These writers of a new kind of surrealism and a new kind of Europe occupied a precarious space in the English-language reading world: both foreign, and experimental.
So it's clear that Calder & Boyars were taking a chance, or placing a bet, on the success of these publications. Whether the gamble was purely monetary is a question not easily answered, though reputation was also at stake, and the motive for seeking out such writers must have been at least partially artistically driven and fueled not just a little by literary passion. Money though, is an omnipresent thing. Calder was sometimes known to fail to pay his authors, or to honour his contracts in full. This doesn't help the reputation that sometimes comes preconceived of publishers in general, which though certainly less sullied than that of the movie-producer, is still a less-than-desirable preconception to have to carry around.
But maybe it's fair (or even wise!) to put prejudices aside here. Among the renowned publishers of latter twentieth-century literature, there really are few that can be said to stand out as champions of the tricky subversives, the filthy avant-garde, and the otherwise unpublishables, distinct as much from their counterparts of the day, as from the potentially-unadventurous literary timeline that publishing must (generally) tread straight along. And publishers, even of the self-consciously literary or experimental, Calder & Boyars included, can sometimes default into this preconceived bad name. They might seem hawks, prosaic and pecuniary, handling the work of the author and monetising it into a product: a dirty business taken from an artistic perspective.
By the end of December I found that we had done more business in four
months than in the previous two years and that was only the beginning.
By the end of the financial year I had turned the previous year's loss of
£20,000 into a profit of over £230,000, and in addition had taken orders
from other yards of about £200,000.
No one (no one sane) should feel suspenseful reading a stranger's spreadsheets and ledgers, except P.I.'s and saboteurs in a film noir. But it would be unfair to expect Calder to author a memoir on his publishing business without at least a few references to the earnings of his fledgling press within its six-hundred pages. Either way, any reference to financial matters in relation to the arts has that paradoxical effect that money has whenever it's brought up. The paradox of money is that it cheapens everything around it.
This appearance isn't always the case however, particularly today, when publishing does its best to wear its fairest meritocratic attire, and censorship is less overtly stringent (in most but not all of America, as in most but not all of Europe, and thanks in large part to publishers the likes of Calder & Boyars). All of this makes the process sometimes appear more benign, often leaving a less seedy aftertaste. Independent publishing today is seen as a benevolent aesthetic act, more or less, and one which, though arguably less threatening, strives to appear both utilitarian and vocal. Even so, publishing is a business, a business which (very few writers would earnestly disagree) remains necessary. Outwardly (and in the common preconception) publishing continues as an industry, a game, a racket; while writing itself remains outwardly untarnished: a craft, an art, a gift. One is noble; the other, unavoidable.
Not so. Not always, at any rate. More goes into the role of a publisher than mere fiscality, and what from one angle appears as market-necessity (that much-despaired driver of change), appears just as much ethical campaign when the lens is tilted. If at least a fistful of writers are going to continue producing controversial works — which it's hard to hear anyone disputing for long — then publishers who represent them must also be confronted with moral matters of transgression, censorship and representation. In which case publishing becomes not just a financial, and not just an ethical matter, but a political and legal one too, with all that might entail.
William S. Burroughs, for instance, is a polarising writer not just in form, such as in his innovations in cut-up technique, but in content. And not only drugs, violence and sex, but queer drugs, queer violence, and queer sex. Add to this the sad humour of the obtuse, and a writer like Burroughs becomes hard to stomach for much of what-we-call The Establishment. Burroughs' understanding of the outsider in a system of sprawlingly lifeless bureaucracy, is one of self-alienation through sex and drugs, as much as forced alienation through the paranoid forces of which he makes himself a mirror. Meanwhile, in the practical world of publishing, Calder, for one, did seek to overturn societal stigma in the representation of many things, not least queer sexuality.
When talking on behalf of the Homosexual Law Reform Society, or for
any other topic for which I was invited to speak, I would divide my
twenty minutes into three parts. For the first five minutes I praised my
listeners for being men of the world, pillars of the community, above
petty prejudices, in short I told them they were tolerant and civilised
human beings. Then for seven minutes (if homosexuality was the
subject), I put them through hell while they looked at their shoes
through the table. I reminded them that there must have been moments
in their adolescence when some act took place with another boy or at
least the temptation was there.
Whether or not financial (and legal) concerns are at hand in the defense of homosexuality for the publisher of transgressive literature, it's clear that Calder wasn't simply paying speech and air to the cause. There are moral questions in publishing and they're as real as the financial ones. So what makes a great publisher? To lose fifty-million dollars. Of the triumvirate of twentieth-century publishers of the avant-garde, beside Calder stand Maurice Girodias (Olympia Press) and Barney Rosset (Grove Press and Evergreen Review). This latter lost a near-fortune in supporting the legal cases of booksellers who agreed to stock his edition of Henry Miller's 1934 novel, Tropic of Cancer, the first edition to be published in English in the United States some thirty years after its first press. With the semi-frequent and near-pornographic eroticism Miller deploys in the book, the foul-language and the occasional toilet-imagery, Rosset understandably had a lot of paper in his hands in the America of 1961, with some sixty lawsuits in twenty-one states.
In a certain analysis, publishers are self-destructive (or perhaps self-depletive?) machines. There is often little monetary reason for the risks a transgressive or avant-garde publisher takes. A prerequisite for running a publishing house is having enough money behind you to print the books in the first place, and if those books are 'obscene' then, like Rosset, enough left over to fight it out in the bookstores and the courtrooms. In any case, Calder makes no effort to shy away from his family lineage and the privilege this brought him.
The Calder business was in whisky in Alloa, Scotland, and John himself, born on a fortuitous Burn's Day in 1927, was subject to an early international lifestyle and education: his birth in Montreal, Canada, his childhood in Kinross, Scotland, his schooling in Sherbrooke, Quebec, and his degree in economics in Zurich attest for this. But his background was also Roman Catholic, and some part of his defence of intellectual, literary, sexual and social freedoms seems a form of internal rebellion. He describes his schoolmasters:
Nearly all the masters were monks. I only remember one lay teacher, a
member of Mosley's British Union of Fascists, who taught arithmetic and
was constantly saying in class that Britain's natural enemy was France
and natural friend Germany. I believe he was interred at the outbreak of
war.
If the writers make their internal and external rebellions through authoring the books, there's an argument to be made that publishers make theirs through going ahead to publish them. There's no small amount of pride in publishing the subversive, and though the potential short-term losses in face and wallet might appear formidable, the glory of lifting the underdog to the pedestal is far more enticing. So when Calder & Boyars published Hubert Selby Jr.'s Last Exit to Brooklyn, and faced an obscenity trial as a result, the determination to take it on was not least rewarded by Selby Jr.'s status today, and that of the book as a transgressive American classic. No less, a book that helped to largely repeal censorship laws in the United Kingdom, after overturning its landmark obscenity case in 1968. The legacy of such a publisher, if they gamble their name, is that their name will last forever.
Again publishing, business though it may be, has the element of an art, as Calder & Boyars themselves represent: one that involves skill and bravado, insight and foresight, as well as prescient knowledge, if not just risk, enthusiasm and luck. It's easy to rhetorise this way, but that contemporary publishing is ever thought of as exciting or forward-thinking has to be owed in part to those publishers who were historically, and are presently, willing to make it so. This necessarily entails Calder & Boyars. There's a relationship between writer and publisher that can be put more briefly. If the writer does their own task, the result will speak for itself; if the publisher does theirs, it will speak at least a little bit louder, and a fair bit longer, than before.