The Man Who Wanted Nothing
11. November 2021 17:12
by Stephen Lyman
Under the pavement of our street is a conduit of large pipe that circulates geothermic heat, I presume for the benefit of the conglomeration of municipal buildings in our arrondissement down the way. On the sidewalk corner of the intersecting streets, just down from the street entrance to the bâtiments of our residence, are a few ventilation grills that cover an exchange station for these works where hot air continuously rises. It's a good place to stand and smoke a cigarette on a cold day.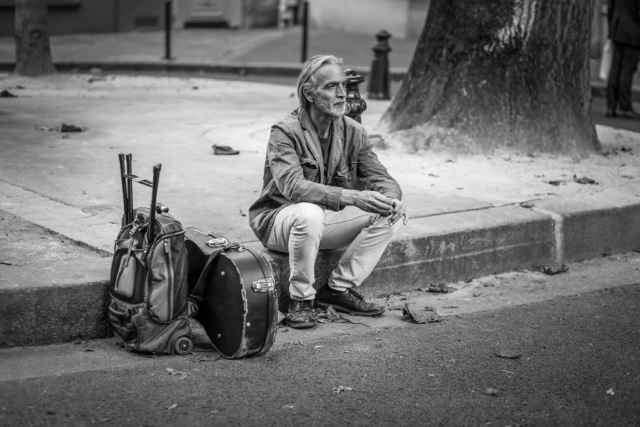 Last year at about this time, a migrant man, I would say somewhere between thirty-five to forty-five years old, hard to tell with people living rough, maybe of African descent, a black man anyway, came on to the ventilation grid and sat down and stayed there seated for about a month or so in the winter of January. He was not a beggar, rather he hadn't placed a paper cup or any other kind of receptacle on the sidewalk out next to him for token coins and such; like the others in the area who are faithfully at their stations each day year in and year out: some Romanian, some French; and unlike the gypsies who are for the most part syndicated, in touch with each other and HQ via mobile phones, checked-in-on throughout the day and rounded up each evening to what I guess would be some squatter's havens, either outside the city proper or within it, beneath viaducts or subterranean nests, he appeared to take no benefit from the industry of poverty. He was on his own. Neither did he carry anything with him but a small backpack as he came and sat; unlike the few schizophrenics I've seen out and around, who too, have staked their places and maintain their presence at them, coming and going, sometimes like clock work with their baubles, books and beads in over-stuffed carrying sacks; however in a way like them, he didn't speak, look at or apparently even acknowledge anyone passing in front of him. He just sat there near motionless with a slight expression of contempt regard that never seemed to change much. I never saw him smile or laugh, even maliciously, and this regard belied, in a way you might say, a motivation, if even unconsciously, though he seemed to be aware of where he was and what was happening around him, he just didn't seem to care; nor did he seem to be stupid or mentally deficient I thought, he seemed to know what he was doing.
It was a cold day typical of winters in Paris. I first saw him at about noon when I had gone outside for a smoke and a short errand. I'd been outside about an hour and an half earlier that morning before he'd arrived, the weather had been pretty much the same then, like I said, cold but still was well above freezing. This particular intersection on rue Falguière tends to funnel the wind. The grill on which he sat is about two thirds of a meter wide and two meters in length, the size of an half mattress with other smaller grills placed at oblique angles next to it like carpets for reading chairs and small tables that have been taken away. There's a wide sidewalk that gives a lot of room for the heat to disperse without stressing the building abutting it and ample space for people to pass around. The surface of the sidewalk was freshly covered with tarmac earlier that year with the final installation of the grills. No trees or planter beds on this end of either street. It's a somewhat busy intersection but never congested of pedestrians, though often is with automobile traffic. There are bus routes each way and a lot of school children crossing it throughout the day. At the corner in front of the grill is a small grocery store run by an older, somewhat stoic Chinese couple and their daughter who live in our bâtiment a few stories above. It has a glass entrance at a diagonal to the sidewalk facing squarely into the center of the intersection directly behind where the man had set himself down. Opposite the corner of the market is a café bistro with a few sidewalk tables that are well-away.
The street runs on a small steady incline up from the intersection and crosses another one above it, then terminates at an auxiliary train station to Gare Montparnasse. In a rain, which it did later that day, the downhill runoff collects in ample flows in the gutters and drains well-off from the sidewalk's surface without collecting in pools, that with the hot rising air coming up from under the grills, the surface area of this corner where the man sat would dry quickly. He had donned a ruddy marine parka over a couple of t-shirts that from wear and soil seemed nearer to black, black scuffed tired worker's boots, untied, and loosely worn dark blue jeans, nothing else but a small dark pine-green nylon backpack that was half full. That was it. Not much for the rain. Hadn't been too long since he'd had a shave by the stubble on his chin that the occasional sunlight breaking through the low fast-moving clouds of that day brought to sight. His knotty hair was cropped short. I'd noticed too that his fingernails were not out-grown; what one gets in a glimpse. The flying clouds were dense and dark and piqued the intensity of the intermittent light all the more before the day folded into gray.
It took a day or two before people began to think he might be there a while; a blanket had appeared over his shoulders and he was sitting on a small plastic rain tarp for the rising heat. After a few more days he'd acquired a small mattress and sleeping bag, not just to sleep on but to keep him from burning from the hot air coming up from underground. Thereafter I would often find him napping during the day as I'd pass by on my way to the bus stop around the corner. The police hadn't disturbed him. I supposed no one had complained. They're more keen on naughtiness than ill fortune and there's more than just a beggar every other block. Our street is near entirely residential with only a few medical cabinet sand day creches that service the residences here. It runs a good city block with about a thousand flats and apartments I would guess and as residences do, reflects the professional and financial strata of its inhabitants, which for this row runs a spectrum from moderate affluence to poor, in a contemporary sense. Here it's a broad demographic that rejects classicism; or is it the other way around? It suffices to say it's modern. At the top of the street opposite the end where we live are the more modestly affluent residences. We are, like I said, at the bottom of the street and reside in a social housing project of an hundred units or so that is aesthetically deficient but well maintained. Being that the immeuble we're in is housing for the poor (an HLM d'habitation à loyer modéré) the man placing himself in front of it didn't seem to attract much attention or cause much of a stir; not out of place, in fact you could say he was expected.
Presently as I remember seeing him there, now that a year has passed from the time of the event, what comes to mind is a profile image seen from the street door to our building looking just a ways down toward the intersection; a composite image in the violent turbulence of afternoon shadow and light before things started to accumulate around him and scatter in the chill tunnelling wind: a man adrift in a roiling current; a static image of a figure in silhouette over a moving grid of rushing placards, buildings, traffic noise and pedestrians. I thought that he may have come from an island. He hadn't the deep ebony blackness of skin like the many who pass through this intersection in their flowing bright-colored tunics, going to prayer at a mosque I have yet to locate down rue Falguière nearer boulevard Pasteur, though he was amply black without the appearance of caucasian taint, nor did he hold their grand African physique and noble frame, so lithe in movement. Compared to many of them he was a short man, though at or above a height of what one would think to be the average Frenchman. He was slight in build and usually sat with a forward-leaning, near slumped-over posture with his legs bent-up, often resting his arms on his knees, setting his head down to curve his neck either side. As for the moment when he arrived and stopped at this precise spot, probably walking south on rue Falguière, then stumbling upon the vents here in front of the grocery market and sat down, you would think was a spontaneous act, which I'm sure to some degree it was, but such simple actions, I've learned from my own experience, are usually the result of a longer gestation, some scheme or idea or personal pact, a vow that was seeded long before the event of the instance of the act itself; that if things ever got to a certain point, to take the back door, and then finding that one hasn't the force of will to see it through, stops; the terminal instant of violent impact averted but is final nonetheless: inevitable.
Not everything fits into a box; people can and do, but only when they're dead; then we are buried or burned and it's a tedious process to finally arrive there, at death, and pray to find what one might hope to be oblivion: some transcendental quietude, some nothingness, some relief; once one forswears a vital life when all seems to be buzzing round one's head, a hush to a gale, that to turn it all down a bit and find some sense of balance, must seek distraction . . . or, turn away, which is to say go inside to cut off the noise and shutter the view, which doesn't happen, because there's as much noise there as anywhere, unless one shuts it all down; which more and more people seem to do these days: to put the noise in a box and bury it, but much else goes with it. Of course there are other, better ways to manage this; as for me, I watch and abide, and pace myself with less urgency than perhaps I should or for what the times demand.
Well over a week into the ordeal, you would think that he might make an occasional outburst, a tirade of resentment, a plea or an accusation, but I never heard one, though he seemed at times to almost seethe under his breath, sitting there motionless, sometimes with his eyes fixed hard in a stare just away from the painted crosswalk at some point or small object laying there on the street, then he'd come out of it after a minute or two, like as if he'd just come out of a hard deep sleep. By this time another mattress had appeared along with another sleeping bag and a few more blankets. The first one had become quite dank, even as it lay above the exchange station over the heat. I don't think that he ever turned it over or adjusted its place much but just put the newer mattress over the old which made him sit a little higher up off the ground. I think someone had brought him a few clean pairs of socks and what else. There was a discarded transistor radio on the ground a few arms reach from where he sat that caught my attention as an unwitting yet nevertheless ironic gesture from some clown. A small rubbish bin was placed about ten meters from his perch that he must have occasionally used when he would stand and leave to find a place near-by to relieve himself; probably in the gutter or cranny a short distance from where he sat just down the way by the bus stop on rue Falguière I thought, but didn't know for sure. For myself I never caught him leaving. I would often notice, particularly during these first few weeks, discarded packages of food about him in the mornings when I would leave from our flat, sandwiches and sweets mainly, unopened, that could have come from the market. He always appeared to have a bottle of water or soda along with other sometimes strange tokens and paraphernalia that added to the ever-mounting pile: a bouquet of white and pink roses wilting on the ventilation grate just at the foot of his small mattresses; a small brass Saint-Christopher medal in a sheen of dried black metallic goo from a tipped-over Coca-Cola can on the tarmac just behind, aglint in morning light. A third mattress had arrived just when the weather took a turn for the worse, causing him yet another conspicuous elevation from the sidewalk floor when the cold snap hit and he would ply himself between the top two mattresses at night, wrapping himself inside with the accumulated blankets, sleeping bag, tarp and other rags that were about to keep warm from the wind. Although it calmed somewhat during the nights, sporadic rain tempests continued. An unforgiving penetrating damp cold was ever-present that lasted for about three days as I remember before the winter light returned, but even then it was still quite cold; though in the calm of the abating gusts, the air-flow of geothermic heat coming up from underground began again to sustain some warmth about the small area of the corner. I believe that he was mostly alone during this interval, if not entirely; that few if any came back to check on him in the cold, and felt too, that this might have been a welcome respite for his part that allowed him a kind of hibernant Lent from everything and everyone about him, drawing him further and further into a numbing haze, that from that time on, he never seemed to shake or drift out of but was receding all the more into some strange ethereal space where the weight of thought and the slow morbid lapse of time became null and wooden.
There were works on the street at the intersection of boulevard Pasteur and Falguière down the way that backed traffic up past ours both ways. Impatient horns were ablare and the traffic lights were of no use. A noisy blight of diesel fumes and metallic dust rose in the early morning as the sun was just breaking over the Gare. He lay prone on the heap in his sleeping bag face-up in a semblance of a sleep through it all; not wanting to open his eyes. The Chinese man was taking stores from off two wooden pallets that had been delivered earlier that morning. He was as usual, dressed in clean pressed cotton. I saw that he was wearing a torso brace under his wind jacket and thought there was dignity in the wilderness, watching him steadily, quietly, going about his chore amid the clamor and din of the bad air. He seemed to remain undisturbed by the sight of the sleeping man lying on his wreck of a pile just a few paces away from where he was unloading, just as he'd been when the man first arrived ; neither rejecting or perturbed by the man or any of the disturbances about him and his small industry, but rather I thought, brought them into himself somewhat and put them to good use. He didn't show impatience with the man and the ordeal as the weeks went on; at least as far as I could tell, but simply went about his business and its immediate demands as if the man weren't there.
By now I thought that there would have at least been some kind of intervention by the police or social services, if enough people were to have complained or called their attention to the situation which apparently didn't happen; nor did I make any calls myself; though the situation pricked my sense of conscience, I would now admit more to inquiry than futile concern, and that too, in light of my present resident status here, authorities might be put-off if I were to suggest, as a foreigner, that they should do something about it. It was also possible that an agency did investigate the man, but may have found that his circumstances were not sufficient for an intervention; then again it would only be a matter of time before an inspection would be due on the exchange and he would be forthwith removed ; so, along with everyone else, I'd wait it out ; he'll move on one way or another.
At about the end of January I'd noticed another marked decline in the attitude of his appearance and rising sloth about the place. There were more empty bottles of cheap alcohol, dried food and waste lying about than usually was; though I didn't believe he was alcoholic. I'd never noticed him to appear to be drunk; and that too, he never begged or spoke to anyone who passed by him was reasonable assurance he wasn't. I suspected that he used what was given him to get through the cold nights and the nights were cold enough. I noticed a few times where he refused food by waving someone off, either coming out of the market behind or coming up from a boulanger down the street, startling those who offered it a bit, as well as me when I saw this. He wasn't coughing much, just what you might expect of someone being out in the cold as he was; though he had slumped down considerably more in his posture and kept his head facing low and down, rather than what was his manner earlier of staring at some fixed point on a horizontal plane just above the tarmac down rue Falguière. There seemed to be a change in the quality of air just then. It was city-dirty sure enough, as to be expected of a Parisian winter, except for clear days after the rains before the traffic congestion could put it back to rights, tinting the pure azure that Paris possesses with a crude overlay of varnish. The air coming up from underground rose heavy and wavered like a mirage about the man from the friction of the heat and cold, catching him in a cusp between two weighted and disparately opposing atmospheres. There was an aura of violence about it: a restrained tension, kept-in to the boundary of the small space he occupied; noticeably evident as I walked by him and cornered the intersection; that for an instant as I passed, pulled me inside, as if I were sitting with him back to back in the pressure and force of colliding air.
I was a little off when I got on the bus and found a place to sit in the back with opposing seats; not startled, but a bit outside still; couldn't remember if I'd put the ticket through the box because it was still in my hand and had to look close at it to see if it was marked when the destination of my small errand came back to mind: a guitar shop just off rue de Rome for strings. I don't buy online because you never get to know anybody that way and these shops need all the support they can get. On a long bus ride I usually just blank-out and look at everyone absorbing into their phones and watch out the window while Paris roves. It was an effort to put the scene and the man out of my mind and had to keep it occupied with other things so as to do so, which is irregular for me because I like to drift. It's important to me as something that I imagine keeps me apart from what I perceive to be the way most other people are these days, the phones and all; to be occupied with something so tedious, continuously converting themselves to mere information via bytes and pixels. I like my dead space empty as much as I crave strong tobacco; its fresh air to me, which is how I began to engage my interest with the man in the first place, outside smoking on the street with an errant and empty mind feeling the day. I don't use or have an iPhone, a laptop and a fixed line does the job at present, when I'm out, I'm out. Time will come round for me when they won't work so well and I'll have to give in, which is okay if I keep it right. For now I'll drift. He comes in again, like watching slow black and white pans roll off a gritty reel spinning in a clicking whirr; burn spots and scratch lines running up the celluloid blotting the rolling images like bugs caught in the projector disintegrating on-screen; an optic noise deconstructing the man lying there face-up on top of the pile in his sleeping bag, pressing his taut upright rigid toes and folded hands over his heart through the fabric of his wrap like a sarcophagus; just his face showing, eyes closed as if asleep or dead and his skin, black and grimy like sooted wax and ash, motionless; blurred tracings of pedestrians and school children run by and around him in rapid fast motion. A figure appears slo-mo in counterpoint to the whirling crowd, feminine, robed in a white habit in flickering light, approaches him and bows, extends an arm upward holding a bramble of dried twigs and fuming sage over his head then lowers it to the grate under the pyre of rags and sodden mattresses, catches and ignites in the rising air then smoulders and dies out, fades. My view veers aside from the scene as the bus corners Saint-Lazare and starts up the hill to the Europa stop just at the top of rue de Rome and I step off onto the pavement, walk down a small incline and cross to the other side, corner onto rue d'Edimbourg a few paces up and open the door in to the shop as the tin bell rings over my head from the push.
It was from this time on when people ceased coming altogether, at least from what I could see ; though there was still evidence of care and food and always an empty bottle or two next to his pile. If not him, someone else was keeping the mess from getting too far out of hand and a dry blanket or two kept appearing, the others presumably discarded. The days were short and clouded dark mostly; the absolute nights in the vacuum of approaching mid-winter were impenetrable distances where life completes itself in decay. Evening, coming home my way, the immense irontower at my back penetrating and disappearing into the stalled low-clouded winter sky, shooting its searchlights in a muffled violence of elliptical rhythms in the strata above the lower cloud cover in a high, remote, silently oscillating amber tempest, then cross Falguière passing his squat, walk the few steps to the door, turning again to look back at the site a moment before going into a blank, pass through the wet dark empty court to the other door and mount the steps, turn the key to go in and sit in the wrap of my winter coat before putting the heat on a small while in the darkened room until she arrives and measure the time and the past events of the day, thinking of the man just now again in my mind ; images real and surreal, in dreamscape of wakeful imaginings occur, take form and float around, too much effort just now to suppress ; two bubbles rise from the linoleum flooring like reptilian nostril pods, yellow translucent alligator eyes emerge opposed ; a faint ripple of eel quickens beneath the glass of a sargassious pool under the kitchen table ; lines between evanescent phantasm and the concrete fade in continuous levitation of mind, plume, blur, then dissolve into loose intangent asynesthesia, becomes stale, stagnant, void of scent ; the mark of the times in a squalid man sitting on a street corner in a Parisian winter, waiting, like the first tag on a sound wall of a pristine motorway. A knock on the door that I go to answer without looking through the peep, turn the kitchen light on and open and freeze, flush quiver-skinned at the sight of the man standing directly in front of me holding his backpack until the black helmet registers and I realize an Uber delivery came to the wrong door, point up the stairwell, nod and shut the door, sit back down and shake it off. Tonight I'll play on the little guitar and have a pleasant dinner with my wife when she arrives.
I slept in late the next morning; woke up unsettled in the middle of the night from dreams; something about the man as space being or Argonaut or something: ephemeral voyager; couldn't catch it before it vanished and was able to get back to sleep again; didn't want to keep it or stay with it, it's why I woke just then I think; but that he wanted something of me stayed on through to the late morning when I quit sleep and lay blank staring into the halo of light framing the window blinds and the urge to piss took hold; got up and sat on the toilet not wanting to stand in my fog and make a mess of the rim, resting my arm upright on my knee, rubbing the sebum at the hairline on my forehead and mid-brow, yawn, trickle as my erection falls and relax my lower belly, then curl my fingers and gouge my nails into the dry irritating skin of my shins from winter molt. He was waiting for something from me. I put it out of my mind, compress and shiver, stand, pull-up and flush, rinse my hands and go to the kitchen; but that I'll have to walk by him again when I leave. My wife has already left for work, in her care left me to sleep. I put the coffee on and go to other places in my mind.
It is not murder that I imagine he wants of me; it is liberation; given by a responsible hand and conscientious mind; not as an act of violence; but pity: to heal him with annihilation. His soul is already damned and given to oblivion, that even his will to continue in life in any meager way has been shed and discarded; sitting and waiting, he can do nothing more, nothing less; that a priest with a blade might arrive and in giving him absolution would then kindly cut his throat.
Where-as murder is rape, final violation; execution: carnival, even once celebration; euthanasia is another matter: a philosophical proposition – a dilemma wanting in any sense of justice, retribution or revenge; there's no crime or victory in it; only acquiescence and bleak ceremony. The attention I imagine in this way demanded of me by the man is none of these: to do what he cannot do for himself; to complete what he'd already started and finish the job; but that it has morphed into something larger, of broader and deeper dimension that he no longer has the force of will to address nor I the desire to collude in.
You would think that at this time I could have no more interest in the man; that these reveries would quash any intrigue I might continue to have with him and his squalid circumstance. I must confess that it didn't, but rather just the opposite, stimulated it, particularly to the detail and minutiae of my own self-disgust and morbid curiosity; not that I could henceforth shun the man anyway, to simply ignore him and suppress my own sense of curiosity or compassion for his plight – which was and is certainly real; it's not just that he's there, right in front of me, every morning, day and evening, every night and will be there tomorrow; it is only, in truth, that I have no desire at all to ignore him, but now feel an even more heightened tragic appreciation for the event in itself; not that I wish, in any way, to reduce him to a kind of non-sentient thing for the pleasure of my own speculation: to assuage my own distress and concerns or succumb to an apathy that he and his situation naturally evoke; I am not a Sadist, nor Buddhist either. It's that I want to understand it in fluid reality I suppose: to see him within it clearly, in the warp of it, as someone with his own pulse and history inside the arena of an event that he nor I haven't more the power to control, and see it now with a darker compassion once-removed from any sense of piety or guilt or conscience or my own naïve impulses to rationalize or intervene; to allow it to occur, at least in my own mind, and let it roll-on of its own force or its own inertia as it must; that I needed to understand it, him, that which cannot be understood, cannot be reasonably or rationally grasped or confined to explanation; hardened real as bone; ephemeral as dreams: dreams that are not dreams but are sufferings, surface tensions, gravity; then I saw it; as if it went out and circled back around and came to me again, re-forming itself. I saw it, saw it in fluidity grow out from his suffering in its own substance in blaring clarity; that as profound as his suffering appeared to be; and no doubt certainly is, was not what this is about for me, not at all; not his transient dereliction, plight or need or deprivation, his unique yet seemingly common circumstances – not even he himself, entirely; at all; but rather it was something more deeply hidden and primeval, well beneath my conscientiousness and what I would want to believe about myself that took my attention toward him to a more sordid, more hideous affair: that of my compulsion to revel in his annihilation, in the allure and fascination of the event itself, and be witness to a grotesquely insipid willfulness of a benign consciousness to extinguish itself in the slow suffering delight of an act of self-crucifixion; watching, like a crow on a scaffold.
Coming home that early evening I found him and his site much the same way as it was; the same garbage lying about and that he had resumed the same sleeping position as the afternoon or hadn't moved at all; lying there like a tattered empty sack. After dinner and cleaning up, I left my wife streaming a film in our bedroom and sat out on the balcony in a wrap of a thick sweater for a smoke when he came back to my thoughts, or it was I who came to him or was he ever even there? : thoughts; floating images: the fable of death and dying; that which lies hidden beneath all our anxieties; the riddle of life; the great speculation; retracing my steps out the door and toward him in the wet of the night's gray half-light like I was walking to the edge of a precipice to an abyss through a gauze of patches of mist and fog then clear-gray out to the brink then looking down with the expectation of the spectacle of eternity beneath the rising clearing mist, only to find a reeking pit heaped full of rubbish; that I could have expected anything different is hilarious. . . and I began to laugh!
Copyright © Stephen Lyman 2021
Born in 1955, Stephen Lyman is a concert classical guitarist and occasional writer from the western United States, alternating between Southern Nevada and Northern Utah before taking residence in Paris in 2011 with his wife and artistic companion Valérie Kuhn-Lyman. His writing is persuaded by living events that to his mind beg the tale. Stephen specializes in the performance of the music for unaccompanied strings by J.S. Bach and performs weekly interventions for severely autistic individuals at l'hôpital Pitié-Salpêtrière in Paris since 2015, under the direction of Prof. David Cohen.