Which Side of the Record: On Maria Golia
24. May 2022 07:36
by Joshua Jones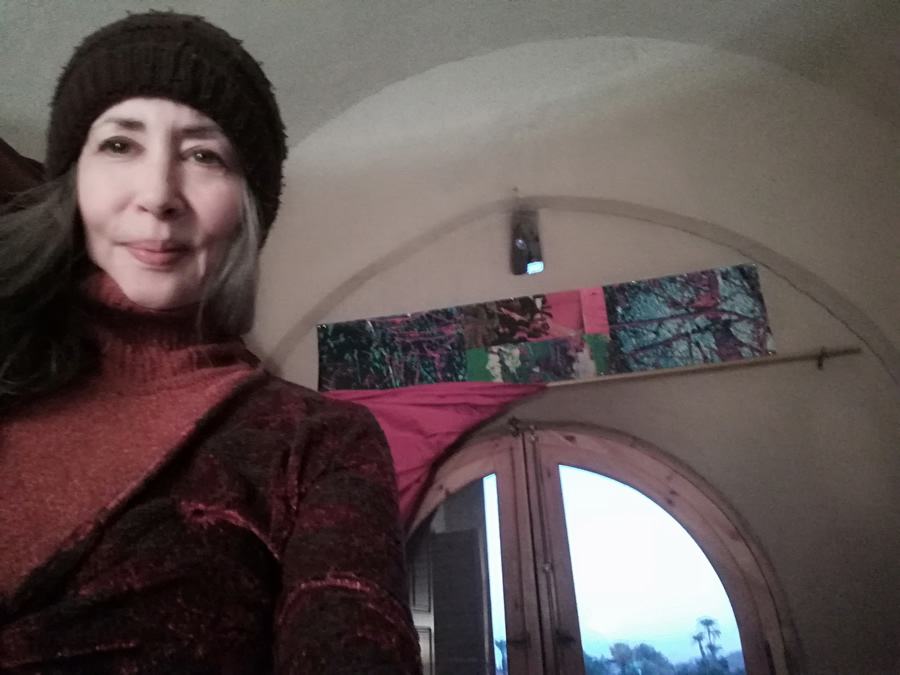 The fascinations of Maria Golia might be described as eccentric, but this doesn't come close enough to the case, and perhaps wanders too far from the truth. Having lived in Egypt for some thirty years, it shouldn't exactly be considered eccentric to have written extensively about the country, and to have authored two books that take it as her muse, with Cairo, City of Sand published in 2004, and Photography and Egypt following not far behind in 2010. Even her next book, the soon-to-be-published Short History of Tomb-Raiding, takes the Egyptian as its basis. As such, being an American author in Egypt, Golia is also in a somewhat eccentric position politically: following the popular uprising of 2011, she must have found herself in what was a changing land, subject to what she herself described as the 'winds of the Arab Spring'.
So it isn't surprising that Golia subsequently turned to the stars, for a self-proclaimed cultural history of space rocks, published as part of the Reaktion Earth series with the title, Meteorite, in 2015. After all, the arid landscapes of Egypt and the barren forms of itinerant meteors are in some aesthetic and perhaps intellectual senses, not that distant from one another. The stretch hardly takes light-years of the imagination, while remaining distant enough to provide a safe feeling of separateness from the political turmoil that continually surges and wanes throughout the human world. Not least in Egypt and the wider Middle East.
With Ornette Coleman: the Territory and the Adventure, Golia makes a reverberant definite return to the mortal realm of human melodic action, away from the silent music of the heavenly spheres and their attendant space-rocks. For the uninitiated-in-jazz, Coleman, the subject of Golia's most recent work, is a Texan-born saxophonist, famous for galvanising the free-jazz scene with his prophetic and not-so-modestly-titled 1959 album, The Shape of Jazz to Come. But for Golia, why this refrain, why this turning away from Egypt and space-rocks, why this sudden coda? For one thing, the book is dedicated to Golia's brother, a 'musician, educator, and composer' who passed away in 2019, the year before the book was published. And for another there is Golia's past.
Maria Golia met Ornette Coleman while working at the Caravan of Dreams, which existed for two decades of the late twentieth century in Coleman's hometown of Fort Worth, before being overhauled as a Texan restaurant. Herself hailing from New Jersey, Golia's introduction to Coleman appears almost entirely circumstantial. Operating throughout the eighties and nineties at 312 Houston Street as a sort of arts-centre-slash-nightclub, the Caravan of Dreams boasted recording and dance studios, a sizeable theatre, and a verdant rooftop garden. All of which was financed by a local billionaire. Outwardly, it was inconspicuously historic, with its post-Civil War frontage, but it was a geographically-rare locus for artistic pioneers, inwardly. Beat ingénue Brion Gysin bequeathed the name from the Arabian Nights, William S. Burroughs performed spoken word, and Coleman, of course, was the musical protagonist of the venue.
I met Ornette in his hometown at the Caravan of Dreams Performing
Arts Center where I worked and where he played and recorded in the
1980s. He was unassuming and soft-spoken; he lisped and wore shirts
that resembled painters' drop cloths, but he was tougher than he looked.
Self-taught and proud, Ornette had a non-conformist approach to music
that attracted ridicule and censure.
Coleman was to be the centerpiece and icon of the Caravan of Dreams, being inaugurated with the keys to the city in 1983 at the venue, on the first official Ornette Coleman Day. But Golia illustrates the musician in a quieter, more exacting light. The appeal of Golia's writing is her straightforward manner. Her introduction to Coleman is as cleanly explicit as her nonchalant insertion of herself into the narrative as narrator, as chronicler, and as character, meeting her own protagonist. Any and all background information is subsumed into the script of the work, a work already dense with important dates and figureheads, memoirist scenes and musical information.
Golia never snatches the microphone, though, which is another aspect of her appeal. And she rarely plays into any kind of internal or external hero-complex, being more than willing to acknowledge the reality of Coleman's background in the Fort Worth of the thirties and forties, deep in the Jim Crow era.
The muscular arm of elitist influence does not reach into Fort Worth's

black neighborhoods, where the sheen of wealth is as absent now as it

was when Ornette was a boy. The flimsy houses lining pitted streets

are smothered in vegetation bursting from sidewalk cracks and in every

available space.
What Golia achieves is a turning of the scientific-claritative force of her exotica, her studies of space-rocks, her musings on Egypt, towards a painterly but assuredly specific testament of a certain figure in a certain crucial time in American music. The painterly eye is what smoothes out the project, however, not her impressive catalogue of knowledge and research. Her depictions of characters and locales, at once snappily precise and emotionally telling, support the data necessary to the stock and shape of that tome-like genre, the music-biography, a genre typically nerdy, usually male, and potentially dull. All epithets and adjectives Golia manages to shirk, for the reason primarily that her writing is generalizing and particular, and can touch on a deeper significance beneath its journalistic tone.
There is a distinct lack of fear throughout the book to confront the profound in the mundane through analysis and patience. Her subtitle, she explains, is taken from one of Coleman's musical aphorisms, wherein, roughly speaking, the compositional framework of a piece is the territory, and the broader space for improvisation the adventure. This, certainly, seems to be Golia's own methodology in approaching the writing of the book, a wisdom perhaps picked up from Coleman. She explores, in this way, a cartography left uncharted by many musical biographers: the emotional, political and spiritual depth that shapes a given composer, musician or performer.
Religiosity comes naturally in such settings, where everything is temporary,
as likely as not to be swept away by flood, tornado, shooter, or a cop.
Sunday church gatherings typically revolve around acceptance of a Jobian
lot and relief that it won't last forever.
Church, Baptist Church to be specific, was of significance to Ornette, Golia elaborates, and she herself accompanied him at least once to a service. Religious dogma may seem diametrically opposed to most supposed philosophies of jazz. But it isn't stretching the truth to say that free jazz, as a musical concept, is close to a kind of spiritual expression, an outburst of spontaneous praise within a more-or-less rigorous form. The crescendo of a congregation, turbulent or restrained, isn't so far removed from Ornette's extroverted style. Who couldn't, in playing a music that is as historically blue-at-heart as they come, not be both bewailing and accepting a life of Job? But Coleman's music is neither plaintive nor melancholic. It is exuberant.
Golia admits her lack of understanding at the time of the radical singularity of Coleman's style. Her general alienation towards the noisy avant-garde is something she has inevitably only come to reevaluate in looking back on her years at the Caravan of Dreams, which is unsurprising and (if we're honest with ourselves) relatable. Countless are the heads the notes fly over, only to resound through passing years, with the sophistication of retrospect. And Golia's work, whether focused on the astral or the musical, is committed to a search for definite meaning, a making-sense-of-things, a craning back to catch the music. Whether she grasps the cacophony isn't essential to the territory she is trying to map. What is important, to paraphrase her subtitle, is the adventure.