Natalia Gorbanevskaya: Red Square at Noon
28. May 2008 14:34
What I remember of the demonstration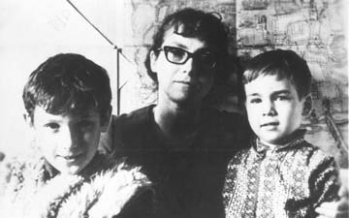 It rained the day before. Sunday was fine and sunny from the start. I wheeled the pram past the Alexandrovsky Garden railing and the crowd was so thick that I had to leave the pave¬ment for the roadway. The little one slept peacefully, with a bag at his feet and spare pants and nappies in it. Two banners and a Czechoslovak flag lay under the mattress. I was telling myself that if nobody was there to take the banners from me I would fasten them on either side of the pram and hold the flag in my hand.
I had made the flag as early as the twenty-first. When we went for a walk I stuck it on the pram and at home hung it from the window. Early on the twenty-fifth I got the banners ready, wrote on them, hemmed them and mounted them on sticks. One of the inscriptions was in Czech: 'Long live free and independent Czechoslovakia'. The other carried my favourite slogan: 'For your freedom and ours'. I am in love with Poland; and I found it particularly hard to bear during those days that, along with our own troops, soldiers of the Polish army had entered Czechoslovakia; the soldiers of a country that had struggled for centuries against imperial aggressors, and against Russia first and foremost.
'For your freedom and ours' was the slogan of the Polish insurgents in the fight to liberate their homeland and of Polish emigres as they died in every corner of the world to gain freedom for other nations. It was also the slogan of those Russian demo¬crats who came to understand in the course of the last century that a nation which oppresses others cannot itself be free.
The road between the Alexandrovsky Garden and the Historical Museum was barred by police because of the queue in front of the Lenin Mausoleum. This made me think that the whole of Red Square was crammed with people, right down to the church of St Basil. I went round the museum the other way and the Square opened up before me, spacious and almost desolate with the solitary Place of Skulls - the old Execution Ground - a white spot in the midst of it. As I went by the GUM stores I passed some people I knew, smiled at them and walked on without stopping.
I came to the Execution Ground from the direction of GUM just as Pavel, Larissa and a few others were approaching it from the Square. The clock began to strike and the demonstration started, neither on the first stroke nor on the fateful last, but at one of the twelve at random, or maybe even between two strokes. It took a few seconds to unroll all four banners — I gave mine to our friends and kept the flag for myself. Then, in a single movement, we sat down on the raised parapet round the Execution Ground.
Lara was on my right holding a white calico with 'Hands off the CSSR' in clear black lettering. Pavlik sat to the right of her. I had deliberately given him 'For your freedom and ours' when I fetched out the banners, because we had once spent a long time talking about the inner meaning of this slogan and I knew that he too set store by it. Vadim Delone and Volodia Dremlyuga sat beyond Pavlik but I could hardly see them because the curve of the pavement followed the outline of the Execution Ground and one had to bend over to see the end of it. That is why I failed to see them later beating up Vadim. Kostia Babitsky, whom I had not met before, was beside the pram and beyond him Vitia Feinberg, recently arrived from Leningrad. I took all this in at one quick glance but, looking back, less time still elapsed between the raising of our banners and the moment when they started to rip. People had hardly begun to gather round us when those who were intent on undoing our demonstration came racing towards us, beating the nearest onlookers to it. They leapt on us and tore down our banners without sparing even a glance for what was written on them. I shall never forget the sound of ripping cloth.
I saw two people hitting Pavlik, a man with his briefcase and a woman with a heavy handbag. A powerful fist grasped my little flag. 'What?' I said. 'Are you trying to take the Czechoslovak official flag from me?' The fist wavered and relaxed its grip. I turned my head for a moment and saw them hitting Vitia Feinberg. The banners had gone and only I had succeeded in defending my flag. Then a tall, smooth faced man, one of those who had been hitting our friends, came to the aid of his hesitant comrade and angrily snatched at the flag. It broke and I was left holding a snapped piece of stick.
As they ran towards us these people shouted, less to give vent to their unbridled feelings than to provoke the crowd into copying them. I only made out two sentences, which I have quoted in my letter: 'They're all Jews!' and 'Beat up the anti-Soviets!' They used some less printable expressions as well: during questioning at the trial, Babitsky was reproved by the judge for quoting one of the insults directed at us.
Yet the crowd that had gathered made no move to 'beat up the anti-Soviets'. It just stood around us like any other in¬quisitive crowd.
For a short while, all those who had been hitting us and tearing up the banners, vanished. The bystanders were mostly silent. Here and there a hostile or puzzled comment could be heard. Two or three speakers who had stayed behind when the others left ranted on. They stuck to two main themes: 'We liberated them' and 'We keep them fed' - 'them' being the Czechs and Slovaks. New arrivals would ask, driven by curiosity: 'What's going on here?' 'This is a sit-down demonstration to protest against the occupation of Czechoslovakia', we would explain. 'What occupation?' some would ask in genuine surprise. The same two or three speakers went on shouting: 'We liberated them, we lost 200,000 men liberating them, and all they do is stage a counter-revolution.' Or again: 'We are saving them from Western Germany.' Or better still: 'We must hand over Czechoslovakia to the Americans, must we?' And so on, with the whole battery of imperial arguments, right up to the statement that 'they themselves asked us to bring in troops'.
It was difficult to hear which of my friends was saying what against the noise raised by the speechmakers. Somebody, I remember, explained that 'The letter from a group of the Central Committee of the Czechoslovak Communist Party asking for the entry of troops is a fake, it's no accident that it is unsigned.' My reply to 'You ought to be ashamed!' was 'Yes, I am ashamed — ashamed that our tanks are in Prague.'
The first car drew up some minutes later. People who had been present told me afterwards how those who had snatched away our slogans rushed around aimlessly in search of transport. Eventually they intercepted the odd cars coming from Kuibyshev Street towards the Moscow River bridge and chased them back to the Execution Ground.
They picked up my friends and carried them away to the cars. The crowd was round me and I could not see how they were being carted away and who was going with whom. Babitsky was taken away last. He was sitting next to the pram and earned a taunt from the crowd: 'He's hiding behind a baby!' I was left on my own.
The noise woke the baby, but it did not cry. I changed it and an unknown woman who was standing beside me helped me. The crowd was thick and close. People who had not been there at the start were pushing forward and asking what was going on. I explained that it was a demonstration against the invasion of Czechoslovakia, that my friends had been carted away and that my Czechoslovak flag had been broken. 'What are they, Czechs?' people asked one another. 'Well, why don't they go home to Czechoslovakia and demonstrate there?' I have been told that a rumour went round Moscow that very evening about a Czech woman with a baby demonstrating in Red Square.
I said in reply to the sermon of one of the licensed orators still present that the Constitution guaranteed freedom of demonstration. 'What about that?' volunteered someone in the crowd. 'She's right enough in that. No, I don't know what happened here earlier, but she is right in that.' The crowd kept quiet and waited for developments. I also waited.
'Go away, girl,' somebody kept on saying. I stayed put. I told myself that if it had suddenly been decided not to take me away I would stay until one o'clock and then go.
A voice was demanding that people should stand clear. In front of an approaching Volga came a man and the woman who had hit Pavlik with her handbag; she had later stood in the crowd cursing - and probably memorizing - any bystander who displayed sympathy. 'Well, what are you standing about for? Can't you see she's ill ..." the man kept on saying. I was lifted up, the woman next to me hardly had time to press the baby into my arms and they pushed me into the car. My eyes met those of a redheaded Frenchman standing close by. He stared at me in horror and I thought: 'That's my last memory of freedom', while the man who had come for me pointed to the same thickset brawny woman and told her: 'Get in. You'll be a witness.' 'Take one more witness', I called to him pointing at the nearest bystanders. 'That will do', he answered and the witness' who, incidentally, was never seen again as a witness, sat down next to me. I threw myself at the window, lowered it and shouted: 'Long live free Czechoslovakia.' Halfway through the sentence the witness took a swipe at my mouth. The man got in beside the driver and said: 'To the 5oth police station.' I lowered the window again and tried to call out: 'They're taking me to the joth police station,' but she hit me over the mouth again, which was both humiliating and painful.
'How dare you hit me', I cried each time and each time she answered, baring her teeth:
'Who hit you? Nobody hit you.'
The car made for Pushkin Street by way of Kuibyshev Street and past the Lubyanka. I found out afterwards that the first cars went straight to the Lubyanka but had been turned away and sent on to the 5oth station. The man said to the driver as we went along: 'What luck you came our way.' And when we got there the driver asked this 'casual representative of an infuriated crowd' to sign his duty log, or else he would be late.
'What is your name?' I asked the woman in the car.
'Ivanova', she answered with the same insolent smile she had put on when she said: 'Nobody hit you.'
'Well, of course, it's very easy to call oneself Ivanova.'
'Of course it is', she answered, with that smile again.

Natalia Gorbanevskaya