28. June 2018 10:17
Natálie Bartlová was talking to Ayşe Kulin, author of Last Train to Istanbul which portrays the courageous work of the Turkish diplomats who risked their lives to save hundreds of Jews stranded in Europe.
In one of your open letters to President Erdoǧan, you wrote about the protection of trees and nature.
I wrote two open letters mainly criticizing him about the education system, which is changing for the worst. Under Mr. Erdoǧan's governance, the primary and secondary schools are turning into religious institutions. Universities are full of professors who believe in Sharia Law rather than the rule of secular law. There will be religious schools too for those who want them, but a systematic change will only harm our country. With religious teachings believers might secure themselves a place in heaven, but then the country will never catch up with the technology and advancements of this century.
The issue of protection of nature and of the trees came up with the Gezi Park Affairs.
For me, Gezi Park was a simultaneous happening when people of Istanbul wanted to protect the trees from being cut down in Taksim Square to make room for a building. When police interfered with force, people overreacted because we were tired of being criticized for our dress styles, uncovered hair, our smoking and drinking and our behavior to such a degree that, we were even told about the number of children we should have. This interference to almost every detail of our lives was very upsetting. We took this opportunity to make ourselves heard. But, Mr. Erdoǧan turned it into a huge plot against him. It had nothing to do with deposing him. It was just to tell him: Hear us and leave us alone. Just give us air to breathe. He overreacted with his police.
.
Did he somehow respond to your open letters?
No. I did not expect him to answer my letters. I did not expect him to harm me neither. I am too old and too unimportant to be imprisoned or punished. There must be a limit to imprisonment unless the issue is high treason. People expressing their opinions should not be put in jail. But now we have OHAL (Extraordinary Jurisdictions) since the last coup which enables people to be arrested just by suspicion.
.
Erdoǧan might be one of the reasons why the European Union doesn't want to accept Turkey as a member.
The European Union decided not to take us, long before Erdoǧan came to power. It has proved itself to be a Christian Club. The EU should have the guts to admit this instead of showing us a carrot and making Turkey run after it.
.
The Czech Republic is full of atheists.
Your country may be so. But I still think the EU is a Christian Club. Let me give you two examples. The EU brought in members economically much weaker than Turkey. Turkey's economic profile is rated sixteenth among all the countries of the world. The East European countries' economies were way behind us, though these countries were accepted in without a problem.
Secondly, the EU made a rule and said it would not accept any country in the EU unless they resolve their problems with their neighbors. Greece and Turkey had issues to be solved, and at a referendum to solve them, Greece voted no, while Turkey voted yes in the direction of peace making. The EU broke its own principals and accepted Greece and left Turkey out. A huge market that could bring dynamism to a stagnant continent was left out mainly because they were different. The difference obviously was our religion. What do you want me to think? I am looking at it from afar and that is what I see. With head scarves, or not, we are more or less the same people as the rest of the world. So what do Czechs believe in?
.
Some people who are religious are Christians or Catholics, though not many.
The same as in my country. We have many different religions and ethnic groups. The less educated the people, the more religious they are. Uneducated people need a holy being to protect them and to answer their questions. Educated people, on the other hand, look at science for the answers to their questions. Some believe that as long as you have a good heart, a good sense of judgment, good manners, if you are merciful and honest, you will be blessed. I heard Adonis say in his speech, "God did not create men, men created the God." People don't need religion. I just wish that people would not kill each other for religious or national differences, but embrace each other just because we are all human beings and have one globe to live in harmony.
.
I thought you were Muslim.
I am, but a non-practicing one. There are so many interpretations of Islam. There are the very devout ones who do their prayers five times a day, then there are those who embrace the philosophy of the religion rather than its daily practices, like me. Religion is a matter of the heart and should be private. Governments should not meddle in peoples' beliefs.
.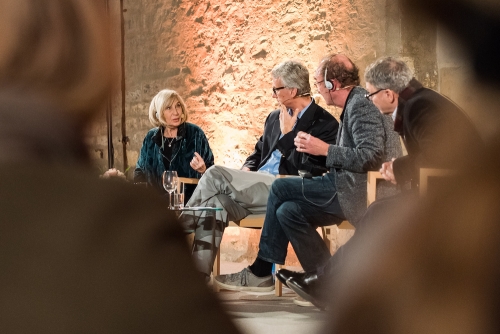 .
In 2014, you said in an interview that you don't think that Armenian genocide happened. Do you still stand behind this statement?
I do. But I would like to enlighten you first about the disposition of the Turks and the Armenians at the time. Ottomans (Turks) and Germans were allies during the Great War. Liman von Sanders was the Commander in Chief, Field Marshall of the 5th Army composed of Turkish Soldiers. Atrocities did happen during a very harsh war on both sides. During this war, the Russians invaded the North East of Turkey and with understandable reasons Armenians backed the Russians, as they were the believers of the same Orthodox Church. The Armenian guerillas, dressed as Russian soldiers, were bombing trains carrying weapons and giving the Turkish army a tough time. In Istanbul too, there was an attack on the life of the Sultan and also a bank robbery by Armenian guerillas.
On the suggestions of Liman von Sanders, with the approval of the Ottoman War Minister, Armenians were to be removed in bitter cold and horrible conditions to the southern parts of Turkey (Syria of today). The mountains were full of bandits, army deserters and other ethnic groups who had their eyes on the Armenian lands. Under these conditions many died of hunger and sickness and many were killed. Wars have no mercy. At the end of the war, besides the Russian occupation, Allied Forces (British, French, Italians and Greeks) invaded Istanbul, the Ottoman Capital, as well as Anatolia. Atatürk would fight for the War of Independence, and 1923 would be the end not only of occupation, but the end of the Ottomans.
While the Sultan was still on the throne, the Ottoman Courts tried criminals of war, condemning 118 as war criminals. Sixty-seven were high officers of the Court and soldiers of different ranks. Kemal Pasha, the Minister of War and Enver Pasha, the Minister of Interior Affairs (also son-in-law to the Sultan) were condemned to death. They escaped to Germany and were shot there by Armenians. The Governor of Bogazlayan, Mehmet Kemal was one of the government officials who were hanged for the mistreatment of Armenians during the war. There were more hangings among soldiers, many were imprisoned, many sent into exile. Those with uniforms were deprived of their ranks and lost all their rights as soldiers before imprisonment.
Now, how can I compare this with what happened in Germany at Hitler's time.
Yes, horrible things happened. My uncle was a child living in Merzifon (Black Sea region) at the time. His father and uncle were taken away one night by police, and he never saw them again. His mother, brother, grandma, aunt and cousins sold their houses and shops and took a boat to Istanbul via the Black Sea. They were settled in a church in Istanbul until they bought a house. My uncle Aram was sent to the American School in Gedikpasha, where my great aunt was also a student. They fell in love at first sight. Their love endured all obstacles from both families and from the neighborhood. A marriage between a Turkish Muslim girl and an Armenian boy was unheard of. My cousin from this marriage lives in the USA. What I am trying to say is, if this was genocide, I would not have a half Armenian cousin. My uncle and all his family would be dead by now.
If we want to be honest and fair, we must learn the difference between war atrocities and genocide. One is a war crime, the other is crime against humanity. We can avoid war crimes if we do not fight. Crimes against humanity need no excuse, as in the case of Hitler.
.
.
Prague Writers' Festival 2017