PWF 1998 Lawrence Ferlinghetti interviewed by Michael March
20. April 2022 11:35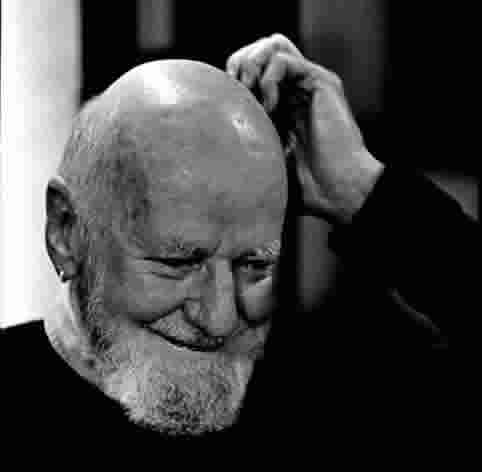 "City Lights"
Fax sent by Michael March to Lawrence Ferlinghetti from Prague to San Francisco, February 1998.
Dear Lawrence Ferlinghetti,
I am composing this interview through memory and feeling for your work, trying to situate your achievements for the great audience awaiting your appearance at the Prague Writers´ Festival.
I. Poetry
Did you enter poetry through love or humiliation?
Through lack of love.
Does poetry convey a tragic humanism?
If you´re a tragic listener.
Your work seems to share Camus´s resistance to political and philosophical abstractions. In Camus` Notebooks we find the pronouncement: "One must love life before loving its meaning," says Dostoyevsky. "Yes, and when love of life disappears, no meaning can console us."
This is why Camus was a Rebel.
These Are My Rivers, your new and selected poems spanning forty years, carry a title inspired by Ungaretti. Where do your rivers flow: who were your poetic inspirations and where do they lie buried?
They lie buried in the poems. See if you can unearth them.
In "Pound at Spoleto" you write: "The thin, indomitable voice went on. I went blind from the box, through the back door of it, into the empty corridor of the theatre where they still sat turned to him, went down and out, into the sunlight, weeping." Is this where poetry begins and politics ends?
Yes.
How has your poetry engaged the political forces in America? What changes have you perceived through the last four decades?
Politically and ecologically speaking, it has become apparent that man is too stupid and too greedy to save himself.
Does your work have an attachment to the French surrealists?
I was a NADJA surrealist, not a "manifesto" surrealist.
Does America mistreat its poets any differently than the rest of the world? How do poets reside in the world: through competition, fear or an eternal voice?
Since poetry by definition must be enemies of the state, naturally they are marginalized and kept off centre-stage by the rulers of the world.
What are the universal qualities of poetry and will they remain and be passed on when clay tablets and books disappear?
"A thing of beauty is a joy forever. It will never fade into nothingness."
Is poetry a form of prayer?
Yes, a type of subversive prayer.
II. Beat Generation
Is "Allen Ginsberg Dying" a prayer for the end of the Beat Generation?
No. It´s a prayer for "a hundred years of beatitude."
Who was Allen Ginsberg? Was he truly "the king of May" in Prague, New York, San Francisco and Cuba?
There were many Allen Ginsbergs. A stranger came up and asked "Are you Allen Ginsberg?" "One of them," he replied.
Is there a definition for the Beat Generation? Are there similarities with European movements such as Dada and the Surrealists who fled to America to escape the German occupation of France?
Yes.
Who was the theoretician of the Beat Generation or was the movement a publicity stunt dreamed up in the poverty stricken late night alleys of the gone world?
There were no, there are no theoreticians, except the critics and professors who analysed their ravings in classrooms and learned reviews.
How has the Beat Generation changed the consciousness of America?
It was a paradigm shift in poetic consciousness around the world.
Who were the founding fathers of the Beat Generation?
Ginsberg, Burroughs, Corso, Orlovsky, not me.
Was William Burroughs a part of the Beat Generation? He always disclaimed a role.
Of course he was. I disclaim it too. I became associated with the Beats by publishing them at City Lights.
What was your part in the Beat Generation? Was your role as a poet or publisher?
See previous answer. But I was also a poet with totally different poetics than Allen Ginsberg.
Why did you create City Lights Bookstore and City Lights Publishers? What place does it occupy in contemporary American literature?
Great work for a poet.
Why does City Lights remain unique? Why hasn´t it become a role model in America, though the mecca for Europeans and small European publishing houses?
I believe it has become a "role model", to some extent, for counter-culture publishers and bookstores everywhere.
Many of your Pocket Poets series have become classics. What star have you followed, what is the vein, what is at the heart of your selection of poets?
The Beats were only one phase of the continuing tradition of the literature of dissent, of outsider literature. (See Colin Wilson "The Outsider")
What have you received in return for your life work?
"A jug of wine, a loaf of bread, and thou."
III. Your life
Where were you born and where will you go?
In uterus, in terra.
When did you realize that you were a poet?
In 1919.
How did you educate yourself to be a poet?
Didn´t. Life did.
Give us a brief outline of your wanderings. Why live in San Francisco all these years?
I am finding myself.
Why have you never visited Prague?
What was your relation to the members and principles of Charter 77?
What did Allen Ginsberg tell you about his experience in Czechoslovakia?
I wasn´t really invited until last year.
I love the members of Charter 77.
Nada.
What do you expect to find in Prague?
Do you think that life has changed dramatically since the "Velvet Revolution" in 1989?
Samsara!
Of course.
Why are you coming to Prague to read your poems when you could be sitting at home enjoying the Giants?
There are giants in Prague too.
Dear Lawrence,
These are a few questions which I would be grateful for an answer. Please write out your replies and fax them back immediately so that we can both shape the final draft together. Any questions that should be asked that were not asked: feel free to include yourself. There is a lifetime of questions and a greater lifetime of answers which need answering. But as Pound, the old-quoter, remarked: "Beauty is difficult."
I am most grateful for the opportunity of this interview, which is extremely important for your immense audience in the Czech Republic and Central and Eastern Europe: as the interview will be published in Hungary and Poland and other destinations.
I await your reply.
Warm regards,
Michael March
9 February 1998