PWF 2005 Ed Sanders in conversation with Michael March
26. May 2022 15:09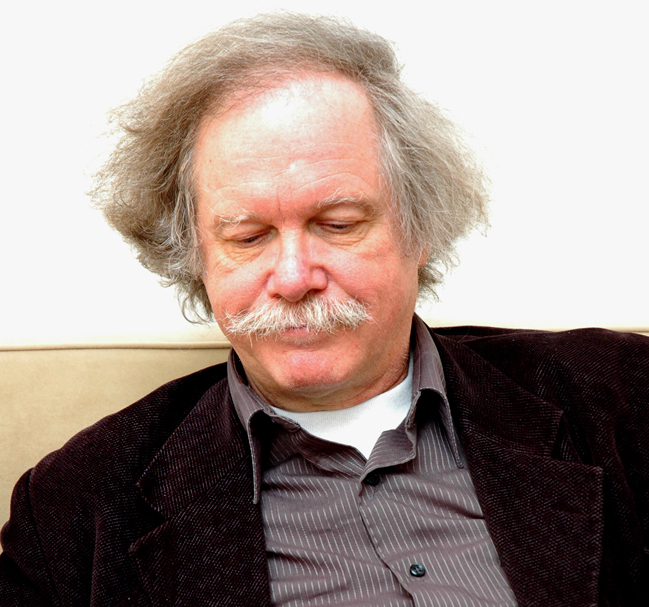 Michael March: Aeschylus wrote, "We must suffer into truth." How much more do we have to suffer?
Ed Sanders: The suffering now is nothing compared to what's going to happen in the Golden Writer Retirement Home where we'll all need a lot of painkillers. Suffering, unfortunately, seems built into the human condition. We can only use literature and art, poetry and making love, taking long walks and skiing, scientific inventions, dancing and hanging out with loved ones to alleviate the pain. As Allen Ginsberg said, "While I'm here, I'll do the work. What's the work? To ease the pain of living. Everything else, drunken dumb show." That's what he wrote in Memory Garden,upon Jack Kerouac's death.
MM: Sounds comforting.
ES: Well, Kerouac was the right-wing beatnik, Ginsberg was the left-wing beatnik, and Burroughs was the anarchist-libertarian beatnik. I'm sure Kerouac didn't want to die, but he was an alcoholic—he took that final sip of whiskey and it ripped his esophageal vein, and he bled to death while he was watching a cooking show and eating a can of tuna and writing in his notebook. Kerouac died all alone, forlorn, couldn't get any gigs—he was writing essays for girly mags—really obscure in his own generation. No one really knew who he was—no one paid attention.
MM: His generation included, Gregory Corso, Gary Snyder, Diane di Prima and Michael McClure—who's coming to the Festival in June.
ES: Michael McClure participated as a young poet-playwright at the original Gallery Six reading of "Howl"—in San Francisco, October 1955. He and Snyder wrote the first environmental poems. When Allen Ginsberg brought everybody to tears reading "Howl"—McClure read his poem "For the Death of a Hundred Whales".
MM: How do you fit into this generation?
ES: Well, I got to know them very well. Allen Ginsberg was one of my best friends. I wrote a book about him after he died. He called us just before he passed away, and he was so polite—though he was dying—he asked to be remembered to our daughter Deidre, whom he knew. Yeah, Allen used to take off his clothes in our house quite often. He liked to disrobe.
MM: Which brought you to investigative reporting.
ES: You know, when you have a great poet disrobing in your living room it makes you think about the universe.
MM: Do you consider Dylan part of this generation?
ES: Allen thought very highly of him as a poet. He is a kind of a poet—though a lot of his materials are just songs. I did the same thing, and so did Ginsberg. Some songs you might write, but you don't put them into your books of poetry—Dylan would have to banish a lot of his songs, because they don't stand out as poems. Some people think he's greater than Rimbaud—more beautiful than Goethe—but I don't think that's true.
MM: What do you see looking back to the sixties?
ES: You don't see the misery—you don't think about the suicides, the craziness and people flipping-out—the domestic violence. The past tends to be cleaned up—like in a Chekhov story—there are no bathrooms. In Chekhov's letters he talks about his hemorrhoids. In his letters he talks about throwing up blood. But there's no puking up blood into brass spittoons in Chekhov stories—there's no disembowelments and people trampling on dead people's guts—as in the Iliad—pullingout hearts, chopping off heads and throwing them into the Aegean.
MM: No water-boarding.
ES: Water-boarding is the polite form of what they call extraordinary rendition. It's like war. If you read US military histories about the My Lai massacre, they don't say—"Well some guys shoved bayonets up women's vaginas, then pulled the trigger"—they don't say that—but that's what happened. The Iliadis more accurate than most media today.
MM: What do you see today?
ES: I don't know. I have no idea. You can never know what's going on—while you're living through an era. If you're really busy, you can't read your own leaflets. I have no judgment on current events, on a world-wide perspective. There's a lot more freedom around the world— but in many countries it's swung too far to the authoritarian right.
MM: You're not a pessimist.
ES: In Latin, "Dum spiro, spero—while I breathe—Dum spiro, spero—I have hope."
Prague, June 2005