PWF 2008 Paul Auster and Siri Hustvedt in conversation with Michael March
23. October 2022 20:52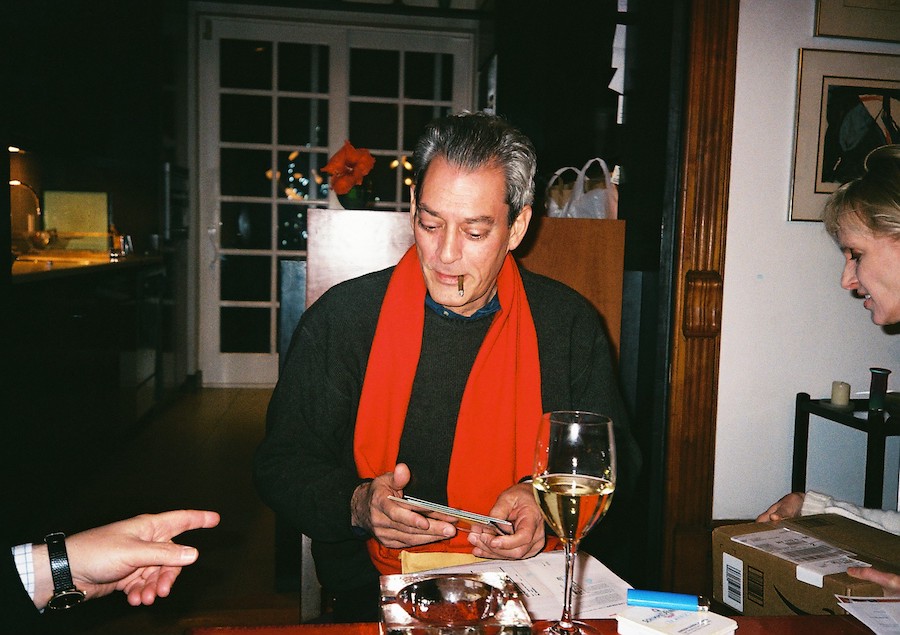 Michael March: Aeschylus said, "We must suffer into truth."
Siri Hustvedt: It's a beautiful quotation—it has an afterlife completely reinvigorated in Christianity. My mother used to say, "If you suffer and survive, it does you good—but if you suffer and don't survive, then what was the point of it?" Some people suffer into profound untruth.
Paul Auster: I read this quote somewhat differently—as an effort to try and discover the truth.
SH: You're probably right.
PA: You suffer into truth because the truth is difficult to uncover—in order to find it, you have to put yourself at risk—you have to prepare to walk many miles, enter many hardships. Writing fiction is a form of truth. To be truthful takes an enormous amount out of you. Everyday—when I sit in my room and I do my work—I give everything I have—every ounce of my heart and soul and body. When the day is over, I'm exhausted—sometimes I can barely stand up. So it's a tough occupation, but certainly worth it.
SH: In fiction it is often possible to find an emotional truth that is impossible to find elsewhere. To write a work of fiction you have to inhabit another person. You're not writing out of yourself, but out of someone else—that leap of faith—the leap into the other creates magic.
MM: What remains unseen?
PA: All human experience can be articulated.
SH: Do you really think that?
PA: Yes—but only by the great geniuses, who come along very rarely. Reading Proust for the first time—the book almost drops out of your hand—you're so shocked that someone could be so astute, so wise, so perceptive.
SH: Great art is about recognition—the unconscious sea underneath us.
MM: Greeks use the word diagnosis—to recognize—to know. Our poor Aeschylus wrote "for those who know".
PA: I prefer, "I write for those on whom the black ox have trod."
SH: Hilarious.
PA: Literature doesn't have a practical effect—its beauty lies in its great uselessness. If we wanted to change the world, we wouldn't be writing novels—we would be politicians or activists. The profound thing about human beings is that we're the only creatures that make art—the only creatures that derive a sense of pleasure from useless things—giving us validity to being alive.
MM: How do you imagine 1968?
PA: I don't imagine it—I just remember it. I remember it as a time of great tumult, excitement, hope, despair and energy. It's my youth, therefore I look back on it fondly—as I think most people look on their youths—but it seems to me that a lot has gone out of the world since then. There isn't that incredible swell of thought—the communal action of hundreds, of thousands—if not millions of people—eager to change the world. In the end, 1968 resulted in nothing, whatsoever—our generation produced nothing. Still our dreams remain important—and I would like to see the next generation—the young people of today—do something similar to what we were trying to do back then.
SH: Big romantic.
PA: I'm not talking about ideology.
SH: Sure you are!
PA: No, I'm talking principally about the opposition to the war in Vietnam. Our generation was challenging what we might call today—the consumer culture of capitalism.
MM: Business culture—with Aeschylus behind the cash desk.
PA: Today, culture and money go hand in hand—it's simply the marketplace.
SH: It's always been a marketplace—it's gone on forever.
PA: Well, let me tell you about my own lifetime in postwar New York. When I was a young man in 1968—an aspiring, young poet—I had no interest in so-called commercial success. The people I knew and admired—the young people that I hung out with—nobody was interested in commercial success—we thumbed our noses at it.
SH: Footnote—footnote! I came to New York in 1978, and it was exactly the same—the idea that you would be published broadly was an insult.
PA: The point is that young people have changed—success rules.
SH: That's last thing we need.
Brooklyn, New York