Michel Deguy: Given Giving
31. March 2011 10:04
in conversation with Patrice Bougon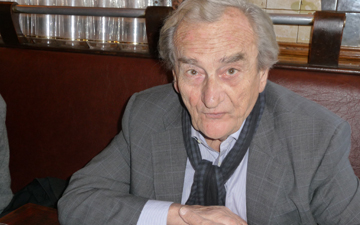 Patrice Bougon: In order to better understand the more unusual aspects of your reflective manuscripts, we must seemingly digress back to the start, right to your philosophy and literary studies. Could you sum these up briefly?
Michel Deguy: It was an education marked by professors such as Jean Hyppolite or Jean Beaufret, primarily presenting us with Greek and German (Hegel, Kant, Marx, Nietzsche, Husserl, Heidegger) philosophy, and (as a result) I ended up with an aggregate. So I was then able to begin teaching philosophy in preparatory classes for so-called "large schools", for example in Paris' Lycée Pasteur. In 1968, when the Paris 8 University (or University of Vincennes) emerged in Vincennes, I was invited as an extraordinary professor to teach at the literary history department. This likely came about because at that time I had already published several literary studies and titles. Indeed, I spent my entire career in this department, where other authors also taught, which tended to be something of an exception in those times.
PB: What role has German literature and culture played in your work?
MD: Perhaps I should first reiterate that German was my first foreign language, having begun learning it from 5th grade [typically from ages 10-11 -Ed.]. Add to that that modern philosophy was primarily written in German - Husserl and Heidegger had a fundamental impact on an entire generation of thinkers in France, although I can't say that in the case of Heidegger, he held any great fascination [for me]. But it is no coincidence that one of the first books that I published at a larger publishing house was Le monde Thomas Mann. I also translated Hölderlin's Return and part of Heidegger's Approaches to Hölderlin. And many poetry translations were, of course, also published in my revue Po&sie, as well as studies translated from German on the relationship between poetry, philosophy and translation.
PB: Could you briefly describe the guiding principles behind this revue?
MD: In 1977, in conjunction with the large publishing house Belin, which had at its disposal the required resources for production and distribution, I established the Po&sie revue along with a narrow circle of friends and colleagues, such as Jacques Roubaud, Henri Meschonnic (before our falling out...) and Robert Marteau. Today, I work with two second editor-in-chiefs: Claude Mouchard and Martin Rueff. Each issue is planned on three fronts: translation, presentation of new poets and a contemplation of the relationship between poetry, philosophy and morality...From time to time, we prepare an issue devoted to poets from a particular country (for example, an Italian-oriented issue from 1995 under the supervision of Martin Rueff). These are subject to long preparations, for example the Korean issue, on which Claude Mouchard has been working for two years, should go to print soon.
PB: And what issues are currently close to your heart as a poet and philosopher?
MD: There are many, but in brief, I would say that ecology is in first place, in a sense that I will further clarify, as well as the loss of faith in a Christian God. These are subjects to which I have been returning in recent years from various angles. Ecology, as I understand it, is not the ecology of the surrounding environment - the kind that the media discusses - but rather the relationship of mankind to the Earth. In other words, po-ethica, confronting the gradual destruction of the world and pondering how this reality is changing what we know as "Man". With regards to a "digression away from religion", (and I have Christianity in mind), this doesn't mean the repudiation of something that lays at the core of our culture, but rather a transfer of its reach and meaning. The manner in which I use religious vocabulary - "relic", "desecration", "entombment"...
PB: That couplet comes from Desolatio (2007), a collection of poetry prose and poems and follows the long memorial poem A ce qui n'en finit pas. In 2006, the prestigious collection Poésie/Gallimard publishes an entire anthology of your poems from 1960-1980, entitled Donnant Donnant (Given Giving). Could you outline the basic motifs of all three titles from this anthology?
MD: The first two titles are poetic tombstones dedicated to beloved deceased figures. The first volume was solely dictated by a need when facing grief over the death of my wife Monique. It wasn't even so much about a process of grief and erasing melancholy, but rather a conversion of loss into a work within a world that for me is godless and therefore without solace. The structure of the book, its rhythm and poeticism, express clear emotion. With all humility, we also find this in the second volume, with an homage to other very close people, primarily my grandson, who died aged eighteen. His presence follows me, if only because I would like to be able to pass on so much more, for example, a promised journey to New York, where I [even now] cannot go without being overcome by sadness and regret. With regards to the anthology, a reader may not notice that many of the poems contained therein are of the romantic variety, some even erotic in nature, albeit expressed via a certain circuitous route: the passage of traditions, some citations, but also an elliptical depiction, and works with characters. Emotions, be they romantic or mournful, are an essence that must yet find a distinctive form, one that reflects circumstances.
Patrice Bougon
Paris | March 2011
Translated from the Czech by Dominik Jůn