Nedim Gürsel: Death Threats
14. March 2011 17:14
in conversation with Michael March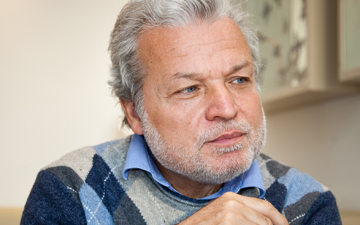 Michael March: Let's start with your childhood in Turkey.
Nedim Gürsel: I was born in the countryside, and I can tell you, chlidhood was a paradise—which I lost the moment of my father's death. My father, a well-known professor of French, died in a car accident when I was eleven. At nine, I had started writing poems—probably trying to immitate my father who was always sitting behind his typewriter, translating literature. His work remained unfinished—am I not continuing his work?
MM: When did you first arrive in France?
NG: I arrived in 1971, after the military coup in Turkey. I was twenty, having published an article about Lenin and Gorky in a leftist journal called Friend of the People. After the coup, I was accused of acting against the state. The prosecutor demanded a seven and a half year prison sentence. So I came to France, where I studied French literature at the Sorbonne.
After some time, during which I wrote two books, I returned to Turkey. But after the 1980 military coup, my books were banned. So I returned to France—and now I live between Paris and Istanbul, once again.
MM: A form of schizophrenia—?
NG: I am a Turkish writer—what counts for me is not the soil, but the language.
MM: The language of empires—?
NG: I discovered the history of the Ottoman Empire at the Sorbonne. We had a cosmopolitan culture, which we lost. I address this issue in my novels—The Conqueror tells the story of Mehmed II, the greatest figure of the Ottoman Empire—in The Turban of Venice, I compare Venice and the Ottoman Empire from the perspective of painting.
MM: A great controversy still surrounds your novel The Daughters of Allah.
NG: The Daughters of Allah was published in Turkey in 2008—and I still remain the subject of a judiciary investigation under Article 216, which punishes the author for inciting hatred and hostility in the public. At first, I was chased and persecuted for blasphemy—which I find unacceptable because Turkey is a secular state—then a year later, I was acquited by the court—but now I stand before the High Court in Istanbul— the state procurator having appealed the original verdict.
The Dauhhters of Allah tells the story of the beginnings of Islam from the perspective of a child—under the spell of his grandmother's recitation of the Koran. In the novel, there are three goddesses called the Daughters of Allah by the tribe of Quraysh. One daughter falls in love with Mohammed—and I stand accused.
MM: The state is easily aroused.
NG: Semi-feudal.
MM: Which leads us to Demon, Angel and Communist.
NG: My new political novel questions violence in the twentieth century—with Berlin the main character in the book.
MM: In search of death threats?
NG: They never stop.
Istanbul | February 2011