14. May 2012 10:29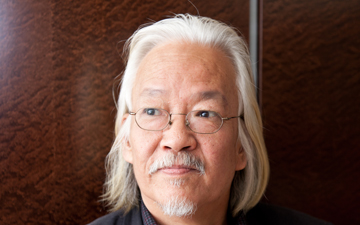 Duo Duo is the pen name for Li Shizheng, a Chinese poet born in Beijing in 1951. After being posted to an agricultural brigade in the countryside during the Cultural Revolution in the 1970s, he took the name Duo Duo ("too much, too much") from his daughter, who died in infancy. Scheduled to give a poetry reading in London in June 1989, the day after the Tiananmen Square massacre, Duo Duo chose not to return to China, remaining in exile for 15 years. He finally returned in 2004 after being offered a faculty position at Hainan University on Hainan Island, where he teaches today. In 2010, Duo Duo was awarded the prestigious Neustadt International Prize for Literature, the first Chinese author to receive the honor. Looking appropriately professorial in shoulder-length white hair and wire-rim glasses, Duo Duo talked about his craft during his recent visit for the Prague Writers' Festival.
Frank Kuznik: How did you come to be a poet?
Duo Duo: When I was a boy in middle school, I hated poetry. I didn't like it at all, and I never dreamed I would become a poet. Then in 1972, two things happened to change my mind. I was sent to the countryside along with two Chinese writers who were writing modern poetry. When I looked at their work, I thought, this is not good poetry. Then I read a very good translation of Baudelaire, and I thought, that's great poetry! I want to write like that.
FK: What was the atmosphere like for poetry at that time?
DD: Many young Chinese people were starting to write poetry, although they were unable to do anything with it, because there was no freedom to publish. But if you had a pen and paper, you could at least write. And I wanted to write about the reality of the countryside, the hard life of the peasants — that was important.
FK: Why did you choose not to go back to China after Tiananmen Square?
DD: I did what I had to do. It was an unforgettable experience, but it's not a memory that I want to dig up again. It's buried deep in my heart – I can't even speak about it. And it wasn't just me. Some 300,000 people left China at that time. So it's important to note that this is not just my experience, it's the experience of a generation. We all had a very deep feeling. Things have changed, but we have to keep the memory alive. That's what's most important.
FK: You continued to write in exile?
DD: I wrote quite a lot outside of China at that time, especially for Dutch newspapers. Everybody all over the world knew that a massacre had happened, and that a democratic movement had ended in tragedy. There were awful stories to tell.
FK: What made you decide to return in 2004?
DD: I had been living in the West for 15 years, and to survive there for a long time was not easy. I was getting old, I had no job, no PhD. It was really a dream that some day I could go back. Then one day friends called me with an offer to be a professor at Hainan University. I said, of course I would like to do this, I am a Chinese poet.
FK: How is freedom of expression in China now?
DD: There's not really the political control that there was 20, 30 years ago. Writers are free to write poetry — there are many literary and poetry magazines, and many, many poetry meetings and festivals in China. Publishing is no problem, because it's not political poetry being written, which is good. Poetry should be free from politics, not used just to report on something or make a statement against something. That oversimplifies poetry.
FK: What should poetry be?
DD: Over the past 80 years, anything could be poetry. But for me, you have to keep standards. And poetry is primarily about language. So the question is, does it have high standards of language, and something new to say, not just the same old stuff over and over.
FK: The kind of poetry that you describe can be difficult to understand.
DD: Poetry is not only about understanding. You have to feel poetry, which comes from the heart — that's the difference between poetry and prose. Nowadays, everybody speaks about the meaning of poetry, both in China and in the West. I believe this is an oversimplification. It's more important to appreciate a poem than to figure out its meaning. Good poetry has multiple meanings. As an analogy, it's not a sweet that you can just unwrap and swallow. It's actually a very deep and profound way of expressing yourself, and using and creating language.
FK: How do you judge when a poem is good?
DD: Everyone has their own secret code inside; that's why different people can read the same poem, and get different feelings from it. For me, a good poem touches me, attacks me, in the sense that it makes me feel strongly. I may not totally understand what the poet is saying, or be able to say immediately what it means – you have to read a poem two, three or more times to see how rich it is. If you understand it immediately, then you will put it aside and feel like you don't need it any more. This is suicide for the poet.
FK: Is Prague a good place for poetry?
DD: I feel that [Prague Writers' Festival President] Michael March is doing important work for poetry. The festival is a good chance to meet other writers and poets, and the Prague audiences are good. It's a great experience in a beautiful city – Kafka's city, filled with many mysterious feelings. It's like being home.
Published 9 May 2012, in Hospodařské Noviny